Sport boatr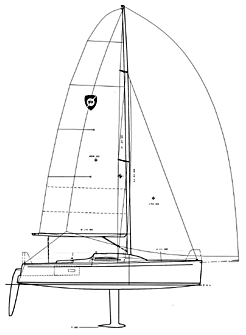 Built for speed this boat defines what a sport boat should be.
Boy, does that name conjure up memories or what? Columbia was one of the founding West Coast production boatbuilders and it built a lot of boats. The Columbia 26, designed by Bill Tripp, Sr. will certainly go down as a production classic. When I was a kid Tripp was my favorite designer. He did all the Columbias. This new Columbia is designed by Morrelli and Melvin of Newport Beach, California. If you look down at the title block on these drawings, in the "drawn by" box, you will see the initials TK. TK is Tim Kernan. Tim was my right-hand man for five exciting years. We did some great boats together. Tim moved on and now works for Morrelli and Melvin. You probably think of high-powered multihulls when you think of Morrelli and Melvin so it should not surprise you that this is the design firm's first monohull.
If you want to start an argument in the bar just mention sport boat. It's hard to define sport boat. We can pretty much agree on what a racer-cruiser is and what a cruiser-racer is and these days the race boats are easy to spot. But what is a sport boat? I don't know. I think it may be more a frame of mind than a design type. Let's take a stab at a definition using the Columbia 30 as an example of the type.
The hull is designed for speed. It's also designed so that it can be trailered from regatta to regatta. To this end the extra-deep keel lifts so that the beaver tail bulb nestles up under the hull for transport. The deep, knifelike rudder is removable. Beam is less than the 10-foot limit at 9 feet, 6 inches. The D/L is low at 81.56. Overhangs are eliminated to maximize sailing length. BWL is reduced to lower wetted surface while the flared topsides will help make crew weight effective for stability. This dinghylike hull form also provides beam aft where crew weight will again be used for stability advantage. Given these features it seems that the sport boat has to be a high-powered, trailerable boat designed to maximize speed, including planing potential, for a given LOA while relying upon an active crew as an essential component of the boat's stability.
Rig-wise we see a rig similar to most high-performance racing boats. The headsail is small with minimal overlap. The spinnaker will be asymmetrical and fly from a retractable carbon bowsprit. The mainsail is a near "fathead" type with a loose foot and two full-length upper battens. The SA/D is 30.6. By definition the sport boat will have a big rig and require a knowledgeable sailor to keep the boat on its feet and under control. Maybe this is the "sport" part.
The sticky part of this definition involves the accommodations and comfort level inherent in the design of the sport boat. Some would argue that the "down below" of a sport boat is only a place to throw sail bags and foulies. Others would argue that you need some type of sleeping arrangements and a head. The Columbia has a head tucked under the aft end of the V-berth.
What I like about this cockpit are the short coamings forward. These will keep the crew comfy and secure when they are in the cruising mode. This is a pretty cruisy cockpit for a sport boat. Side decks are clear. The mainsheet traveler spans the cockpit sole and there are foot bensons to help you stay up to weather. The cabintrunk is beautifully shaped. I'd like to see a softer corner on the aft end of those cockpit seats. The cockpit edge is well rounded for comfort while at the helm.
I like the blend represented by this boat and I think it will be a lot of fun to sail. The Columbia 30 will enter a very competitive market where even the slugs are rocket fast. It will be especially fun for me, given my Tim connection, to watch how this design does.