Performance dinghy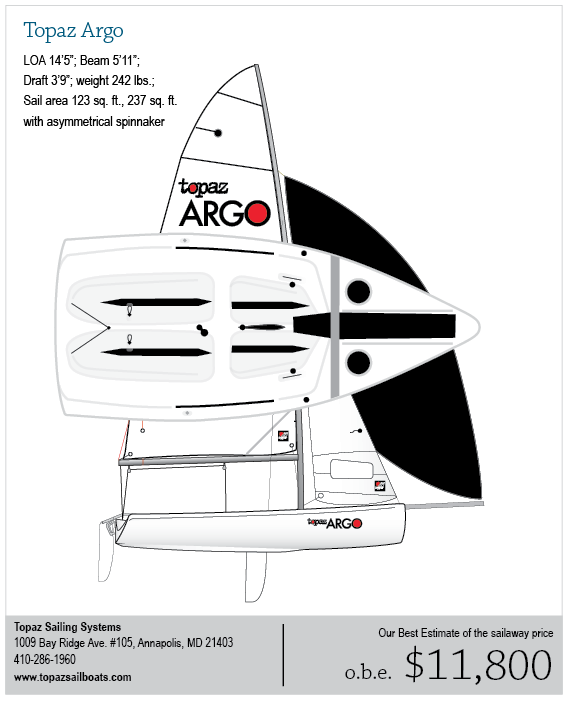 It's pretty much a reflex for me: As a boat owner, when I review a boat I do it from the perspective of an owner. What do I want? What do I need? Now that I have sold the mighty Perrywinkle, I have my eyes peeled for a replacement. I'd like to sail it off the beach in front of my shack. I'd like an easy to rig, fast and easy to right boat. But due to the rocky make-up of my beach, normal GRP boats are a bit of a problem when it comes to durability.
The ideal setup for my beach was my polypropylene windsurfer that I could sail full tilt right up onto the rocks and step off dry. It's probably not the ideal way to treat any boat, but I need durability in a boat beach-sailed at my place. This new 14-foot-5-inch Topaz Argo model from the folks at Topper International in Ashford, Kent, England, and designed by Rob White, looks like it would work well on my beach.
Construction uses the rotomolding technique in what Topper calls a TRILAM system with Metalicene. So instead of what you typically have with a rotomolded boat-a thick, heavy single skin-the ARGO has a foam core captured by inner and outer skins. This makes for a stiff, lightweight and durable hull. Stiff is very important for a high-performance boat. Weight of this hull is 242 pounds. That's a bit much for me to pull up onto the beach by myself, so I would need a beach dolly. There is a three-year warranty on the hull.
Rob White is a very skilled catamaran racer, and he designs the old-fashioned way-without a computer. I applaud that. When you draw a hull by hand you become well acquainted with every inch of the hull's surface. The most interesting feature of this hull design is the full-length chine that runs bow to stern. This chine does several things. It adds initial stability to the boat to help you keep it on its feet. It helps flatten out the run aft to help planing performance. It also adds stiffness to the structure. I have watched the videos of the Argo sailing in Europe and it's easy to see that this boat is a little rocket. It appears to plane effortlessly with minimal crew effort.
The rig is quite simple with an aluminum spar, a high boom and a retractable bowsprit. The mainsheet comes off the center of the boom keeping the cockpit aft clear of lines. This makes it easy for the skipper in tacks and jibes. The high boom means you won't need to duck.
There is a centerline launcher tube for the asymmetrical chute. The bowsprit setup is very clever. One line hoists the spinnaker and at the same time extends the sprit. One line drops the chute and at the same time retracts the sprit. Watching the videos, it looks like four quick pulls is all it takes to get the chute up or down. In a breeze you can fall off and hoist the chute in the lee of the mainsail and slowly bring the boat up as you feel you have the control you need.
This boat would be excellent for students looking to try a high-performance boat. There is a trapeze option in the works now.
Most of my neighbors don't sail. I like the idea of streaking up and down my beach on a reach and a full plane with the neighbors sitting out on their lawns saying, "There goes that crazy Bob again." I think I'd like the Argo just fine.