A life that was a sailing tour de force with a gallant touch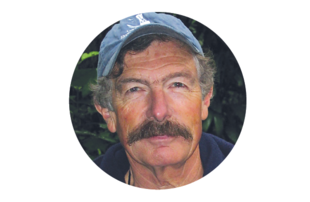 When news of his death in June was reported, most of the people who knew Ted Hood, or knew about him, probably remembered a man whose life was a sailing tour de force as an innovative sailmaker, successful yacht designer, world-class competitive sailor and a person who made history as an America's Cup renaissance man who designed a Cup contender, made its sails and sailed the boat as its skipper.
My friend Marlene remembers him as something else-her rescuer. The rescue did not happen at sea, though Marlene was, you could say, a bit at sea personally. She was with a rowdy group of sailors, including SAILING staff members, at a funky restaurant in Freeport, Grand Bahama, the kind of island joint where the ambience is stoked by an open spigot on the rum keg.
Well, the ambience (OK, the rum) got to Marlene, and she needed badly to get back to her hotel. None of her companions, unchivalrous lot that we were, was interested in leaving the party, but at the restaurant entrance she encountered a hulking, taciturn New Englander who recognized her plight, helped her board his taxi and saw her safely to her hotel. The gallant rescuer was Ted Hood, and Marlene's encounter with a sailing legend became lore.
Hood's presence on Grand Bahama that night was testament to his status in the yacht racing world. He was one of the "masters" invited by SAILING to compete in our Masters/Weekenders Caribbean Regatta against other sailing stars, including Buddy Melges, Gary Jobson, Tom Blackaller, Robbie Haines and Mark Ploch.
The "weekenders" of that regatta were 32 lucky SAILING readers chosen by a drawing from the names of more than 5,000 who signed up for a chance to sail as crew for the masters. The regatta was sailed in brand new Tartan 10s, and it was a blast. The pros took it seriously and sailed hard. The sailing readers, who ranged in experience from club racers to sailing neophytes, had fun rotating as crews for the stars and learning a lot. Walter Cronkite was there to watch the racing and present the trophies.
Hood didn't win the regatta, but there would hardly have been room for it on his resume if he had. By then-it was 1980 and Hood was in his early 50s-he had pretty much done it all.
In 1955, he founded Hood Sailmakers and built it into what was for a while the world's largest sailmaking company on the strength of Dacron sailcloth he developed that was so superior to anything else available that it was used on all America's Cup winners from 1958 to 1977.
By 1962 he was an America's Cup sailor himself, not just any America's Cup sailor, but one who designed, outfitted with sails and skippered the 12-Meter Nefertiti in the Cup trials. Nefertiti didn't win the right to defend the Cup, but Hood would go on to win the Cup nonetheless-as skipper of the Sparkman & Stephens-designed Courageous in 1974.
He wasn't done with the Cup. Three years later he campaigned his design Independence. The boat was ultimately defeated by Courageous, but even that was a sort of victory for Hood. Courageous had been redesigned-by Ted Hood.
The man has been sufficiently honored for his astonishing career-he's in the America's Cup and National Sailing Halls of Fame-but I don't think Hood ever got enough credit for his offshore racing designs of the 1960s and '70s. All named Robin, featuring various overall lengths and rig types and built for himself in his own boatyard, these boats dominated ocean racing with a slew of victories, including in the Newport-Bermuda Race and the SORC.
To the untutored eye, these were traditional designs, comparatively heavy displacement with the balanced, harmonious lines of what were considered proper yachts. Yet they were in fact radical.
In an era when high-performance sailboat design, with the first fin keels and spade rudders, was inching toward the shallow, lightweight hulls with skinny appendages that dominate today's racing (and to some extent cruising) monohulls, the Robins were full-bodied, loaded with internal ballast and built with, of all throwbacks, centerboards rather than keels.
What Hood had figured out was that the boats' deep, round sections-so pronounced that the shape was nicknamed "Whale Belly"-actually had less wetted surface, and thus less drag, than more angular, flat sectioned hulls of other contemporary race boats. The centerboards too created less drag than the still-thick keels of the day and could be raised for offwind sailing. The boats supported huge rigs, yet were well mannered in a seaway. They were seakindly, and because they were inherently heavy could carry comfortable accommodations and avoid the draconian limits on crew-gear weight needed on lighter designs. Did I mention they were also wickedly fast?
The Robin concept paved the way for a veritable fleet of Hood-designed production boats with brand names of Little Harbor, Bristol, Black Watch and Hinckley.
By the time he was rescuing Marlene on Grand Bahama, Hood had moved on from designing race boats to pure-cruising monohulls and catamarans, expedition yachts and powerboats. Which was just as well, because his brilliant ideas of the '60s and '70s were no longer competitive once building techniques evolved to the place where high-performance monohull design is today-ultralight but strong composite hulls that sail mostly on top of the water and deep ballast bulbs on microthin keel straps.
These are terrific boats, but I consider them more engineered than designed. There are few mysteries left for designers to unravel, given the advantages of high-tech construction. Hood's genius was that he figured out how to make boats fast without those advantages.
An obit posted on the Ted Hood website praised his "innovative mind, entrepreneurial spirit and creative passion." It might have added, "gentlemanly demeanor."
Just ask Marlene.