Bluewater cruiser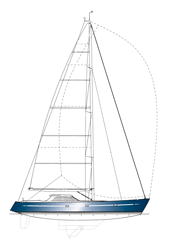 Idon't review boats. I review designs. Sometimes I get good designer's drawings, other times I get brochures and other time I get the dreaded "artist rendering." It can make my job tough. Kevin Dibley knows his craft and he knows what I need for a review. He has sent me a nice package on a new design targeting offshore cruising done in conjunction with longtime prominent New Zealand sailor Chris Bouzaid.

This is a very conventional-looking design with moderate overhangs and a D/L of 175. That's on the low side for a long-range cruising boat. Gear is heavy. Fuel and water are heavy. Battery banks are amazingly heavy. If you want to reduce the displacement of a cruising boat you can't take the weight out of those items. You have to take it out of the structure and the ballast. Kevin has given the 62 11,070 pounds of lead ballast for a ballast-to-displacement ratio of 18 percent. This is low. But the fuel tank is located in the top of the keel fin so add 2,008 pounds of fuel to the ballast number and you get 13,078 pounds of ballast for a B/D of 21.2 percent. This is still low, but better. Kevin also put the holding tank in the keel fin and that adds another 871 pounds of weight/ballast to the boat-when its full-for a B/D of 22.6 percent. With only 7 feet, 2 inches of draft I think this B/D with fluids included is still on the low side. It could be just fine. I'm just saying, relying on my own experience that this is not much ballast. Fuel and holding tanks may not always be full. There is a centerboard to help the boat cleave to weather. The L/B is 3.72 and that indicates a beamy boat so initial stability should be fine.

The rig is an almost-masthead rig. The headstay is dropped just enough to let the head of the asymmetrical chute swing by when jibing. The spreaders are swept but there is some conflict to the chainplate location on the sailplan compared to that on the deck plan so I can't give you an exact sweep angle. The SA/D is 23.3. That will give you excellent light air speed for a cruising boat but I think it will require reefing earlier than most cruisers want to reef. Perhaps the Leisure Furl boom will help there as you can reef quickly and easily to any increment that you need. There is about 16 inches of roach beyond the backstay. The backstay is split so it will clear the big folding swim platform and the backstay crane is long but there still will be backstay roach interference in light air.

This design has a wonderful interior layout. You enter the interior from a sunken section of the cockpit, so access is optimal through the pilothouse. There is a nav station and dinette in the pilothouse. Two couples will be supremely comfortable with their own staterooms with large double berths and adjoining heads with showers. There are quarterberths adjacent to the engine room for kids or crew. The fo'c'sle is huge as is the lazarette. It's very easy in designing cruising yachts to let the interior extend into the ends of the yacht but lazarette and fo'c'sle stowage is very important. I don't care how much storage space you have, it will never be enough. The galley is sunken down one step and tucked to starboard. This is a super galley.

I like the cockpit layout also. It's broken down into three areas. The forward area is sunken down two steps and will be protected behind the pilothouse. Aft of that there are opposing settee areas with small tables for dining al fresco. Aft of this there are twin wheels and direct access to the large, fold down swim platform. I wonder if there is room for the inflatable in that stern garage? There is lots of open deck space forward and plenty of hatches for light and ventilation.

This is clearly a boat designed to keep skipper and crew comfortable for extended periods on board. I think Kevin has done a great job with this design.