To have and to hold—the enduring appeal of printed magazines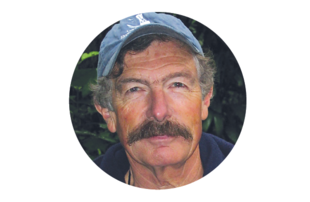 I was thinking of changing SAILING's motto to "The Most Saved Magazine in the World Not Counting National Geographic."
OK, that's not going to happen, and not just because the clunker above lacks the cachet of "The Beauty of Sail," the pretty phrase that has resided under the SAILING flag for nearly 50 years. It's also too big to fit on the cover and, besides, I can't prove it's true.
Bookshelves and closets across the land harbor stashes of National Geographic magazines, the compact periodical whose elegantly printed photo essays have made it, in the minds of generations of its readers, too valuable to throw away. I'll concede first place in the saved-magazine ranking to that venerable title.
Plenty of anecdotal evidence suggests SAILING is right up there behind NG. We frequently hear from readers who possess years of issues, including a few who claim to own every single one ever published. Some tell of SAILING collections handed down from father to son. More than a few times we've been contacted by subscribers looking for a good home for their collection because their wives have declared their homes have run out of space for the stacks of SAILING Magazines their husbands have squirreled away.
My colleagues and I at SAILING take our readers' saving habits as a compliment. People save things because they have value. Good print magazines have value.
It's surprising that some people who should know better don't get that, including a speaker at a recent business conference who opined that YouTube videos had taken the place of magazines in informing enthusiasts like sailors about their sports. He didn't seem to know the "print is dead" canard is dead itself, even though it keeps hanging around like a slow-witted zombie.
Those who believe it are clinging to an obsolete notion. There was a time, when Internet publishing was new, when it might have looked like ink-on-paper publications were on the way out. But that time is long past, and print is still here. It's not just surviving; in many cases it's thriving. The Internet didn't kill print; it married it.
Printed editions of enthusiast magazines, hobby magazines and lifestyle magazines are healthy and popular, even as their websites and tablet computer editions flourish. The main reason is the save factor. Print magazines are tangible, a physical thing to have and to hold, to read and pore over. This pleases readers and it pleases advertisers.
It is dawning that the fleeting nature of Internet images doesn't serve advertising well. People surfing the Web for information and entertainment are irritated by ads (surveys tell us this) and have figured out ways to skip them. Not so with print magazines. Many readers consider ads part of the value of paper magazines. Advertisers are starting to get that. You can tell from the superior graphic quality of many of today's ads. Check out the full-page and two-page ad spreads in this issue. Some are flat-out beautiful, as they should be, not just to sell a boat, a sail or a charter cruise, but to sell the aesthetic allure of sailing.
More on the refusal of print to die: Some magazines started as purely electronic—available only on the Internet—are now publishing print editions. Upscale mail order companies have found that online catalogs don't work well without a printed companion. It's the tangibility factor again. People want to hold images of the products they might buy in their hands and see glorious reproductions on big pages. Anyone who doubts the foregoing probably has not received a UPS delivery of this year's Restoration Hardware catalog—all 3,300 pages and 17 pounds of it.
One of the pleasant side effects of the realization that printed magazines are not doomed is that the magazines are getting better—publishers are giving readers more reason to value their publications. In the sailing sphere, two of SAILING's worthy competitors, Sailing World and Sail, have enlarged their page size, not up to SAILING's expansive dimensions, but bigger than standard magazine size. In a trade magazine interview, the CEO of the company that owns Sail explained his magazine's upgrade like this: "The lesson is the advertiser wants a beautiful product to showcase their brand." That's true, but perhaps he meant to say something like this too: The enthusiasts who read magazines about sailing want and deserve the most beautiful publications we can give them.
That's been SAILING's mission from day one, which is why our pages flaunting gorgeous sailing photography have always been the biggest of any American sailing magazine and still are. This has been an expensive luxury for our small independent publishing company, but one we believe our readers and advertisers deserve.
There is a less shiny side to this coin: All of the magazines about sailing are thinner than they were in, say, 2007. That's because the sailing industry, the source of the advertising that sustains our magazines, is thinner. The Great Recession was particularly devastating to the sailing market. Recovery has been slow—think of steady but occasionally frustrating progress beating toward a windward waypoint in bumpy seas.
The fact remains, though, that print is not dead, is not dying, is not sick. At SAILING, while our magazine website and the trove of archived SAILING articles on the Internet attract multitudes of readers, and the number of subscriptions for iPad devices grows at a fast rate, our focus remains on creating a printed magazine so valuable it is worth saving—not because it will become a collector's item from the (mythical) dead age of print, but because it's just too good to throw away.