Sailing education has come a long way since the School of Hard Tacks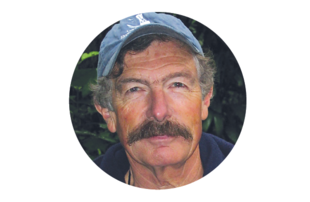 I'm pretty sure I sailed before I walked. I know I sailed before I talked. I don't remember it, but it's family lore. My parents' idea of a nice family outing was to put their first-born, while still in the babe-in-arms stage, aboard their 18-foot Seagull sloop and go sailing on Lake Michigan. There is no record of whether I wore a life preserver. I'm guessing I didn't. The kapok models in vogue at the time would have outweighed the child.
I graduated to keelboat sailing about the time I graduated from kindergarten, when the Seagull was replaced by a Star boat, an old campaigner that had been going around the buoys for years. My parents sailed it in races and more of those family outings and often took me along, scrunched in the cramped cockpit well.
My father's penchant for buying impractical one-design racing boats for family sailing was next manifested in a 29-foot Dragon class sloop. The builder had squeezed two berths into the coffin-size space under the deck and declared it a cruising model Dragon. This inspired my father to take his pre-teenage son on a two-week father-son bonding cruise that featured four days of beating slowly into square seas and copious throwing up by one of us.
I am grateful to my parents for immersing me in sailing as a child, but I have to say I wasn't all that thrilled about it when the process was going on. By the time I was in high school, my interest in water sports had shifted to fast motorboats that could pull water skiers and attract energetic girls who would have been bored silly by sailing.
Funny thing, many decades later I am all that thrilled about sailing, and not just because I discovered that some energetic girls are not bored by it. It is a staple of my life. Even as I write this on the penultimate day of a wintery March, my concentration drifts to warm thoughts of the imminent start of yet another sailing season.
You could say my parents' way of teaching sailing, which was akin to throwing the baby into the pool and letting instinct teach him how to swim, worked. Many of my contemporaries in the sailing world no doubt learned the same way. Back then, there weren't many other ways for kids to learn how to sail. There were even fewer ways for adults to learn. If you didn't have a friend who had a sailboat and a generous nature, you were out of luck.
Today, everyone who wants to learn how to sail is in luck. Sailing education is everywhere. There are hundreds of sailing schools in the U.S., plus a multitude of sailing instruction programs offered by community sailing centers, yacht clubs, even city recreation programs.
This is not just about teaching kids to sail, or even about introducing adults to basic sailing. There's plenty of that, but there's a lot more too. All together, it's K-12 sailing education, plus college and graduate school, and the recent surge in its development is one of the best things ever to ever happen to sailing.
Few of the things we do for fun benefit from education as much as sailing. Plain sailing is easy. It doesn't take much instruction or practice to get enough of the hang of trimming sails and maneuvering a small boat to get away from the dock and back without injury to the craft or the humans on board. But that's just the raw beginning, the first page of many in the thick book of sailing skills. For all the fury sailors can encounter on the seas at the hands of nature, sailing itself remains a subtle sport that is enriched by the nuances of its technical requirements.
This probably accounts for sailing's chronically slow growth in popularity as a recreational activity, but it's also the characteristic that attracts the type of people whose interest blooms into an enduring love of sailing.
Little cerebral exercise is required to goose the throttle of a jet ski, snowmobile, ATV or one of those fast powerboats that captivated me as a teenager. In contrast, sailing at any level beyond the most basic demands not just skills that can be learned and practiced, but also the ability to understand the complex relationship between the natural forces of wind and water and manmade shapes of hulls and sails. For many of us, meeting that challenge is one of sailing's greatest rewards.
Which is why many of the sailing classes available today do not teach students how to sail—they teach them how to sail better. Sailors with years of experience are taking courses in ocean passaging, navigation and advanced racing techniques.
Recently, a friend who has a lifetime of offshore sailing experience and is a successful, hypercompetitive racing sailor cajoled his entire crew of veteran sailors into attending a North Sails seminar on sail trimming. These are guys who know enough about sail trimming to put on their own clinic, but like all smart sailors their skipper knows there's always something more to be learned about sailing.
Eons after my first sailing "lesson" on that Seagull, I'm still learning. The other day I came across some new data concerning the way wind flows from the luff to the leach of asymmetric spinnakers that might improve my offwind steering. Of course, I still rely on what I learned about sailing in my father's school of hard tacks too. Unforgettable lessons like: Never go cruising on a Dragon.