Semicustom design gives owners almost unlimited options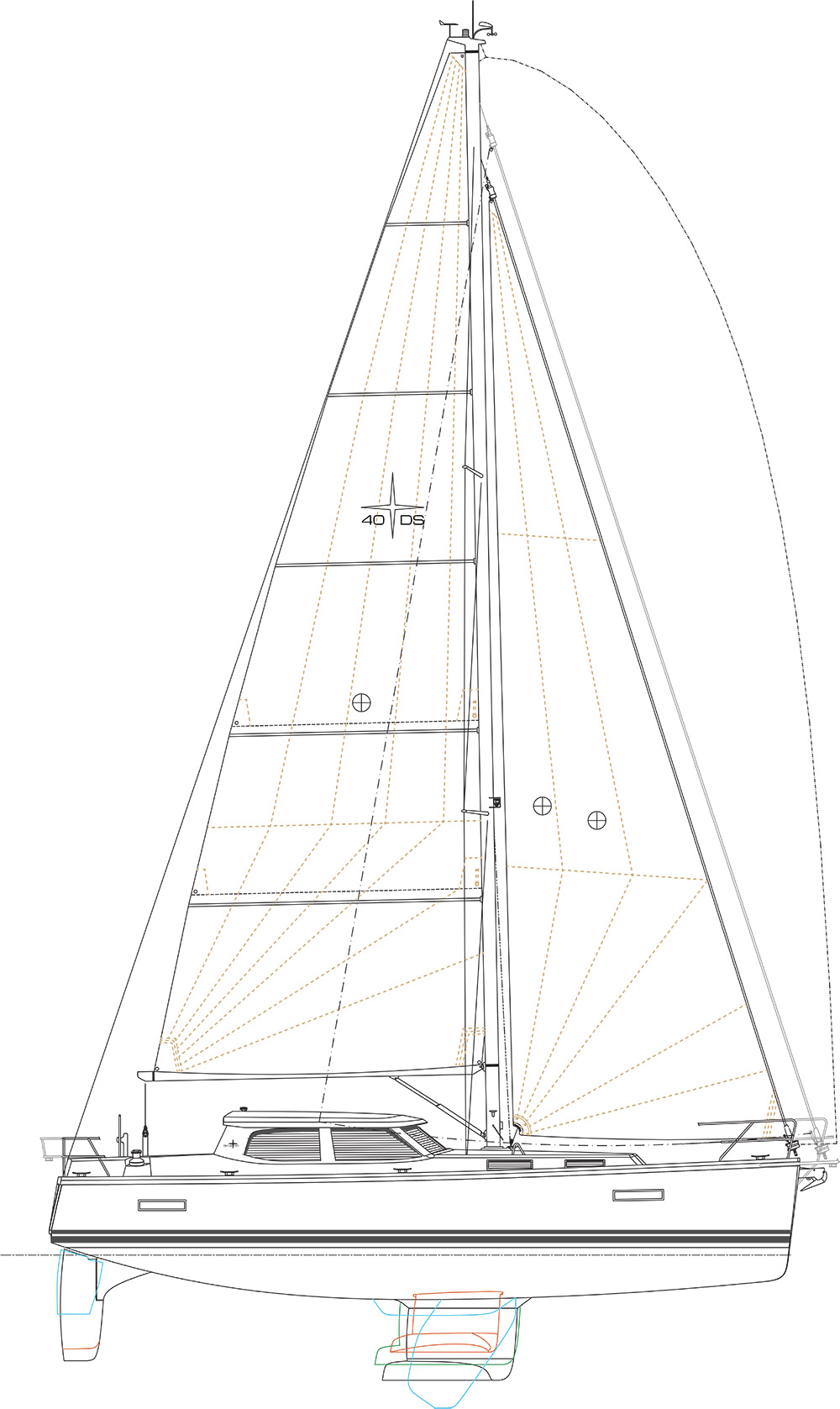 This design combines the efforts of the V. Ahlen design office with the Sirius Design Team. The overall design is highly unusual and I'm not sure I have ever seen so many features combined in a boat this size. Keep in mind that these boats are semicustom, so the layout and finish details are up to the owner working with the yard's design team. I have drawings for six layouts, but the company built 14 different layouts on its previous 31-foot model. I think we can expect a lot more variations on the new 40.
This is a blocky looking hull with high freeboard and a D/L of 236. The beam is broad, giving an L/B of 3. There is less than 3 feet of total overhang. The most interesting aspect about this boat is that it comes with a number of draft options. You can have a fixed deep keel drawing 7 feet 6 inches, 6 feet 6 inches or 5 feet 9 inches. You can have a centerboard-style swing keel that draws 8 feet down and 3 feet 2 inches up. Or, you can have twin keels so the boat will sit upright in the mud when the tide goes out.
This design is all about the interior layout and the variety of options available. Basically, it is a raised saloon layout with the dinette raised to port. This allows other accommodation components to slide under the dinette. I'll focus on one layout that has a double berth in the bow, another slid under the dinette and another double berth to port aft. If you weren't counting, that's three double berths in private sleeping areas in a 40-footer. Impressive!
There are several level changes in the layout. That's what makes it work. My complaint is that this will feel like a very tight layout. There is no large open space. I'm not sure, but I get this feeling that you may feel the lack of a real saloon. I'd have to sit around on the boat for a couple of hours and see if I warmed up to it.
The rig is a short, fractional type with a SA/D of 15.93. This is about what you would expect for a motorsailer. It will not be a light air rocket, but I'm sure it was never intended to be one.
The cockpit is big with a permanently mounted centerline drop-leaf table. There are three stern arrangements. You can have a drop-down wide door. There is the simple small door in the transom or you can have the stern closed with a shallow swim step. Side decks are minimal but adequate.
This is not my kind of boat, but I can easily see the appeal. Being built on a semicustom basis means that the yard will do anything within reason to give you what you want. It must be fun to see what the next customer comes up with.

---
LOA 39'4"; LWL 38'5"; Beam 13'5"; Draft 6'11", 6'7", 5'9" (fixed keel), 4'7" (twin keel), 3'3" to 7'10" (swing keel), Displ. 25,574 lbs.; Ballast 7,496 lbs.; Sail area 871 sq. ft.; SA/D 15.93; D/L 236; L/B 3; Auxiliary Volvo-Penta diesel D2-55 with saildrive; Fuel 53 gal.; Water 106 gal.
Our best estimate of the sailaway price: $620,000
Sirius Boatyard, Aschebergerstrasse 68, 24306 Plön/Holstein Germany
0049-4522-744 610