With exquisite lines and a powerful rig, this daysailer is a go-fast beauty
I like to think I truly understand small boats. I'm a fan of small, simple boats. My last boat, Perrywinkle, was small, and I enjoy reviewing boats that I can imagine owning. The Bente 24 is built by Bente in Bremerhaven, Germany, and was designed by the Judel/Vrolijk design office. That's a darn good pedigree.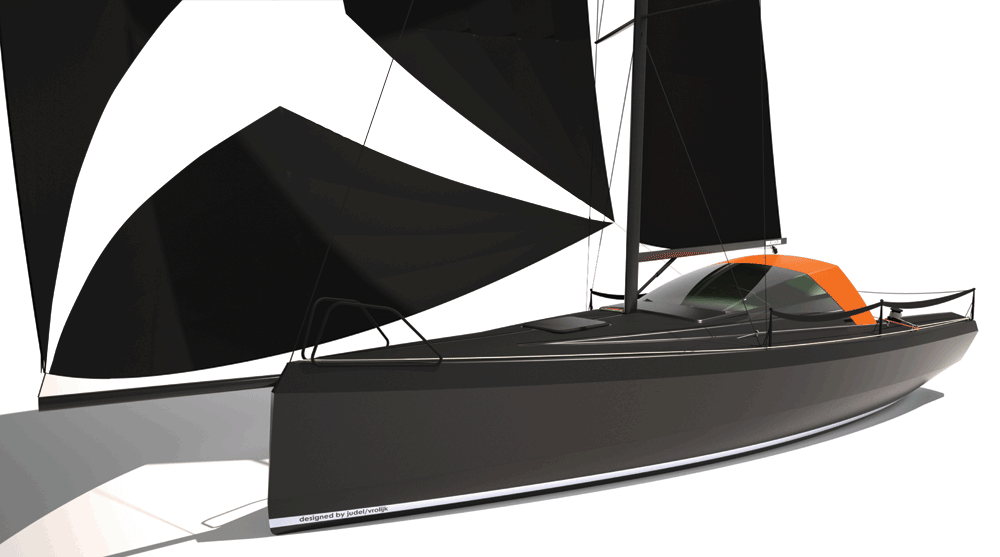 The Bente 24 is light and beamy with a D/L of 99 and an L/B of 2.74. There is a distinct chine that runs all the way to the bow. If max beam is not at the transom, then it's very close to the transom. I like the way they have chamfered the deck edge and then accentuated that angle at the stem. It just looks good and will also make sitting on the rail comfortable, with no hard deck-edge corner to bite into your thighs. On the photos I don't see any deck-edge joint at all. It's a very clean look.
You can choose from a 4-foot 11-inch draft or a 5-foot 11-inch draft in a high-aspect-ratio fin and bulb configuration. There is a single retractable rudder in a cassette. Note the very slight reverse rake to the stem. All in all it's a sexy looking hull, and I'm sure it will scoot right along and give you some planing thrills off the wind when you choose to push it hard.
Where this design gets interesting is the connection of the interior to the cockpit. It's a small boat so every inch counts, and opening up the interior to the cockpit makes this boat seem big inside. You can choose from two different configurations of the aft bulkhead. If you go with a centerline companionway, as is typical, you gain headroom through the large opening in the house top. This is where your headroom is going to come from. Bente also offers an unusual offset opening that expands the centerline companionway over to the port side and really opens up the boat. There are berths for a crew of three, but a crew of two would be ideal on this boat.
Another option is an enclosed head aft to starboard. I'm not sure about an enclosed head on a 24-foot 9-inch boat. I used a cedar bucket on my 26-footer. I had a custom-made cedar bucket in two kinds of cedar splined together with mahogany. It was made by my buddy Big John Knepper and it was beautiful. It even had a glass bottom, so it doubled as a fish viewer! "Oh look! Never mind."
Bente calls the hard top a dodger, but it's really more than that. It's a thing of beauty, and to my eye defines the look of the boat. You can add a canvas extension to the dodger for even more protection. It's really hard on a boat this size to give the feeling of space while providing usable headroom and not get an ugly looking boat dominated by the deck structure. This is the nicest integration of those features I have seen. You can sail with the transom wide open or you can fit a closure piece there. I'd leave it open.
The rig is big: The SA/D is 33.9. That should keep you happy in the light stuff and challenged in a breeze. The double spreaders are swept 25 degrees, and this allows the rig to go without a standing backstay, which in turn opens up options for how much roach you want on your mainsail. It's a bit unusual to see double spreaders on a boat this small but they allow for a lighter mast section.
I do like this boat. I'd like it better if there was a provision for a minimum galley. But you can cook in the cockpit under the dodger extension. I'd like to nitpick on this boat but they seem to have covered it all.
---
LOA 24'9"; LWL 23'6"; Beam 9'; Draft 5' (standard) 6' (performance); Displ. 3,000 lbs.; Sail area 474 sq. ft. ; SA/D 33.9; D/L 99; L/B 2.74; Auxiliary retractable Torqueedo electric motor
Bente Yachts
Hohenstaufenstr 40, 27570 Bremerhaven
0160 967 697 07
Our best estimate of the sailaway price $33,000