Whales, totems and Alaskan wildlife abound on a cruise through the vast wilderness of Prince of Wales island
Our floatplane skimmed into the village of Hydaburg where Linda, our captain for the next two weeks, waited on the dock. Two years ago, Linda took her 41-foot custom Finngulf sloop
Williwaw
to Anacortes. Her plan was to take one summer to cruise back to Seward, her homeport in south-central Alaska. That plan stretched out to three summers. When we arrived, Linda said that on her way into the harbor she'd heard a clunk and her wheel began shaking, as if something was gunking up the propeller. She needed a diver to figure out what it was before we could head out again.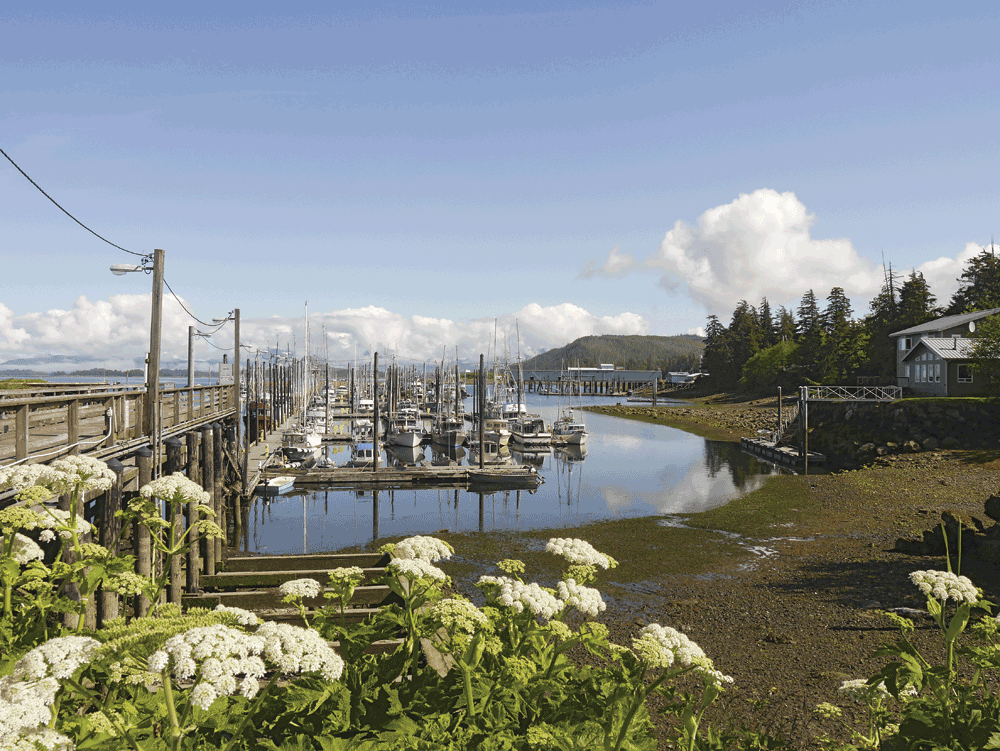 Hydaburg is home to the largest community of Haida people in the U.S., about 380 residents. Linda worried there wouldn't be a diver among them, and if not she might have to fly someone in from the boatyard back in Ketchikan. We had time to explore.
Above the floatplane dock, a warehouse served as the local Haida carving shed, where Sonny, dressed in T-shirt and suspenders took us through the workshop. When we asked if he was the master carver, he smiled, "Oh no, I'm the apprentice." We viewed aging totems stored on the floor for carvers who would replicate new versions. Carved in the 1930s, the old totems were weathered and cracked, but still stunning in their finely carved features and faces.
"Imagine what they could have done," Sonny said of his artisan forebearers, "if they'd had the tools we have today."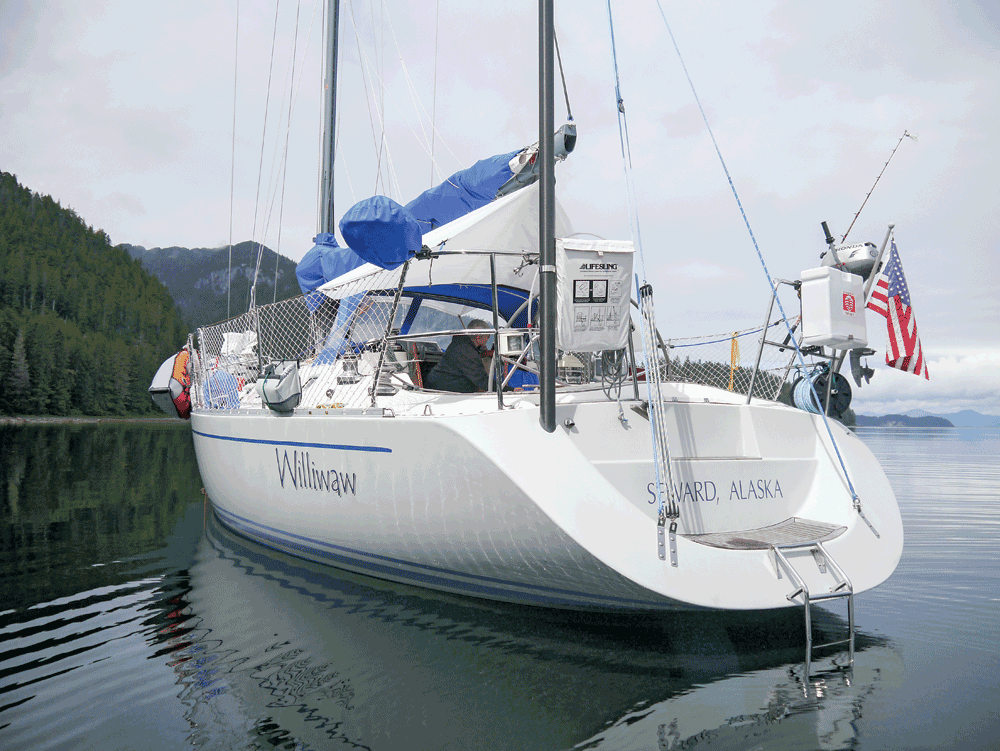 When we asked him about a diver, Sonny told us to walk down the road until we came to the first totem pole, turn right and the house across from the school belonged to Earl, a diver. We knocked on Earl's door and he appeared, already dressed in his diving suit. His speedy dive on Williwaw revealed a plastic bag that had been fouling the propeller. Earl finished clearing the fouled prop in minutes and refused to take payment for his service.
Though our destination was less than a couple hours away, we donned full foul weather gear as protection from the wind and spitting rain—it was just another beautiful summer day in the southeast. We threw off the docklines, and after a quick motor across the strait to Sukkwan Island, arrived at our first anchorage of the trip.
The next morning we weighed anchor and set sail north towards Craig, the biggest city on Prince of Wales. It was a nippy, wet, long johns-and-foulies kind of day, but that's the price of admission for Alaskan sailing. We had the vast, rich wilderness largely to ourselves, but we had to dress for it. About halfway through the day's sail, we passed Waterfall Lodge. What was once a giant salmon packing plant in the early 1900s now serves as an ultra-luxury fishing lodge where two-night packages start at a cool $2,890 per person (floatplane fare not included). Aside from the primo fishing digs, we didn't see much else in the way of human life until Craig came into view.
At the entrance to Craig harbor sat a barge that looked like it was full of trash, but later a fisherwoman tied up near the transient dock said it was actually storage for fishing gear. From aboard her workboat Bar-B-Q, she and her partner dove for sea cucumbers and geoducks, a humongous clam thing that looks like an elephant trunk popping out of a seashell. Its Chinese name translates as "elephant trunk clam," and China is where much of the Bar-B-Q's catch eventually winds up. She gave us three cans of smoked geoduck when I told her I'd email photos I've taken of her boat cat named Salmon. Alaskans are very generous with their seafood—a single can of geoduck goes for about $16 at the Ketchikan airport.
We spent three days in Craig, tooling around in a rental truck on some of the island's 2,000 miles of roads, the legacy of a timber industry mostly discontinued in the 1990s. The sheer magnitude of vistas, with miles and miles of thick, green Tongass National Forest, drove home Alaska's incomprehensible size.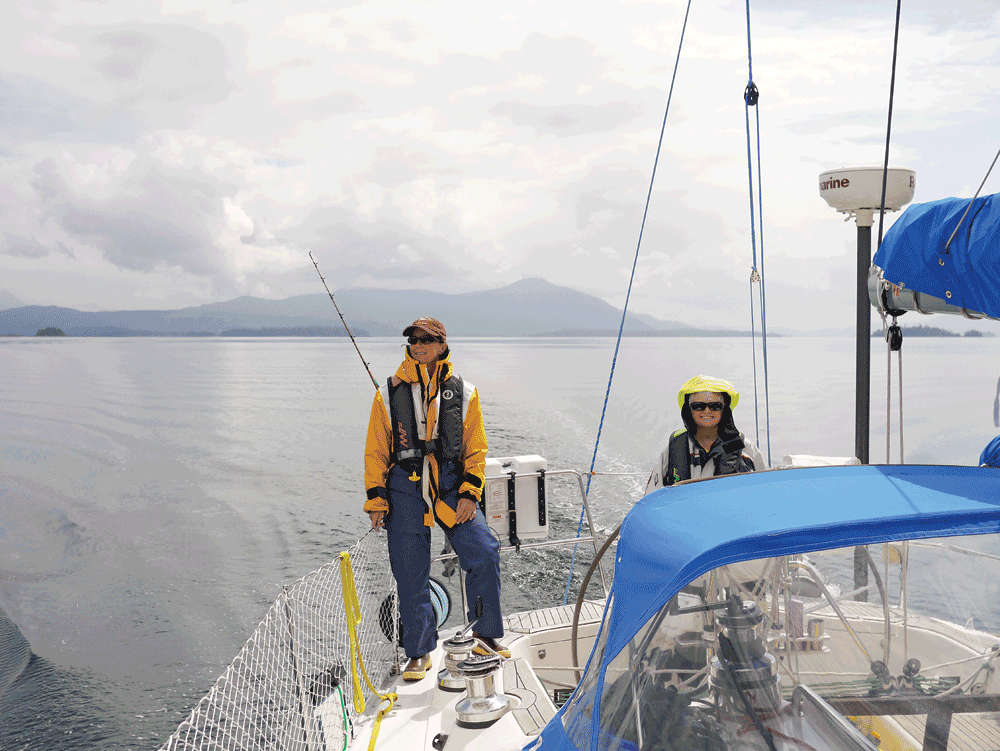 We'd arrived in time for deer calving season, and there were so many blacktail does out with their fawns that after the morning of the first day we stopped pulling over to photograph them. The same went for bald eagles. We were hardly pointing them out to one another by the end of the first day. Prince of Wales's communities held our attention better. The most memorable was Kasaan (the Tlingit word for "pretty village"). Several communities have lovely, well-maintained totem parks, but Kassan's is located down a densely shrouded forest path. We walked and walked, wondering if we were on the wrong trail and just when we were ready to turn around we happened on the first totem. As tall as the treetops, with carved animals and men, so many sets of big painted eyes peeking through the forest, totem poles are a mesmerizing art form. The 21 poles in the Kasaan park are replicas of those that once stood in the winter village of Tuxekan, seasonal home of the Heinyaa Kwaan people. Set apart from the modern village, the park makes it possible to imagine oneself standing in a completely different time.
As we left Craig and headed north along the coast, there was little wind in the strait between Prince of Wales and the small San Fernando Island to the west, and the water had enough rocks to make keeping an eye on the radar screen a full-time job. In three short hours we covered 14 nautical miles. We anchored in a short, calm strait between Prince of Wales and the little island of Bob's Place. The next morning, all was sunny and still. The water looked like a mirror, with just a soft, faint undulation. Sally caught a sole and the two of us went to shore to filet it, because Linda has strong feelings about scales in cockpits.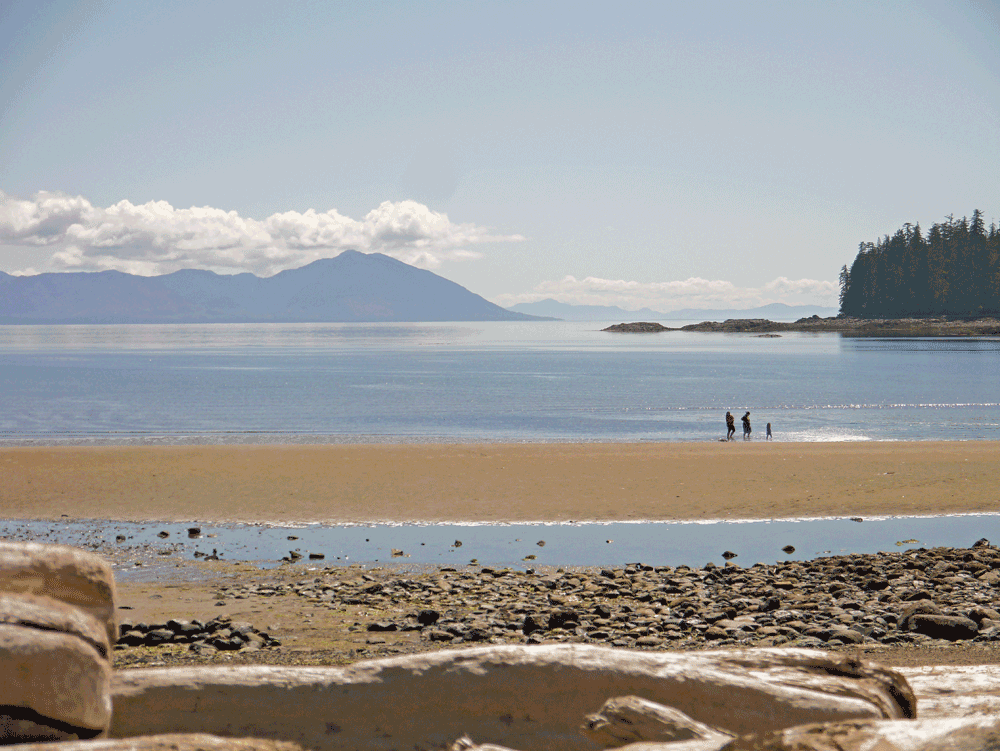 That day we powered for three hours and made 11.5 nautical miles to Kaguck Cove. A flat ocean juxtaposed to mountainous coastline makes for breathtaking viewing, but less than optimal sailing conditions. We were compensated with abundant wildlife viewing, including a huge raft of sea otter, with more than 100 furry water lovers. There were also plenty of seals and, the highlight of the day, a pod of humpbacks.
The next morning our Prince of Wales animal-spying safari continued when Sally and I got into the two-man kayak Linda kept tied to her bow. Kaguck Cove has so many mini coves and inlets, as we paddled each bend delivered new delights, otters, deer, baby birds and a mink. The intriguing terrain, like something out of a Tolkien book, drew us forward. That afternoon, we motored the short distance to little Naukati harbor where our fourth crewmember, Dave, was scheduled to arrive the following morning.
Naukati's population is about 140, but that seemed generous. The harbor is overlooked by a tall, rust-red steam donkey, an antique piece of machinery that is a relic of the area's long-past logging days. Sally and I walked to the tiny local store, and seemed to arrive upon Naukati happy hour: Folks were gathered on the porch with beers in hand. The shelves were well stocked with various assortments of oil-packed shellfish but running low on produce. We managed to buy a head of cauliflower.
The next morning we awoke and quietly sipped coffee, waiting for the sound of the plane that would bring us Dave. Every so often we'd mistake the generator running on the adjacent fishing boat or the noise from the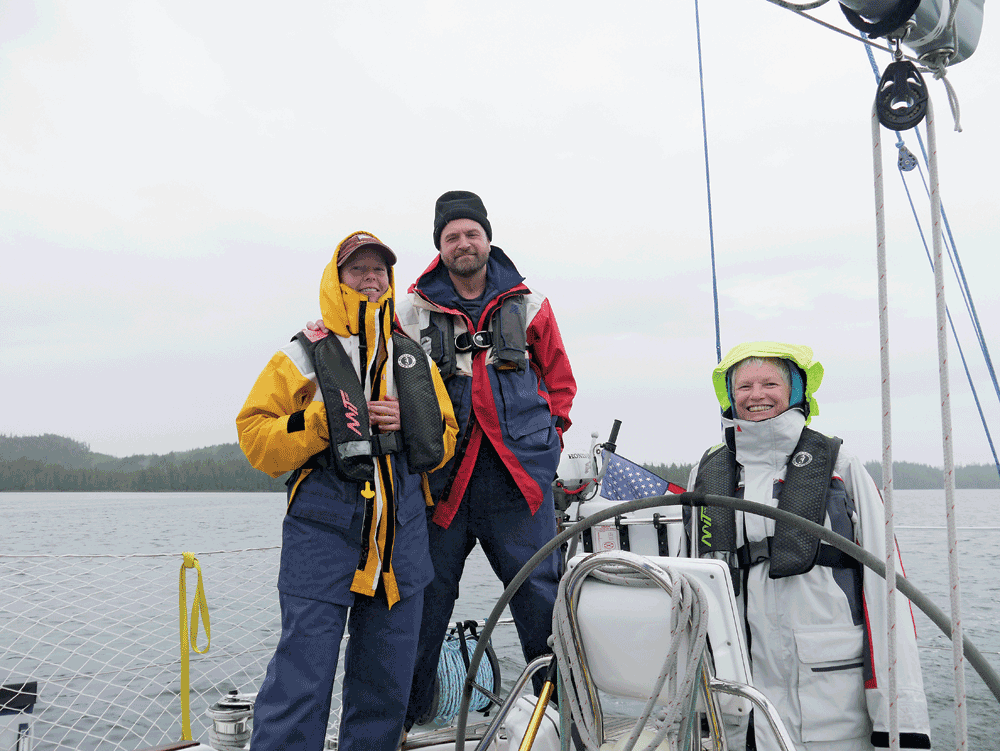 work barge for a plane, but finally Dave's floatplane descended. The next few days we spent exploring the archipelago north of Naukati, making our way past places like Skookumchuck (indigenous trade jargon for "strong water"). One of our anchorages was Sarkar Cove, and by the standard of our previous stops it was practically urban. There was a fishing lodge with a float plane dock and several other cabins. There are Alaskan sailors up in the south-central region who won't cruise the southeast because it's "too crowded," but Sarkar was the first place we'd shared our anchorage with other humans.
At the beginning of the second week we began the most arduous sailing leg, heading north around the outer edge of Prince of Wales, away from the protective little islands that had sheltered much of our journey from the swells and winds of the Gulf of Alaska. Expecting winds up to 20 knots, we put in our first reef on the mainsail. Rain streaked down as we sailed on a cold, wet broad reach. Just as I could no longer remember why anyone would do this for fun, we came upon a pod of humpbacks off of the aptly named Whale Head Island. Close enough not to need binoculars, we saw fin splashes, a couple of lateral jumps and a full on body-out-of-water giant splash.
The rest of our days between Whale Head and Port Protection on the northern tip of the island kept up the pattern of short daysails followed by evening kayak paddles through coves and bays. Even at our snail's pace, we wished we had time to go even slower, enjoy even more anchorages, different vistas, lifetimes could be spent exploring just the southern section of the Alaskan panhandle coastline. We were happy to enjoy it with the modern amenities of cold food storage and passable wine packaged in vacuum-sealed bags. Linda's atlas had a blurb about Ralph Ohman and Eric Engstrom, two adventurers who set out from Bremerton, Washington, in the early 1900s and made their way up the passage in a 16-foot round-bottom boat with hard tack and canned pears for sustenance. Ralph and Eric, the atlas claimed, supplemented their diet with eagle meat, procured with a .22-caliber rifle.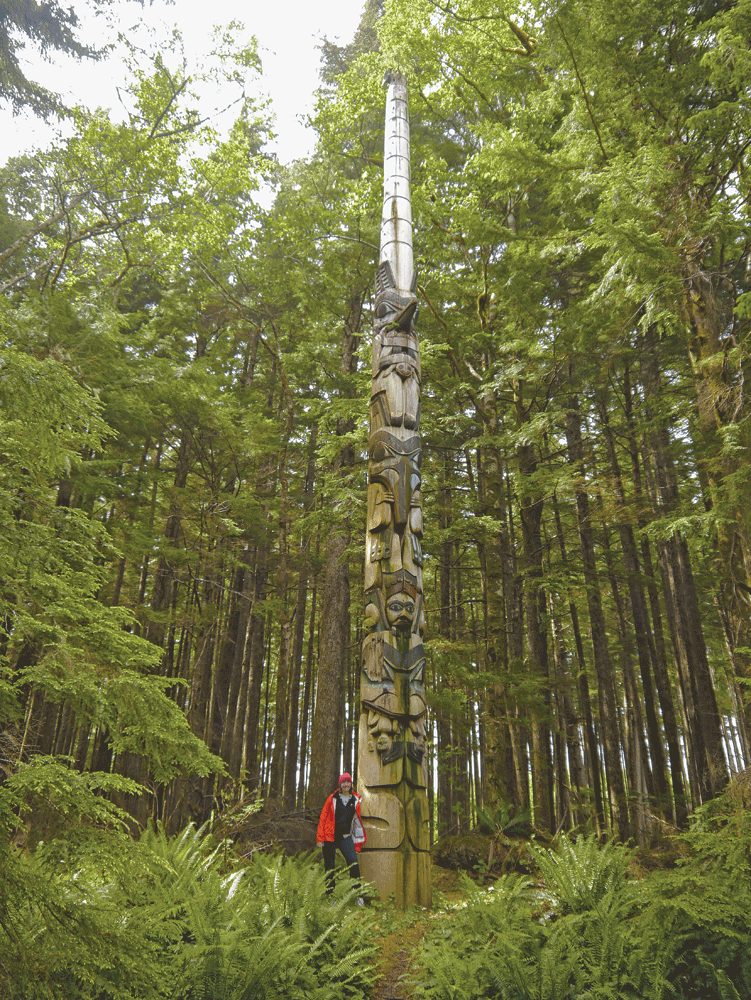 Our favorite anchorage was the final one—Hole in the Wall, which was exactly what it sounds like: a thin channel leading up into the island that opens into a bay, fully enclosed but for the narrow entry. Just after high tide, we started down the half-mile long channel. In the middle the shoals edging out from either side were visible from the bow, and while it was probably optical illusion, the treetops seemed to be crowding in on the mast as if we might hit them. We breathed out upon arriving in the pleasant bay enclosed all around by steep forest, with couple of black bears hanging out on the grassy shore.
The next day we had a short sail to Port Protection, named by Capt. George Vancouver, who sheltered there during a storm. About 60 people live in Port Protection year round, and access is by boat or fly-in only. The point of commerce is the grocery store, fuel dock and laundromat—all in the same location. We tied up on the dock and watched several residents from homes along the coast putter into the harbor in skiffs. Sally, Dave and I took the dinghy over and hit up the liquor store to restock Linda's liquor shelf. We loaded our purchases into the dinghy and headed back to Williwaw.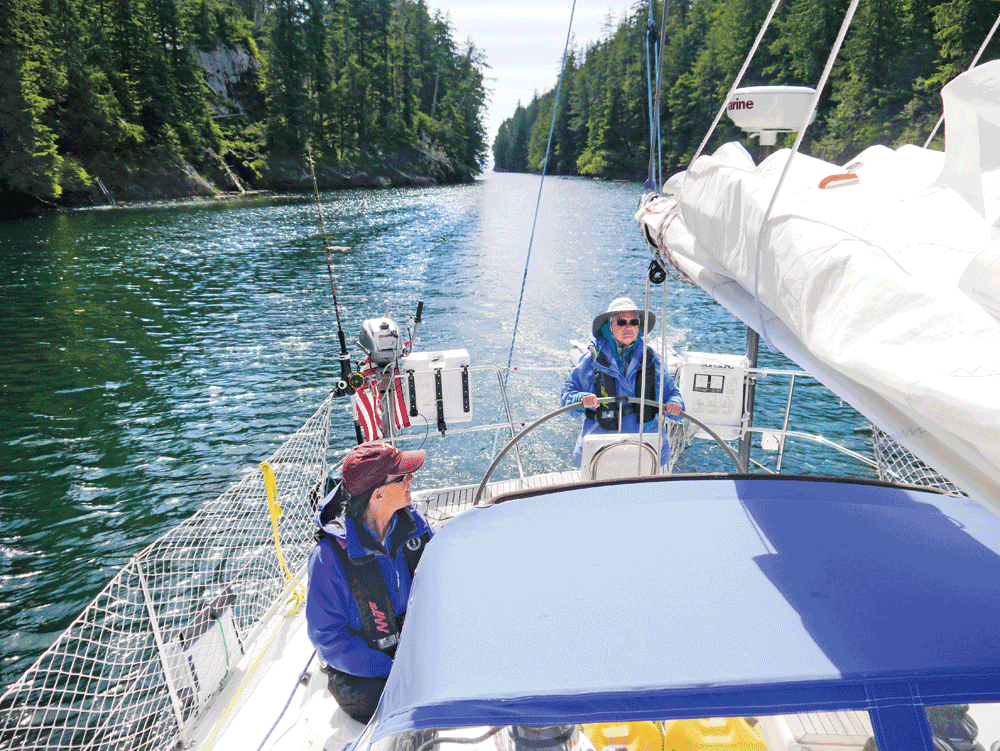 That night we had steak and martinis in the cockpit, the sunset lasted for hours, moving a spotlight of golden light across the bay until the store and fuel dock were cast aglow, where the locals could still be heard drinking and laughing across the water. Eventually, the light slipped below the horizon. Even with the cool air and the bugs, it was hard to go below and shut my eyes on all that beauty, knowing the plane would be there in the morning to take us away. I was a puddle jump and a jet flight away from the hustle and bustle of Seattle. But all of those things seemed so distant from my sleeping bag on Williwaw in this tiny port town. It didn't even seem like the two places could really be in the same country. They are completely different worlds.