A long, clean cockpit makes this daysailer a standout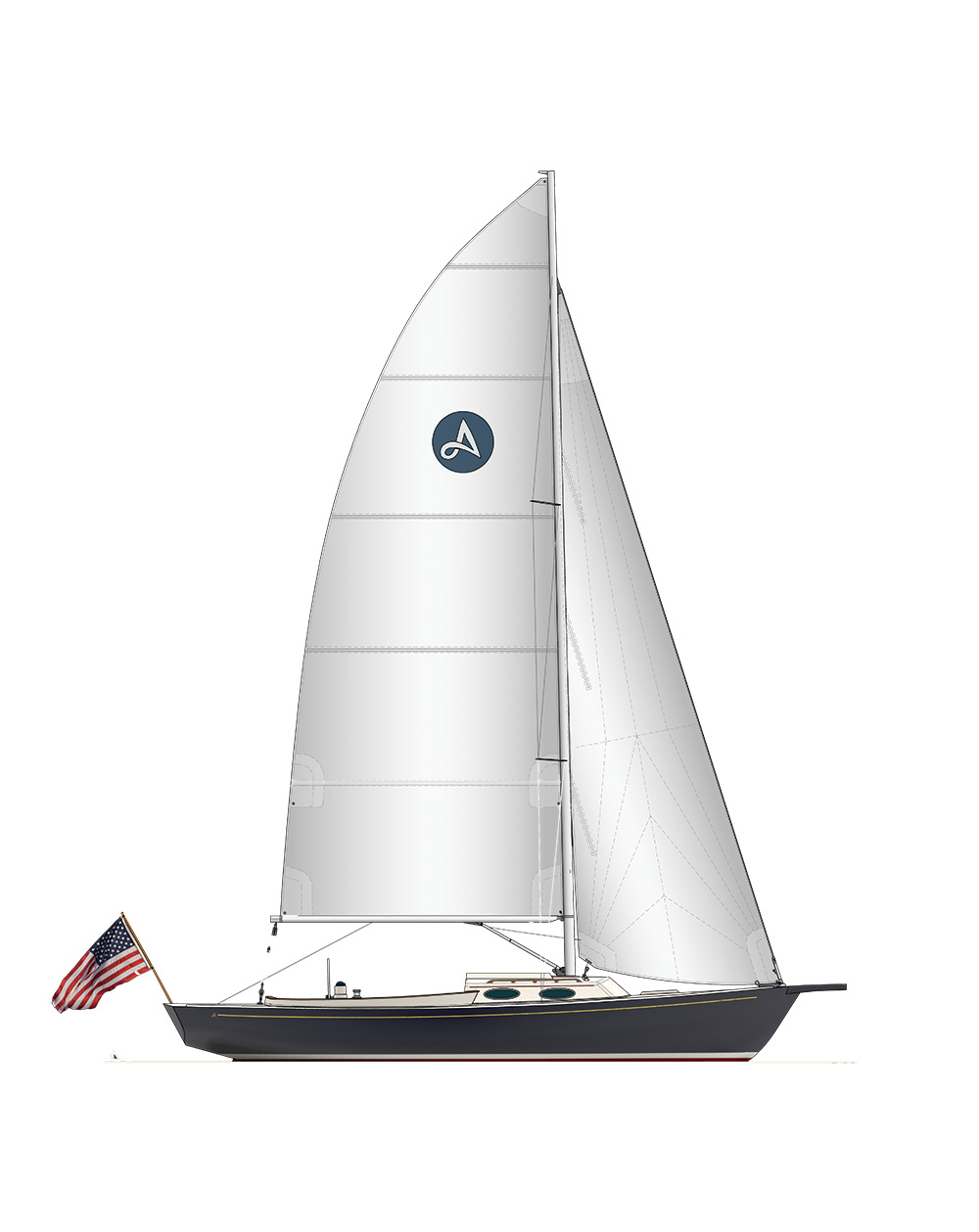 Sometimes I get in arguments when I mention this, but I see a distinct Euro style and a distinct American style in yachts. Of course there is plenty of cross pollination between the two styles, but I have no problem pointing out a Euro-styled boat or an American classic-styled boat. I'd put the Alerion boats, including this new Sport 30, into the classic American-style genre. US Watercraft, in partnership with Langan Design Partners, designed the Sport 30.
Look at the hull. I see a sweeping sheer and some overhangs. It may not be the shape of speed today, but for many sailors it's a look they are very fond of and can trace back to a long line of great boats. Besides, if you are after a simple daysailer or a boat you can do some casual PHRF racing on, who cares about maxing out the waterline length. It's not about tenths of a knot. It's about painting that picture of yourself on the water on a boat that reflects your personal approach to yachting.
Alerion has done a very good job at fulfilling that desire. The D/L is 197, just on the heavy side of today's moderate, and the L/B is 3.43, just on the narrow side of today's moderate. Beam is not carried aft as it would be in the Euro model. The stern is nicely tapered to terminate in a shapely transom. The 5-foot-draft keel is a moderate-aspect-ratio bulb fin with outside lead on a shallow bilge sump. The rudder is a deep-spade type with carbon-reinforced skins over an aluminum stock.
This boat is primarily a daysailer but it's 30 feet long, so you might be tempted to do some short cruises. I know I would. But the main cabin is really the cockpit, so the accommodations are of secondary importance. Two people could cruise comfortably in a warm climate. There are no hanging lockers below so cruising in the wet Pacific Northwest might be a challenge.
There are two large settee berths with a micro galley to port and a storage counter to starboard. I'd rather see that counter be a hanging locker. The head is under the V-berth. This is not ideal, but if you are by yourself it works fine. It makes no sense to me to muck up the entire layout by putting in an enclosed head. It would be nice to have a dining table so you could dine on Dinty Moore while the rain poured down. I can't imagine there is standing headroom, but I prefer the low cabintrunk to the ugly box you would need for standing headroom.
There are two long benches forward and a step down in the sole to make accessing the interior easier. Two Finnigan flats extend inboard from the coaming to provide bases for the two primary winches. The single, self-tacking jib sheet and double-ended mainsheet are lead through clutches to these primaries.
The traveler car adjustments come through the coaming and are lead to cam cleats port and starboard just forward of the helm. This will be an easy boat to singlehand. One of my complaints about this design is that I would like to see softer radii on the cabintrunk corners. They are a wee bit hard looking for me. My second complaint is that fixed bowsprit. The drawings show a hook in the profile of the sprit. Is that a drafting error or is there really a kink in the sprit? Maybe the plotter slipped.
This boat would be a piece of cake to sail. I'd prefer a tiller, but the cockpit design makes that an impractical option. No standing backstay, end-boom sheeting for light loads and the self-tacking jib are all great features for fun and sporty singlehanding.
---
LOA 30'1"; LWL 24'5"; Beam 8'9"; Draft 5'; Displ. 6,424 lbs; Ballast 2,650 lbs; Sail area 465 sq. ft.; SA/D; D/L 197; L/B 3.43; Auxiliary 20-hp; Fuel 18 gal.; Water 16 gal.
Our best estimate of the sailaway price: $199,500
Alerion Yachts
373 Market Street
Warren, RI 02885
401-247-3000