This new cruiser sports a great deck layout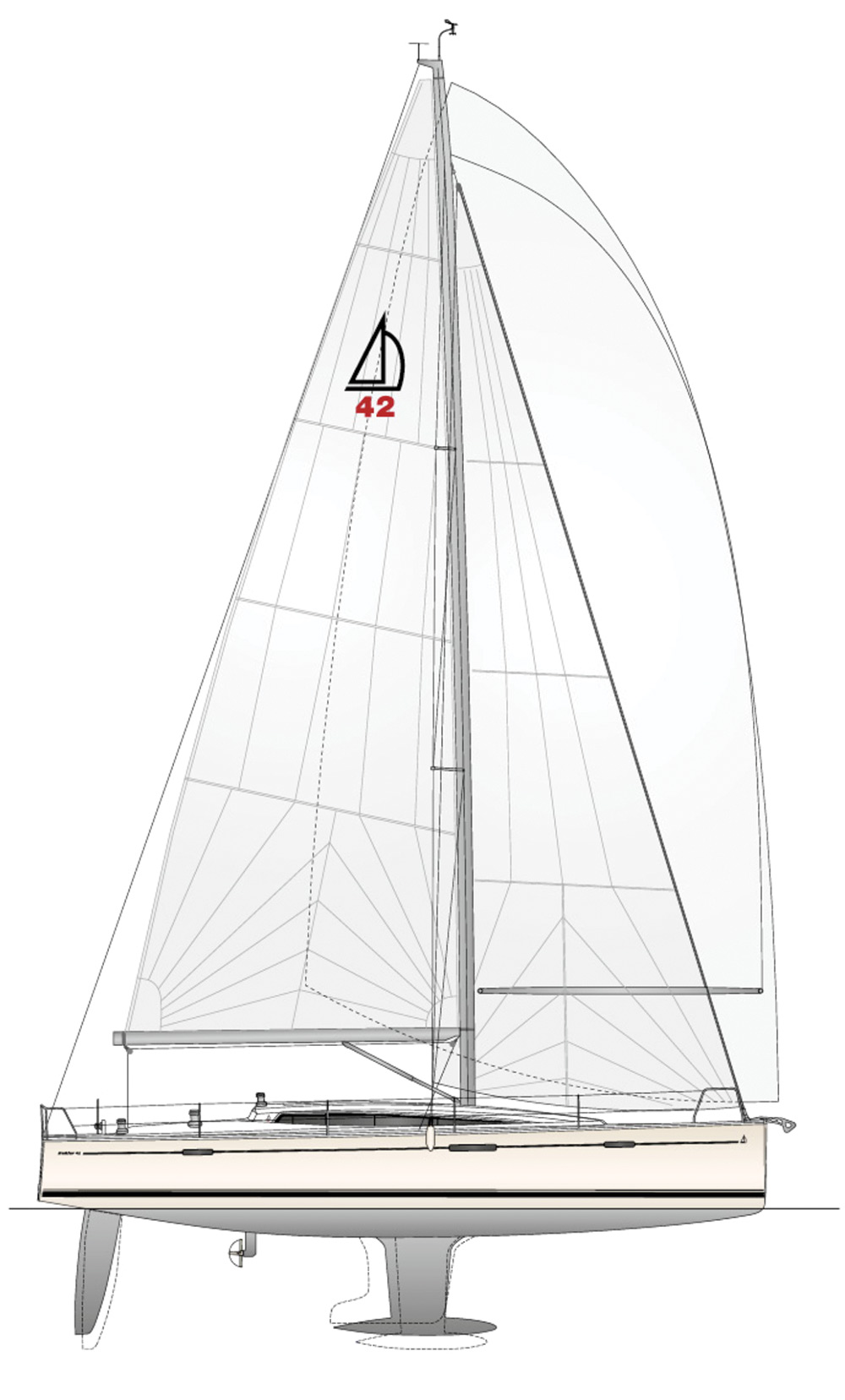 The Dehler 42 model was designed by Judel/Vrolijk with the interior design done in house by Dehler. This design is typical of what we see coming out of the European production yards today. I'm not sure I have ever seen a time when there was less variation in the style of Mom and Pop production boats. I'm not saying that is a bad thing but I do like some variation from time to time.
The ends are short with only 3 feet of total overhang and it's all aft. The L/B is 3.17 and the D/L is 166. So, it's a beamy boat of moderate displacement. There are three draft options, 7 feet 1 inch, 7 feet 11 inches and 6 feet 6 inches. You can choose from two rudder options to match your chosen draft.
The freeboard, while high, is moderate by today's standards and there is a slight amount of spring to the sheer. I'm sure this boat will sail great.
You can choose from a three-stateroom layout or a two-stateroom layout.
This is a very sexy deck design. The origins of this type of deck go back to the early Swans and their wedgelike decks. This wedge features a shallow indent starting just aft of the mast. This indent allows lines to exit the mast at the deck level and disappear into the structure on each side of the hatches.
The tall, fractional rig has a SA/D of 21.7,. You have the option of asymmetrical chutes from the hounds or the masthead. The new 42 would make a great club racer and a very nice cruising boat.
---
LOA 42'2"; LWL 37'9"; Beam 12'10"; Draft 7'1" (standard), 7'10" (race), 6'6" (shoal); Displ. 20,062 lbs. (standard), 18,629 lbs. (race), 20,613 lbs. (shoal); Ballast 6,503 lbs. (standard), 5,512 lbs. (race), 7,165 lbs. (shoal); Sail area 1,000 sq. ft., 1,071 sq. ft. (race); SA/D 21.7, D/L 166; L/B 3.17; Auxiliary Volvo D2-40 40-hp diesel; Fuel 42 gal.; Water 83 gal.
Our best estimate of the sailaway price: $242,000
Dehler Yachts
29 Towbridge Cr., Rowley, MA 01969
978-358-8336