High performance and a variable draft top the list of attributes for this contemporary design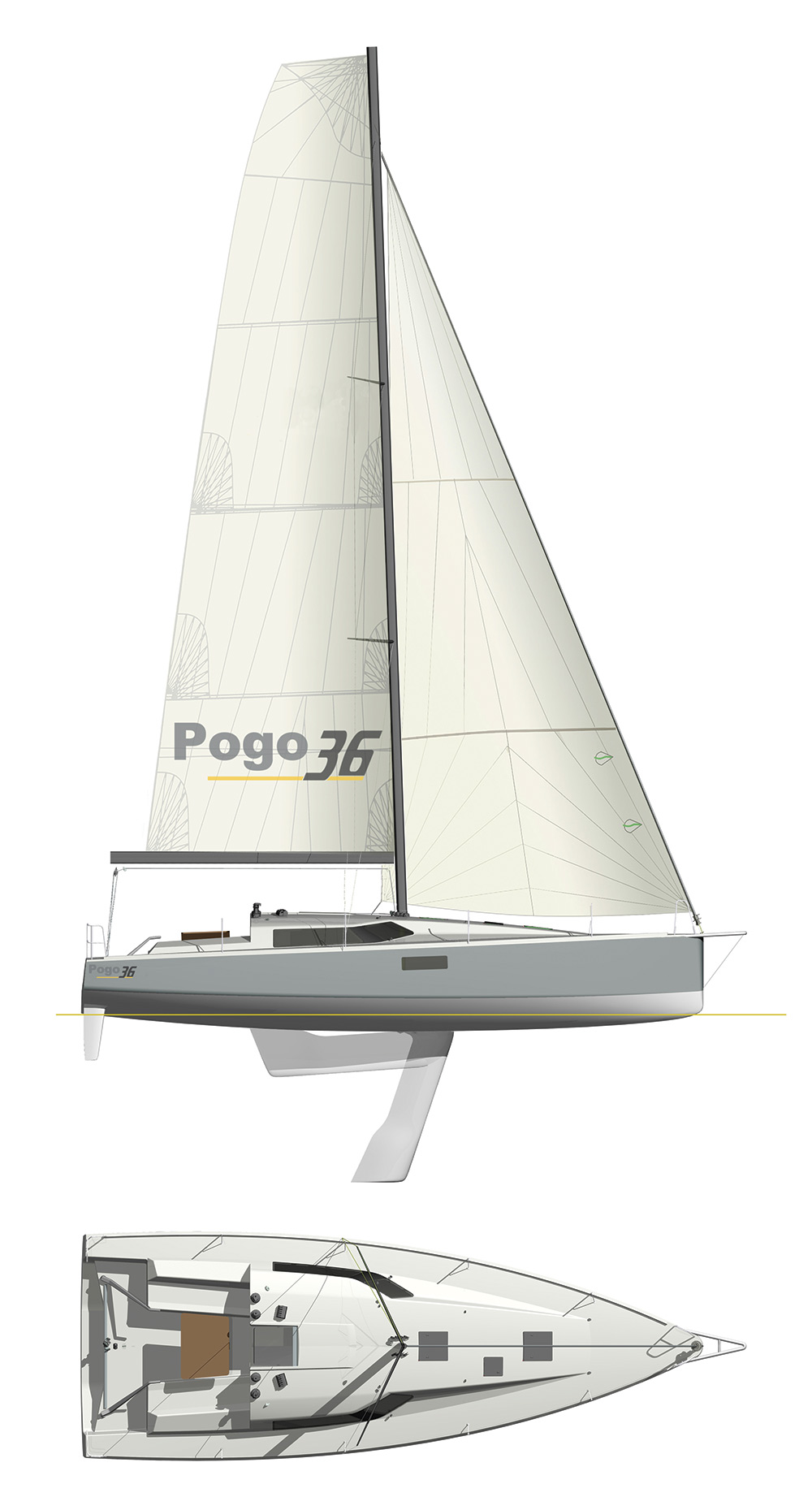 I would not be exaggerating if I said the success of the Pogo line has been meteoric. The company's 30 and 42 models have sold well and its newest 36-footer is designed to expand on the success of the Pogo 10.50. So, what label do you put on the Pogo 36? I am not even sure there is an appropriate label so I'll skip that question. This is a boat designed by Finot-Conq to appeal to the cruiser who wants true racer performance coupled with the convenience of variable draft. I love this design. For my style of sailing in the Pacific
Northwest, I think this would be the ideal boat for me. It is spectacularly good looking in a contemporary style. I would not characterize it as "Euro," it's just unique and exciting. I have a very picky eye but there is nothing about the look of this boat I would change. OK, I'm gushing a bit. Sorry.
It was difficult to find a displacement figure for this new model. I get a list of specs from the designer without a displacement figure. What's with that? So I looked at the D/Ls of the other models and came up with an educated guess of 7,800 pounds for a D/L of 73. I didn't have a DWL either so I just used 36 feet. The actual length on deck is 35 feet 7 inches. This is a very beamy boat with an L/B of 2.71. The hull form was tested using computational fluid dynamics and features a full-length chine well above the DWL. Volume has been pushed forward to help the Pogo ride up at planing speeds. Max beam is not at the transom but darn close. The topsides rise from the chine aft almost vertically optimizing form stability and power.
A big part of the success of this design is the keel. It's not a lifting keel and it's not a centerboard. It's kind of a hybrid pivoting keel, although a fixed-keel option exists. Draft with the keel up is 3 feet 7 inches. Draft with keel down is a staggering 9 feet 2 inches. That's a lot of draft for a 36-footer. There is a B/D of only 30% but with that draft you simply can't compare that number to many other cruising boats if any. I like to say, "There is no substitute for draft." I say it kind of tongue-in-cheek but I know it to be true. You get a low-aspect-ratio fin for upwind efficiency and a low VCG for sail-carrying power. Everyone likes a stiff boat. There are twin rudders. My hat's off to the designers for actually putting some spring in the sheer for us old guys.
There are two interior layouts. They are essentially identical except for the choice of one or two quarter cabins. Theoretically with two quarter cabins you could sleep three couples on the 36. Personally I'd go for one quarter cabin and berths for two couples and gain a big cockpit locker for stowage. If I were to be critical of this design I'd pick on the galley. The rendered arrangements are a bit obscure, so I am making some assumptions here, but it appears the galley is modest at best. If you include what I think is the engine box with its countertop, there is very little counter space. If you eliminated the port quarter cabin you could wrap the galley around the corner and extend the counter to the companionway. But they offer the option of eliminating the starboard quarter cabin instead. Looking at the past Pogo models, their interior finish work looks excellent. Galley nits aside, I'd still like to own this boat. It doesn't require much counter space to open a can of Dinty Moore stew.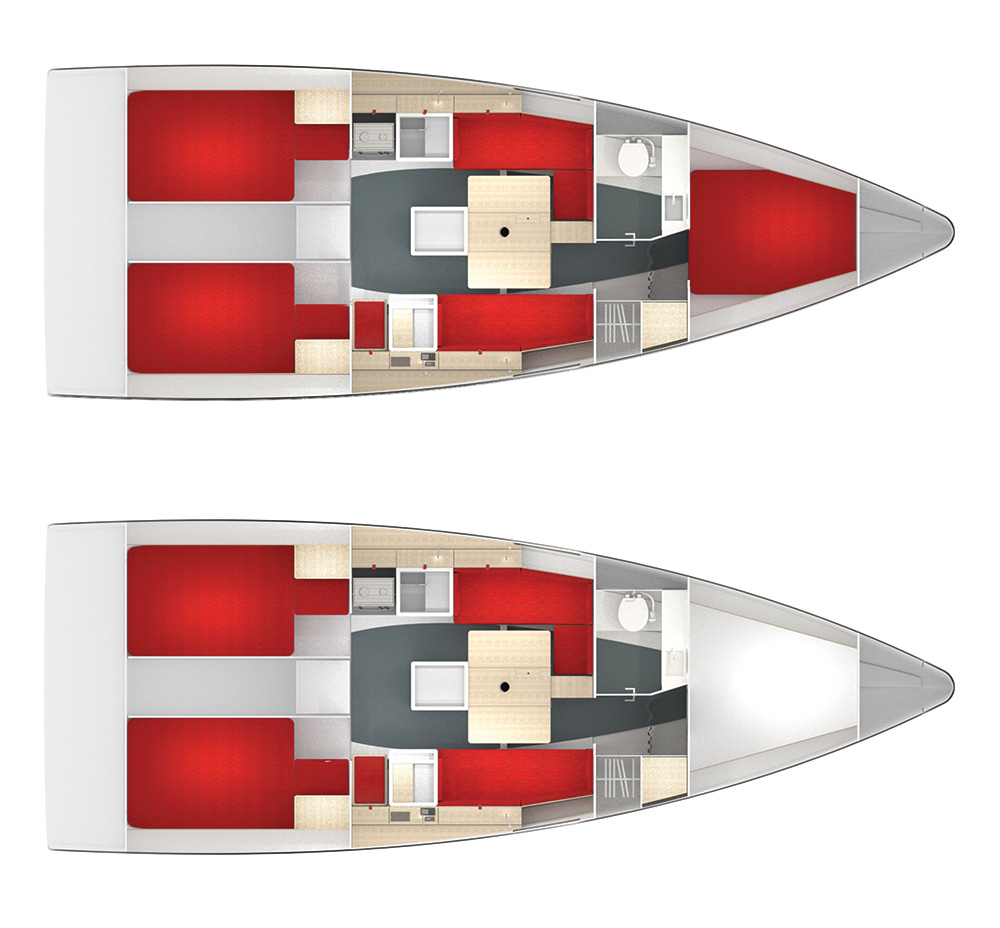 The designers really had some fun with this deck. The feature point is the "notch" in the cabintrunk. I did this 35 years ago on my maxi trailerable design so it's not new, but nicely done. On this design it helps to create a very aggressive-looking deck while optimizing the foredeck and sidedecks. It looks hot! The mainsheet traveler spans the cockpit between the tiller heads in the broad cockpit. All the winches are on the cabintop for ease of use from the cockpit.

The square-top-main rig is huge with a SA/D around 32. Compare that SA/D to the sub 20 SA/Ds of most cruising boats. Spreaders are swept, I'd guess to 30 degrees, so there will be none of that silly dead down wind stuff on this boat; you will always be reaching. I find the mast position unusually far aft but I am not questioning it. The keel is well forward so I'm sure the helm balance is very nice.

It's a reflex for me to review each boat like it was designed for me. Most of the time the fit leaves a lot to be desired. Not this time. The Pogo 36 appears to fit like a glove.
---
LOA 35'7"; LWL 36' (estimated); Beam 13'1"; Draft 9'2" (board down), 3'7" (board up); Displ. 7940 lbs.; Ballast 2,404 lbs.; Sail area 796 sq. ft.; SA/D 32; D/L 73; L/B 2.71
Our best estimate of the sailaway price: $154,000
Chantier Naval Structures
29120 Combrit- Ste-Marine, France
+33 (0) 2 98 51 94 73