Husband and wife Steve and Heidi Benjamin have found success racing together aboard their TP52 Spookie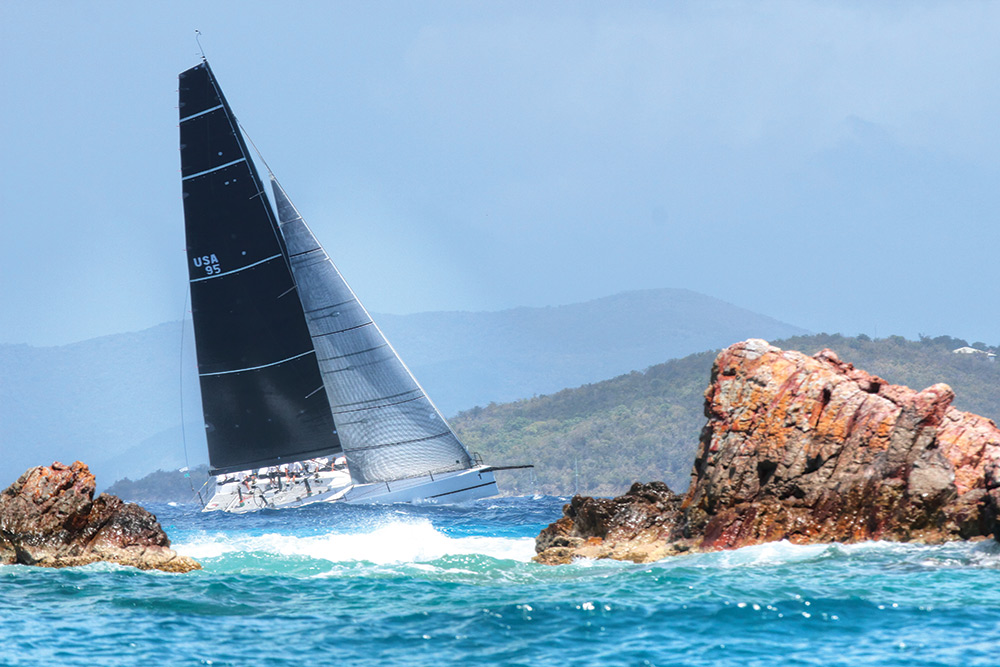 Ingrid Abery photo
Successful husband and wife teams are rare in the competitive sailing business. But Heidi and Steve Benjamin, each accomplished sailors in their own right, have found a winning formula racing together for several decades. Intrigued by their success I caught up with the pair in Cowes, Isle of Wight, United Kingdom, during the recent Etchells World Championship where Steve was racing.
Heidi was fresh from winning New York Yacht Club's Queen's Cup, the same trophy that had eluded her father, the late Bill Ziegler, which made the win particularly coveted. The race format is unusual in that the start gun opens a two-minute window for each yacht to cross the line and uses a mix of triangle and windward-leeward laps. Heidi steered the couple's TP52 Spookie across the start line one second after the gun was fired to lead the 15-boat fleet around the 12-mile course in clean air. She grew up sailing on Long Island Sound and was junior class Fireball champion at 15. Steve was the double Fireball World champion at the time.
"I'm gonna marry that guy someday," she said at the time.
Heidi was at high school while Steve, who goes by the moniker Benj, six years older, was already at Yale. She went on to Boston University and became two-time women's team captain.
"The talent pool ran deep that year," she said. "Ken Read was the men's captain along with so many other great sailors in our years."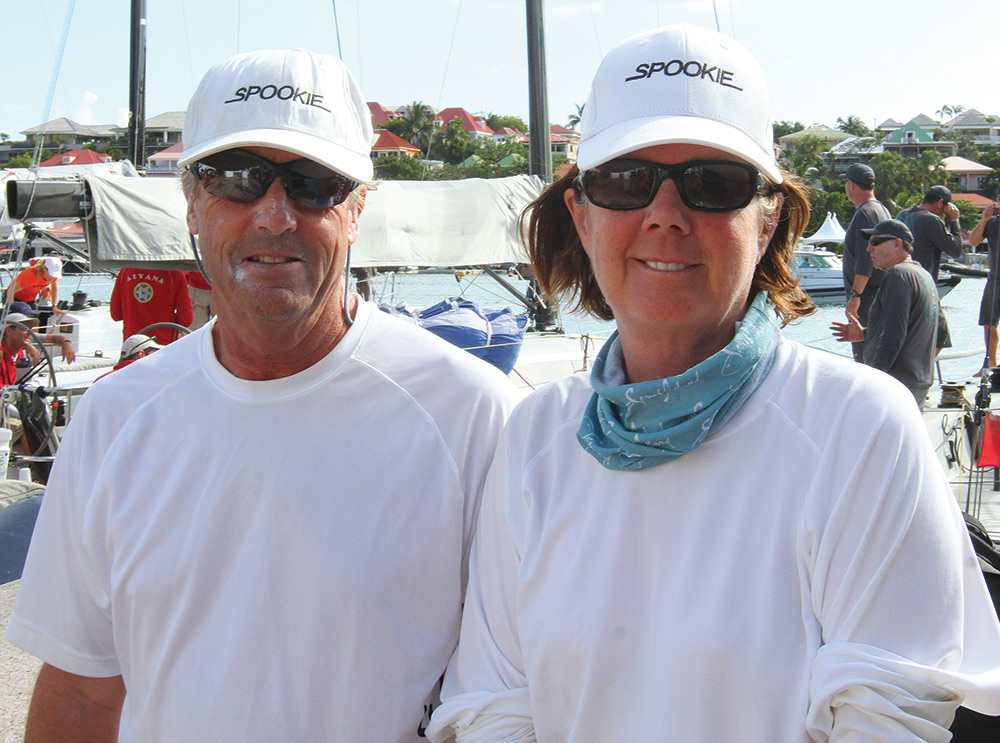 Ingrid Abery photo
The following spring she and her colleagues would practice four hours every afternoon, scheduling classes in the morning with only Mondays off. They spent weekends at regattas. The introduction of a women's class for the 1988 Olympics was a natural progression. In 1986 she won the very first women's doublehanded championship in Seattle.
"If there's any advice I can give it is that we over-trained and burned out," Heidi said. "While the rest of us 470 sailors were training hard for two years, going to away events in Brazil, Allison Jolly and Lynne Jewell, the outside favorites, practiced in Newport where the trials would take place. By the 1988 trials they blew us all away and went on to win the gold medal. After that I probably clocked more miles on the water than maybe even my husband."
Multiple-time world champion and 1984 Olympic 470 silver medalist, Steve was crowned 2015 Rolex Yachtsman of the Year.
"Heidi is responsible for a very large part of the Rolex Yachtsman of the Year award," Steve said. "I was very surprised by the selection but she was very positive and helped with the nomination."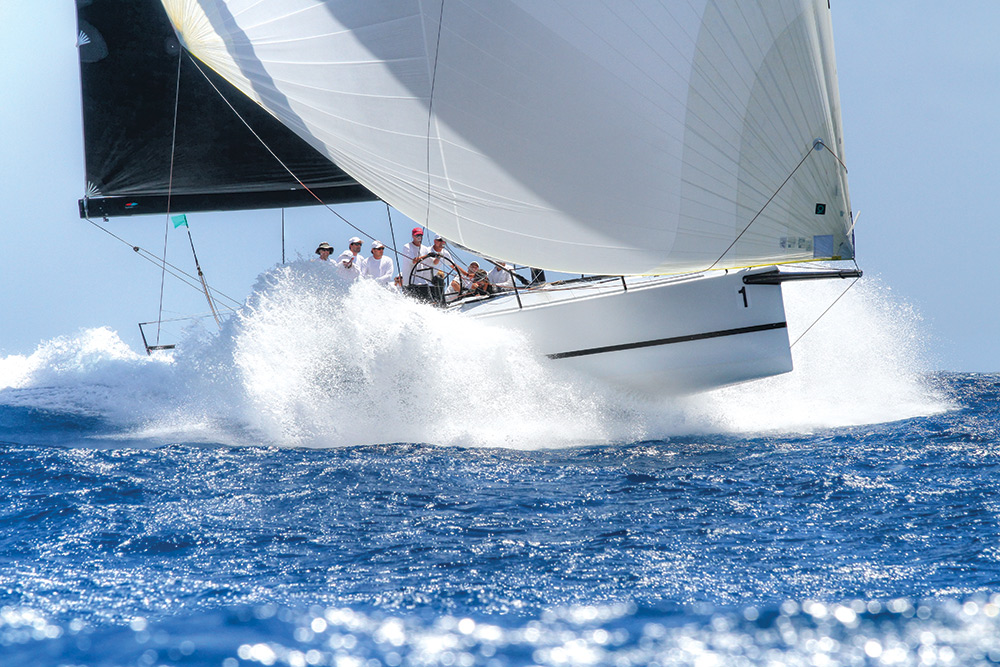 Ingrid Abery photo

Married for 23 years, the pair work well together, complimenting one another's strong points and appear to have the right dynamic. From their home base in Connecticut, they have campaigned their series of yachts named Spookie for several years, starting first with a Carkeek 40 and more recently a TP52. With these boats and their previous boats, including the Tripp 41 High Noon, they have won races such as the 2015 Marblehead to Halifax Race, the 2016 Lauderdale to Key West Race and the 2016 BVI Spring Regatta.

"Heidi handles the strategy and much of the logistics while I work on helming and boat speed primarily, with her helming occasionally," Steve said. "She is a natural sailor and has a special nose for wind shifts. We just love being on the water with each other. We think alike and rarely disagree."




"I could helm any time I want," Heidi said. "My husband is a tiller hog. It works being a strategist and tactician. Having good eyes and being able to see the wind is key. Teamwork is important to us. Giving someone a pat on the back, sucking it up if needed, are all part of the job. I'll be the first one to raise my hand if I'm wrong and know when I've met my match. We are just a big family.

"I'd love to encourage more women into racing. Having a woman on board brings up the crew morale," Heidi said. "It loosens them up. I'm the one who tells all the jokes on board to cheer them up. My only special requirement is that we have an enclosed carbon fiber head on the boat. Having spent enough money buying a boat like that I'm not gonna pee in a bucket."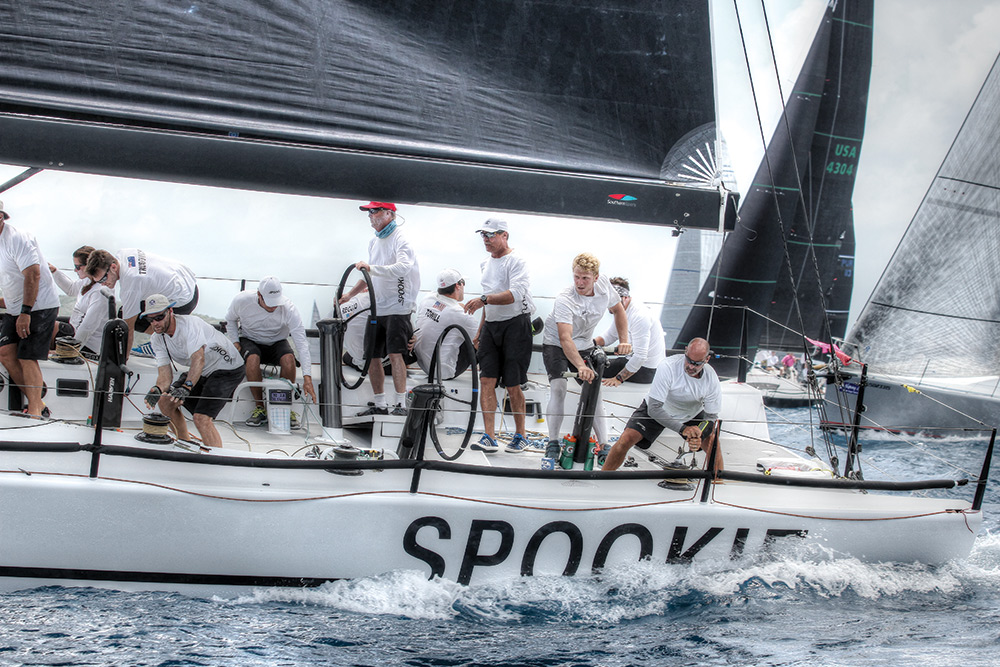 Ingrid Abery photo
Having successfully campaigned their Carkeek 40 for a number of years the couple decided to step up to a TP52 and had the Caribbean season in their sights.
"We decided to go for a bigger boat after some very rough racing in the Caribbean in 2014. The seas there were tough on the Carkeek 40," Steve said.
The latest Spookie had a shakedown at the St. Thomas International Regatta before heading to the neighboring British Virgin Islands. The BVI Spring Regatta and Sailing Festival is raced between the seven British Virgin Islands, with more than 100 boats from 18 countries. Spookie stole the show, smashing the monohull Nanny Cay Challenge record and winning the 17-nautical-mile race from Nanny Cay marina to the white sand island east of Tortola. Their winning streak continued taking first in buoy racing as well. The regatta served up champagne sailing conditions, with plenty of sunshine, turquoise water and breeze touching 17 knots.
"We were very excited to win at the BVI Spring Regatta on the first try," Steve said.
The secret to the couple's success lies in the support they give each other and the fact they thoroughly enjoy one another's company, they said.
"It's easy for us" added Heidi, "we're not lovey dovey. We are always critical about each other. It's easy for us to transition to sailing. It's usually me cheering him up. He takes it very seriously.
"Benj is a big believer in practicing. If he does have success at this worlds its because he has been practicing harder than anybody else. You have to be a leader and Steve's a leader."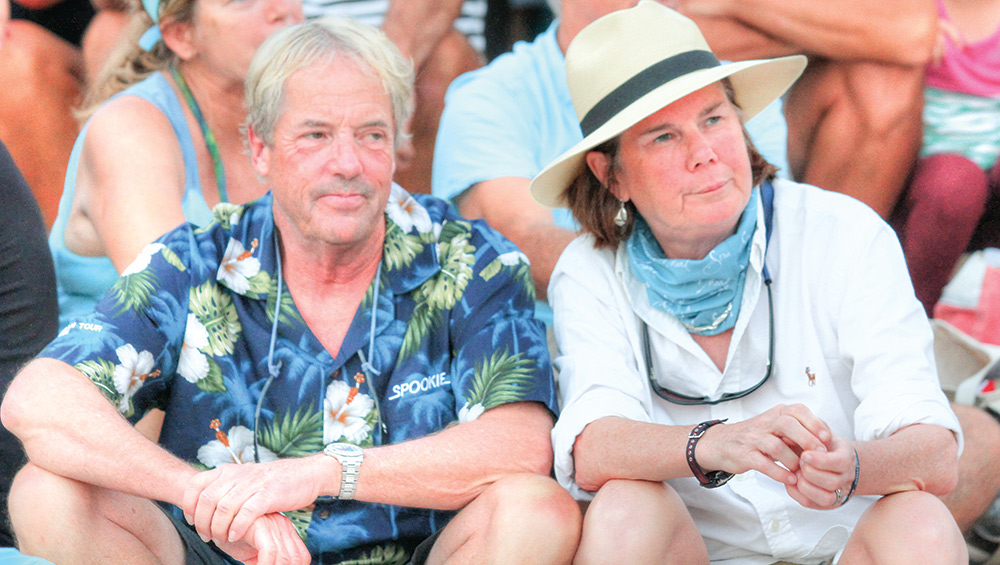 Ingrid Abery photo
"I've been lucky to do what we do, I've seen quite a bit of racing growing up and doing Olympic campaigns, world championships and stuff," Steve said.
"I've seen people do it right. Every day we're still learning, bringing everything we've learned over the years combined with the latest technology. It's exciting and fun, a good challenge."
The TP52 is a high-performance boat to sail, but the Benjamins benefit from their 470 and 505 sailing experience.
"The TP52 is a thoroughbred—very powerful and fast, it feels like a giant 505. It's still just as easy to get in trouble too," he said.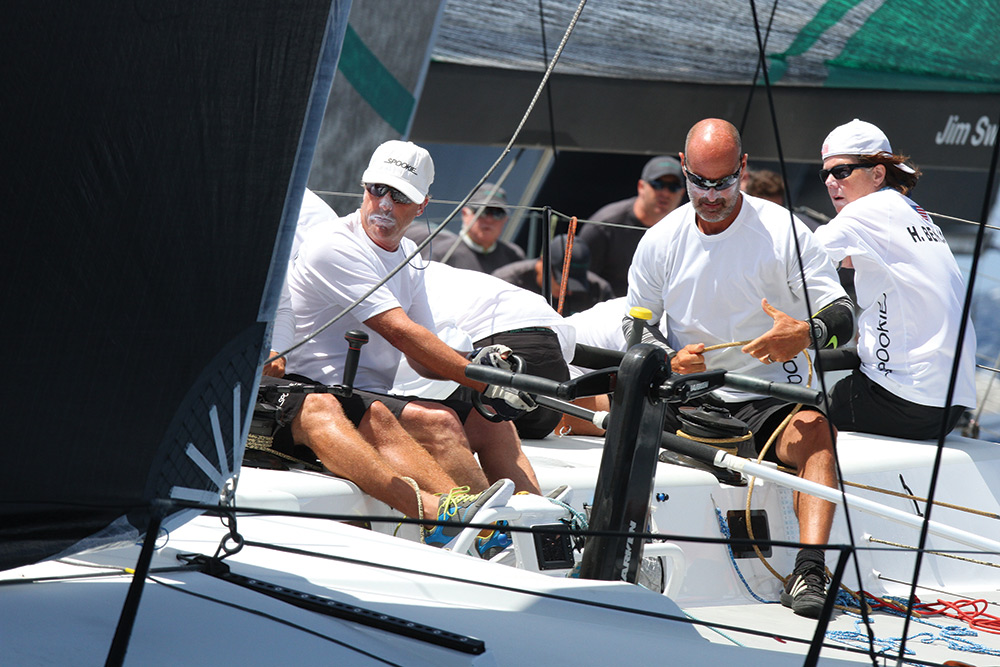 Ingrid Abery photo
But Steve is equally at home in an Etchells as he is in a high-performance grand prix racer.
"To be able to compete in a world championship and finish second like this is a dream come true. There are more than 20 boats capable of winning a race here.
"We're great believers in communication," Steve said. "You've got to have good communication and teamwork."