Get your boat shipshape for the year with our tips for annual maintenance
Clean it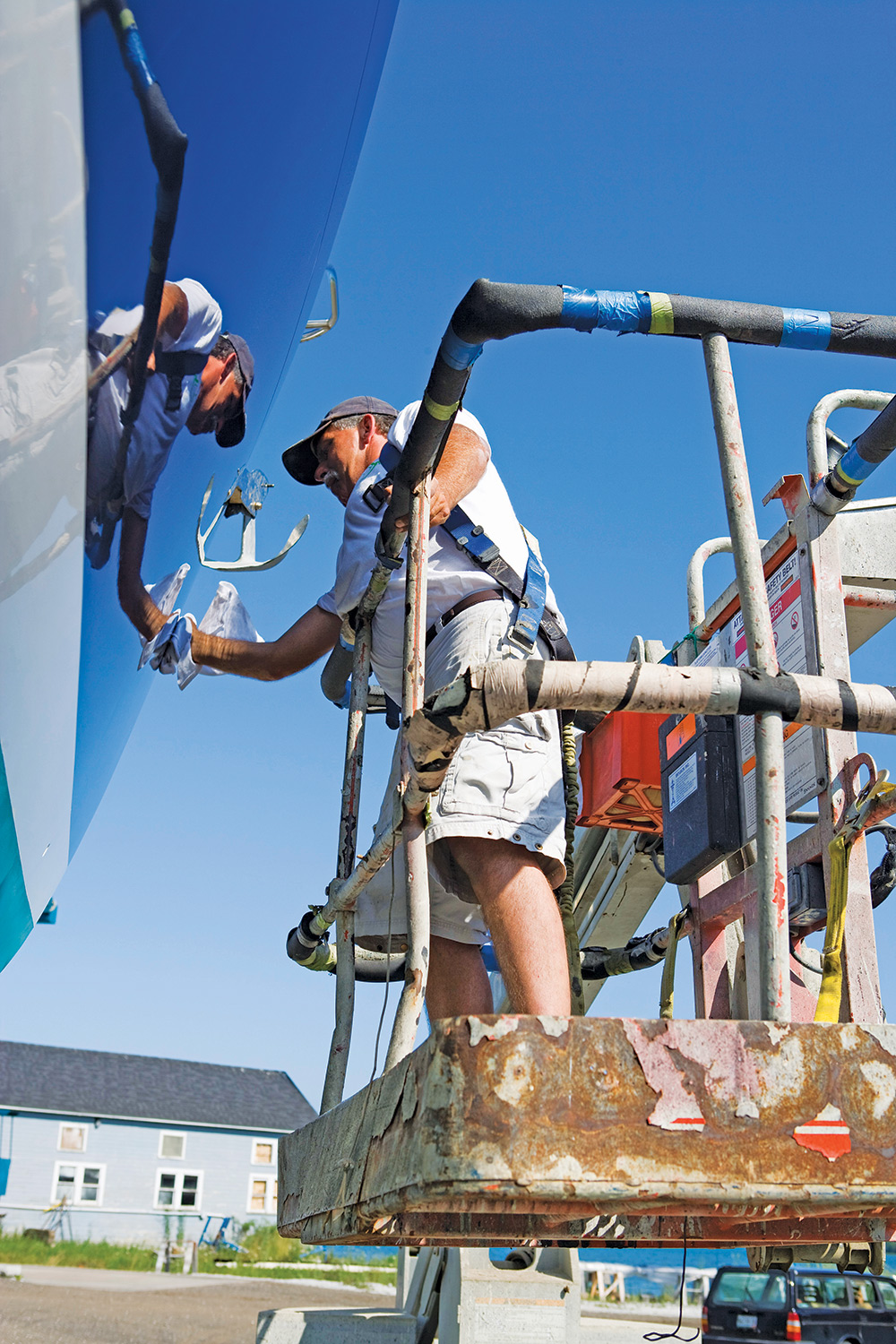 Billy Black photo
With all other work that may cause dust or dirt checked off the list, it's time to give the entire boat a thorough cleaning. Although it may not be the most exciting job on the list, it's the perfect opportunity to get everything spic and span. Not only is a clean boat a nice way to start the season, it's an excellent way to keep tabs on problems that may come up during the year. If there is oily water in the bilge in July, you will know if it's a new problem or leftover from a messy oil change in fall if you start the season with a bilge so clean you could eat from it.
It's probably best to work from the top down, starting at the deck level. A good scrub of the deck with a mild cleanser starts the process. Make sure to wash glossy areas that aren't nonskid with a sponge, not a brush. You can use a Teflon polish on these areas to really get them to sparkle and resist dirt and staining for much of the season. Hatches and windows should be cleaned with a cleaner that offers UV protection to ward off aging-related damage. Make sure to use clean rags without residue from other products. Polishing on-deck stainless might be tedious but there is a big payoff in looks from doing it once a year. Flitz Polish paste does a good job on this work and a final wipe with a fine microfiber cloth will really make stainless sparkle. Coated lifelines can get dingy, but Soft Scrub does a good job of cleaning them (be wary of dripping on your topsides, though). Wiping them with Armor All after cleaning will keep them looking good a bit longer.
Teak decks require different treatment than nonskid. The traditional method of cleaning them calls for a weekly washdown with salt water, which gives the teak a silver finish and keeps the deck boards swollen to prevent leakage. But a thorough cleaning, or one that doesn't requires salt water for freshwater sailors, can be done using a powdered cleaner specifically for teak such as Teak Decking Systems' ECO-100. A soft bristle brush should always be used on teak decks, which can be scratched by rough scrubbing.
The proper way to clean topsides depends on the kind of paint that is applied. Many paint manufacturers sell cleaning products specifically for their paint and following those recommendations is a good way to ensure you get a long life from your paint job. If ever in doubt, go with the mildest cleaning option that gets the job done and always rinse very well. Some paints benefit from an annual buffing and polishing with specific compounds that are followed by a wax. It's best to use a power rotary buffer for the first two steps and then wax by hand. Two-part paints such as Awlgrip should not be buffed or waxed. Instead use a polish suggested by the manufacturer.
Hopefully you washed the bottom the moment you pulled your boat out of the water, but if not, you'll want to get to scrubbing before launch. Either way, it's a good idea to give it a good rinse at a minimum before splashing.
If the boat is hauled for the winter, it may be best to hold off on cleaning the interior until the boat is splashed, as hauling equipment up a ladder is difficult and emptying the bilge can be a messy affair. After a thorough vacuum, give all surfaces a wipe down, polish stainless handrails and sinks and getting the head fresh and clean. The refrigerator and bilge can also benefit from a thorough scrubbing and it's a good time to do it: Access to them is easiest at the beginning of the season before gear and food has been loaded on. While you're in the bilge, inspect the seacocks and hoses.
Finally, disinfect the freshwater system, particularly if antifreeze has been used. Start by flushing the entire system with potable water and draining it. Then fill the system with a mild diluted bleach and let it sit for an hour before draining it and flushing with potable water.