How to sail in millions of words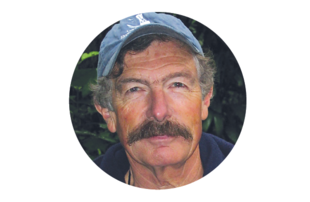 Credit sailing schools with making sailing more egalitarian.
Before there were sailing schools in any significant number, it was assumed that if you were a sailor you had been born with a silver shackle in your mouth.
You were born into a sailing family. Your first shoes after the baby pair your parents bronzed and hung from the rear-view mirror of the family sedan were Topsiders. Your daddy passed on the time-honored skills, customs and lore of sailing.
If you were an adult who wanted to learn to sail, you were pretty much out of luck unless you had generous friends with sailboats.
Today you simply sign up for a course at a sailing school. You learn how to sail and are even treated like an adult and not have to scrunch into an Optimist dinghy. In a few weeks you're qualified to charter a bareboat in the Caribbean.
The way I was taught to sail was akin to teaching swimming by dropping an infant into water and hoping instinct produces a version of the dog paddle that keeps the child afloat.
I was plopped into boats, dragged along on sailing outings with my parents and various characters, turned loose on my own in sailing dinghies and given some rudimentary boat-handling advice along the way. I would never claim this made me an ace sailor, but it had a surprising effect (surprising because not all of these youthful sailing experiences were fun): It left me fascinated with sailing.
To put it in loftier terms, it left me with a thirst for sailing knowledge. The first thing I learned about slaking this thirst was that for anyone who develops a yen for knowledge about a sporting activity, sailing is the place to be.
Sailors, for some reason, love to share what they know, didactically and verbosely. I can't imagine any sport matching the volume of sailing how-to books. They cover a whole wall of bookshelves in the SAILING library, hundreds of titles, millions of words of instruction.
I grew up in a house that was heavily stocked with sailing books, and I dove in omnivorously, breezing through sailing adventure stories (Slocum first), soaking up advice from the how-to tomes, including the boating bible affectionately known as "Chapman's."
Piloting, Seamanship and Small Boat Handling was a virtual annuity for its author, Charles F. Chapman; 67 editions were published, more than 3 million copies printed. Chapman, who died in 1976, was the publisher of Motor Boating magazine, but there was plenty for sailors in his compendium of boat-handling knowledge. Maybe too much. I recall bailing early out of the arcane 40-page dissertation on compasses.
I found that sailing book-learning got a lot more exciting when K. Adlard Coles' Heavy Weather Sailing came out. More than a manual of practical advice on sailing in the foulest conditions the sea can serve up, the book is also an enthralling collection of ocean adventure stories. The case histories recorded by Coles—sailors and sailboats fighting to survive—make for fascinating, not to mention hair-raising, reading.
I've only used one of the techniques explained in the book—running off before a storm—but I remember most of what I read about other measures, everything from towing warps to pouring oil on troubled waters.
In his jauntily written preface, Coles settled a long-simmering dispute: Is sailing a pastime or a sport? OK, I know that's a dispute only in the minds of a few sailings nerds, but still Coles' answer is worth remembering. He wrote, "Gales add to sailing the element of risk that marks the difference between a pastime and a sport."
Coles sailed off this mortal coil in 1985, but Heavy Weather Sailing lives on in excellent new editions updated and augmented by Peter Bruce.
In no subset of our sport/pastime is the prolixity of instructional writers more on display than on the subject of navigation. Hundreds of people who mastered navigation to one degree or another have felt the need to expound on the subject. This all started with Nathaniel Bowditch who published The American Practical Navigator in 1802.
Daunting though the thick book was to a young sailor, I did my duty and opened it. I can say I learned a lot from its Glossary of Marine Navigation, a trove of useful navigating information.
Bowditch, as the book is reverently referred to by navigators, is still in print, updated with words about 21st-century navigation gizmos. For all I know, it may still be required equipment on the bridge of every U.S. Navy vessel, as it once was.
More than 150 pages of Bowditch are devoted to celestial navigation. Nathaniel may have been the first American author fascinated by that subject, but certainly not the last. Something about mastering that skill must trigger an irresistible urge to convert sailors to the cult of the sextant.
I read some of the books that resulted from that urge. Many start with the premise that celestial navigation is easier than is widely perceived. I found this not to be true, which is perhaps not surprising for someone who made avoiding math courses a guiding principle of his academic career.
I finally gave up reading the books and took a correspondence course. I passed with flying colors, thanks mostly to the whiz-bang celestial calculator, roughly the size of a brick, that came with the course. The calculator died long ago, but I still have a plastic sextant. Every time I look at it I give thanks for the invention of GPS.
A surprising number of authors of sailing instructional books are medical doctors or scientists. This suggests a rather high level of erudition but, based on my research, does not contribute to writing clarity. When I decided to try racing, I sought help from Racing Tactics by Dr. Manfred Curry, the reigning yacht racing guru of the time, and promptly encountered a sentence that started with the words, "In order to demonstrate the manifoldness of yacht racing . . . ." That was enough Curry for me.
Later I turned to Dr. Stuart Walker, one-design racing wizard, sailing Olympic medal winner and prolific writer of highly-technical racing advice books. Some of the good doctor's theories and solutions were so complex I suspected he might have been trying to confuse his racing opponents, all of whom were no doubt reading his books to divine his secrets.
I will rest my case with this proof of my thirst for sailing knowledge: I actually started reading the 2.5-inch thick, 5.5-pound, 764-page book entitled Aero-Hydrodynamics of Sailing by C. J. Marchaj, a Polish scientist who achieved some notoriety for his research into factors and phenomenons that influence sailboat performance. For a reader like me, who just wanted to learn more about making sailboats go fast, the book might as well have been written in Polish.
Readers, please don't mind my flip comments about a few shortcomings in the how-to literature of sailing. The knowledge accumulated in it is an amazing resource. But here's my advice to beginning sailors: Go sailing first, read later. By their very numbers, these books suggest sailing is difficult. It isn't. Sailing is easy (not counting celestial navigation).