An extraordinary life anchored by a pure love of sailing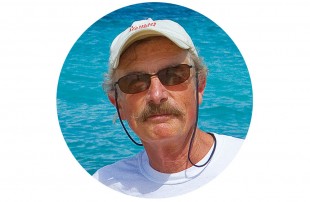 We lost a subscriber last summer. That's not unusual. It's part of the ebb and flow of the magazine business, gain some readers, lose some. Yet this loss was remarkable because of the stature of the subscriber. Let me tell you about Rudy Haase.
Rudy died August 22, 2017, at his home in Chester, Nova Scotia, Canada, at the age of 95. That's how we lost Rudy as a subscriber, though I'm afraid the term is an understatement in this case. Rudy was not just a subscriber, he was a reader who received every single issue of the magazine published in his lifetime, including the very first one in 1966, and saved many of them. In a note congratulating me on SAILING's 50th anniversary in 2016, he wrote, "Stacks of old copies reside in my barn."
Rudy's affection for SAILING Magazine is merely a footnote to the story of his extraordinary life, yet I consider it a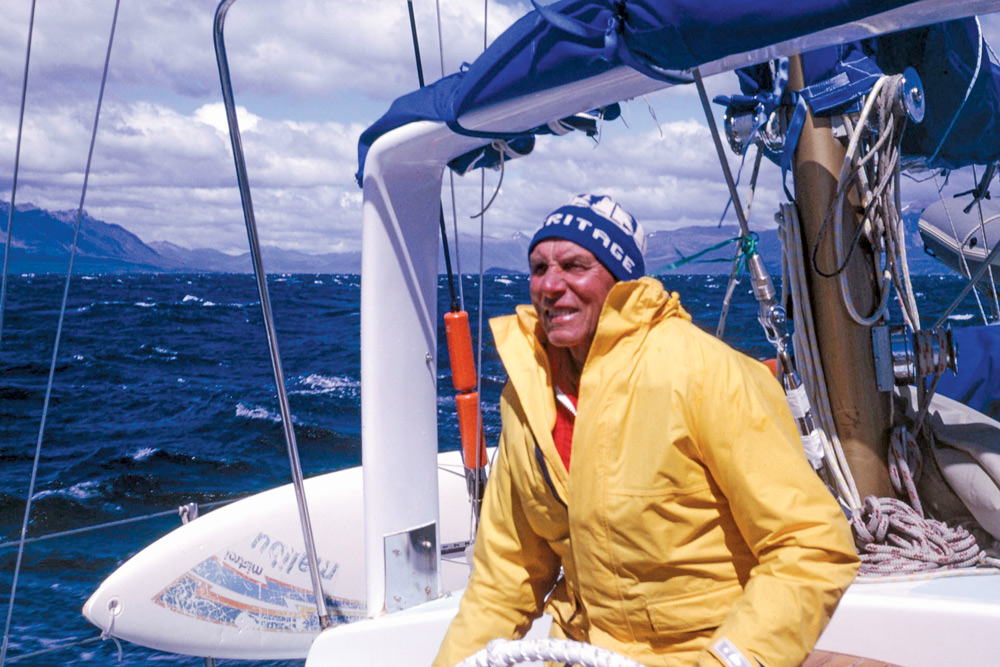 Rudy learned to sail as a boy on his father's boat on the fresh waters of Lakes Michigan, Superior and Huron. He served as a sailor—a U.S. Navy officer—on the Pacific Ocean during World War II, and often over his long lifetime sailed small boats on adventurous voyages in exotic locales.
At the age of 77, he circumnavigated Tasmania with a friend on a 35-foot sailboat. In a letter, he described the experience in those dependably boisterous waters as "wonderful," while conceding they had "a rugged crossing of the Bass Strait and a rough passage around the two southern capes."
The true loves of his sailing life, though, were the two wooden sailboats he owned and sailed over more than six decades to destinations along the Atlantic Coast in cruising grounds bookended by Newfoundland and the Bahamas.
He bought the first, the 38-foot Diablesse, in 1949, and spent the winter cruising the Bahamas with his new wife Mickie following a marriage ceremony performed by the captain of the Maine schooner Alamar. In the Exumas, Rudy wrote, "we never saw another yacht in over a month."
Diablesse was a trysail ketch. To my eye, the rig was a complicated affair, with four working sails, including a big mizzen and a staysail, trysail and jib with wishbone sprits. But Rudy swore it was an easy sailplan to handle and demonstrated it by invariably sailing to and from moorings and anchorages.
He frequently sailed the boat singlehanded, most often in what was to become his favorite cruising area, the islands and inside passages along Nova Scotia's eastern shore.
His preference for maneuvering under sail in anchorages and harbors was perhaps reinforced by the fact that the fossil-fueled alternative on Diablesse was a two-cylinder, 8-horsepower Lathrop gasoline engine that had to be hand started like a lawn mower. He took some pride in pointing out that except for flashlight batteries, Diablesse was "nonelectric."
Rudy's son Bruce Haase recalled giving his father a gift of a handheld GPS when those devices first became available. He was delighted to use it, Bruce said—to mark locations on his 80-hectare property in Nova Scotia. At sea, Rudy stuck with dead reckoning, paper charts and celestial navigation.
When Rudy and Mickie and their three sons moved to Nova Scotia in 1967, Diablesse, which had been berthed in Bucks Harbor, Maine, went along. In Chester, Rudy bought a small family-run business that built boats the old-fashioned way, plank on frame, and named it Bluenose Boatyard.
One of the boats crafted by the Bluenose Boatyard was called a Bluenose 30, a schooner designed by Rudy and built of bronze-fastened mahogany on oak by him and two boatwrights he employed. Lines drawings of the boat reproduced in SAILING showed a hull of pleasing proportions with a pretty sheerline and a tall, double-headsail schooner rig extended by a bowsprit and boomkin.
The boat was built for a client, but years later Rudy bought her from the original owner as a replacement for Diablesse, which he sold after owning her for 51 years. He sailed the schooner well into his ninth decade, and though the boat had an electric-starting Volvo diesel auxiliary engine, he still picked up moorings and approached anchoring spots under sail.
Rudy crammed so much sailing into his life that it's surprising there was room for it along with everything else going on in that life, which included a series of serendipitous encounters.
In the 1930s, when Rudy was a student at Black Mountain College in North Carolina (he later got his degree in naval architecture from the University of Michigan), he took a physics lecturer sailing on nearby Lake Eden. The lecturer was Albert Einstein.
When he worked as a counselor at a camp in Maine, he was tasked with being protector and mentor of a boy whose brother had been kidnapped and killed in one of the most sensational crimes of the era. His ward was Jon Lindburgh, son of the legendary aviator Charles Lindburgh.
While serving in World War II in the Philippines, he struck up a conversation with a fellow Navy lieutenant that resonated years later when Rudy asked the president of the United States to support an international effort to protect an endangered natural area in Costa Rica. That naval officer and the president who granted Rudy's request were one and the same—John F. Kennedy.
It would not be the last time Rudy acted as a friend of nature. He went on to gain fame in Nova Scotia, not as a sailor, but as an environmental hero, a pioneer in the preservation of natural areas, including islands in his beloved cruising waters, through conservation easements. For that, he was awarded in 2014 the Order of Nova Scotia, the highest honor bestowed by the province.
The story of Rudy Haase should end on a sailing note, and here it is: In 2016, he sponsored the Canadian 470 Olympic sailing team made up of sailors from Nova Scotia. They named their boat Rudy.