One-design classes built around camaraderie offer great competition and even better friendships
The myth that one-design racing produces cut-throat competition doesn't apply to these classic classes. Head to any of the winter circuit regattas, weeknight races or even the national and world championships and you will find a atmosphere that is more like a family reunion than hard-core battle. Built on the philosophy that sailing is better with friends, and that lending a hand with tuning or rigging tips, these one-design classes are bringing new sailors into the sport with "more-the-merrier" attitudes.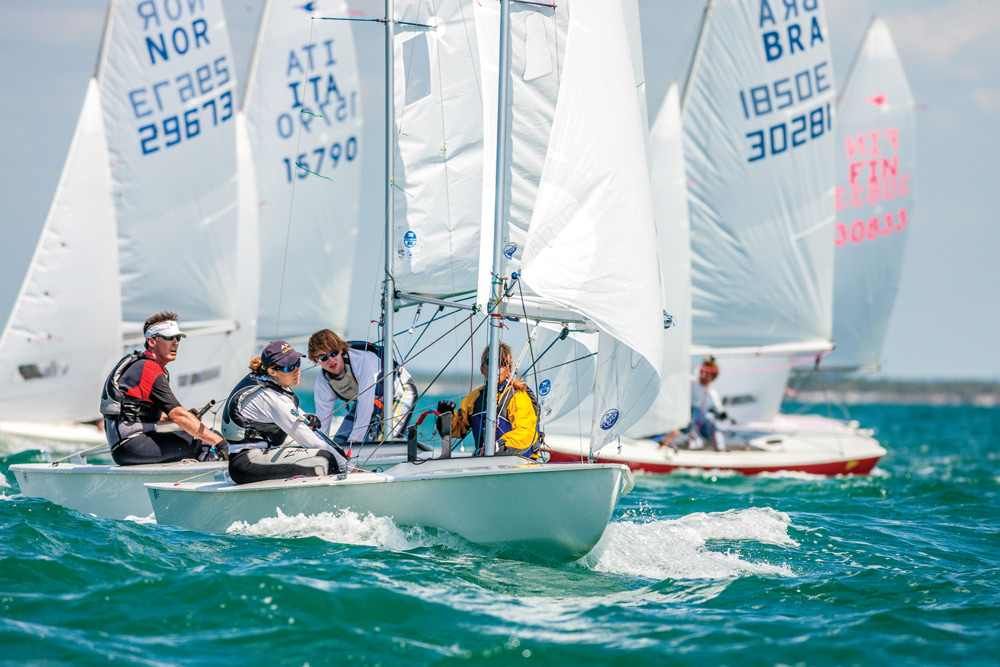 J.H. Peterson
Nothing to Snipe at
It's been said that the Snipe class is where college sailors go to die and world champions come to relax. It is not unusual to have world champions from other classes vying with each other for a spot on a Snipe starting line. But unlike more professional classes, these same world champions will be open with advice for their less-experienced competitors at the bar after racing. A friendly atmosphere coexists with tough racing, regatta after regatta.
The 15-foot 6-inch, two-person Snipe was designed in 1931 by Rudder magazine editor and small boat designer William F. Crosby, and is closing in on its 90th anniversary. It's hard chine hull conforms to the standard 16-foot plank, and was designed originally for home building. The original sail plan had an area of 100 square feet with a mainsail and working jib. The original 100 square feet of sail area was increased to 116 feet, with the introduction of the overlapping jib that replaced the working jib in 1932. Currently the sail area is 128 square feet in mainsail and overlapping jib, and spinnakers are not permitted. More than 30,000 boats have been built worldwide, and there are active fleets across the U.S.
A broad mix of ages gives Snipe socializing a special flavor, so does the Blender. The brainchild of the Cleveland, Ohio, fleet, the large metal industrial Blender that travels around the country to all major Snipe regattas has its own insulated travel bag, with special pockets for ice, cups and bottles.
Snipes can be found for as little as $1,000, with newer competitive boats going for $10,000.
Visit www.snipe.org for more information.