This small, attractive cruiser has plenty of options to suit every need
This new Sun Odyssey model from Jeanneau was designed by the company's in-house design team. It has a wide variety of options including a swing keel so there should be one overall configuration that would suit your sailing needs.
This is a very beamy hull with an L/B of 2.83. I consider any boat with an L/B below 3 as "very beamy." The D/L is 190 and today I'd call that "medium" displacement.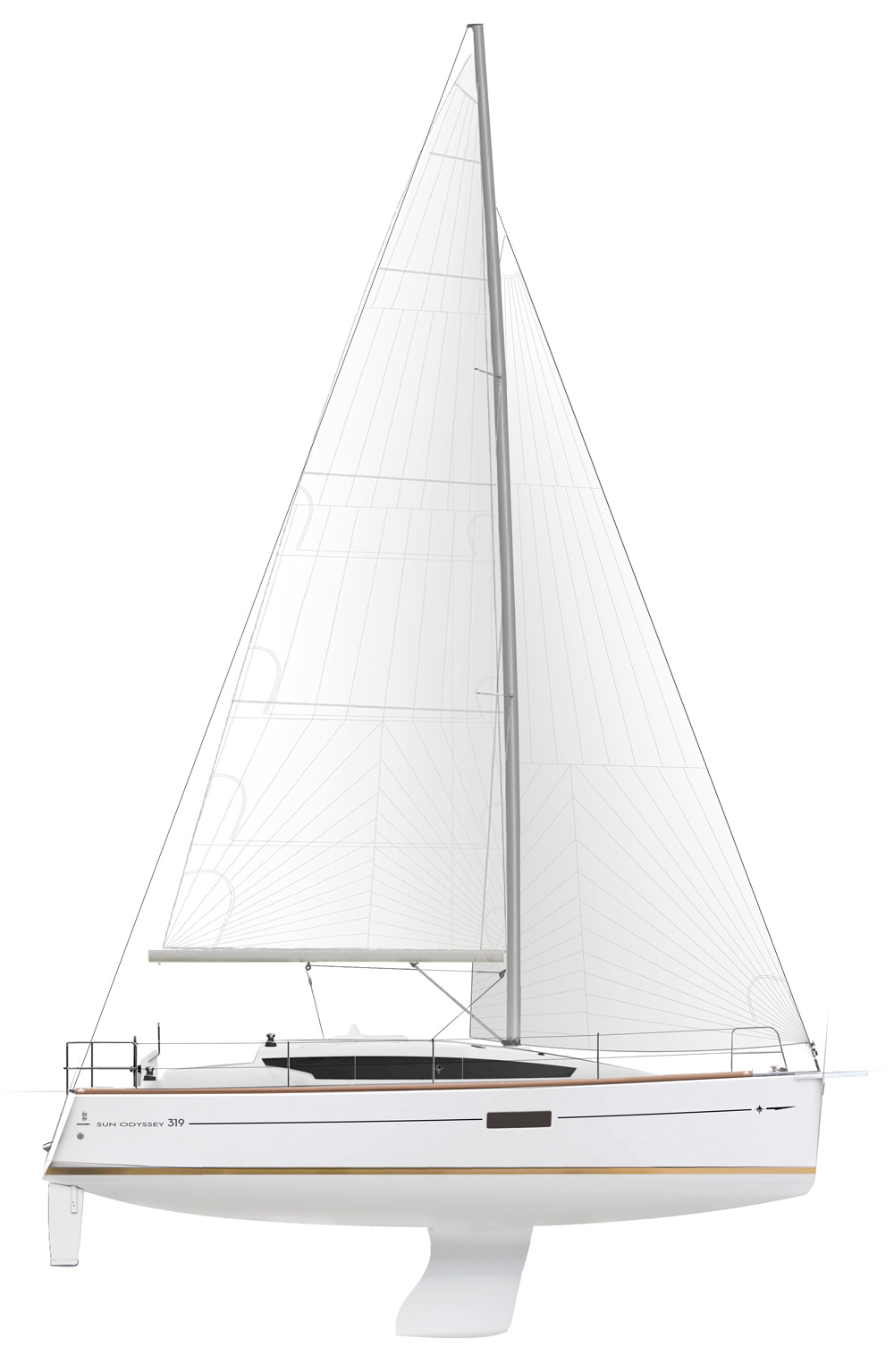 There is a sharp chine to the hull. A chine is just a corner in the hull. Sometimes you hear the term "hard chine" used, but really all chines are hard. A "soft chine" is a contradiction. It's either a corner or it's not. We've gone over the reason for chines in my reviews before but I think in the case of medium displacement, family cruising boats you can safely assume the chine is there to add volume aft where you need it for accommodations. Yes, you can argue that the chine will add stability. That's nice but I don't think that's why the chine is there. Chines on very light race boats are there strictly for performance but don't confuse the two types of boats.
I'm frequently asked "How can I get good upwind performance with shoal draft?" The short answer is "You can't." I don't care what they put on a low-aspect-ratio, stubby keel, it's not going to be efficient. Simply put, the water does not want to flow over a fat lump of a fin. Getting lift from such a fin is not likely. Drag is likely. It might be convenient but it won't give you upwind VMG. For good performance on the wind you need draft and preferably a high-aspect-ratio fin keel. Or, you can have a retractable, high-aspect-ratio fin. This SO model offers a fixed 6-foot fin keel or a retractable, pivoting fin that when down gives you a 5-foot 6-inch draft. Board-up draft is 2 feet 5 inches. To make this work you need twin rudders with a span that is no more than the board-up draft.
The downside to the retractable fin version is that it impacts the interior layout. The trunk for the fin pierces the cabin sole directly under the saloon dining table and extends a bit fore and aft of the actual table. The impact is minimal but if you have big feet you might find yourself tripping over the ends of the trunk from time to time. That's a reasonable trade off for the shoal-draft convenience.
There is a quarter cabin aft with a large double berth. It won't be the easiest berth to get in and out of but once you are in it you'll be comfortable. There is another double berth forward. The head aft is large. The galley is about what you would expect on a boat this size. Meal preparation may be a challenge due to the lack of counter space but I'm sure the nav station won't mind doing double duty. There's really not much more you can do in 32 feet without getting silly.
There are also rig options for the 319. The basic rig gives you a SA/D of 18.17. You can have a performance rig with a triradial cut mainsail with full-length battens and a roller-furling genoa with what looks like about 110% LP. Or, you can have a standard mainsail and a self-tacking jib. You can even have an in-mast furling mainsail if you want more convenience and less performance. I'd go for the performance rig myself. It's a 32-foot boat, just how hard can sail handling be?
The cockpit is big with a single wheel and the option of a fold-down swim step that nestles in closing off the cockpit. There is an option of a folding wheel to make accessing the swim step easier. The cockpit bench seats do not look like they would work well for napping. For me this is important. I'm at that time of life where naps are not optional.
This is a good-looking, small boat. I like the general proportions of the deck-house and the wide side decks.
---
LOA 32''1'; LWL 29'9"; Beam 11'4"; Draft swing keel up 2'5", down 5'6", draft deep keel 6'; Displ. 11,244 ; Ballast 3,638 lb.; Sail area 570 sq. ft.: SA/D 18.17; D/L 190; L/B 2.83; Auxiliary 21-hp; Fuel 26 gal.; Water 40 gal.
Jeanneau Yachts 105 Eastern Ave. Ste. # 203, Annapolis, MD 21403, www.jeanneauamerica.com