A handsome cruiser that will shine in the charter market or favorite cruising grounds
This new Hanse model comes from the design office of Judel/Vrolijjk and Co. That's a pretty good pedigree to start with. The design appears to be a big, comfy cruiser in the Euro style that would be a fun boat for some family racing.
The basic hull form is one we have become very used to seeing. The D/L is 180 and the L/B is 3.1 so this is a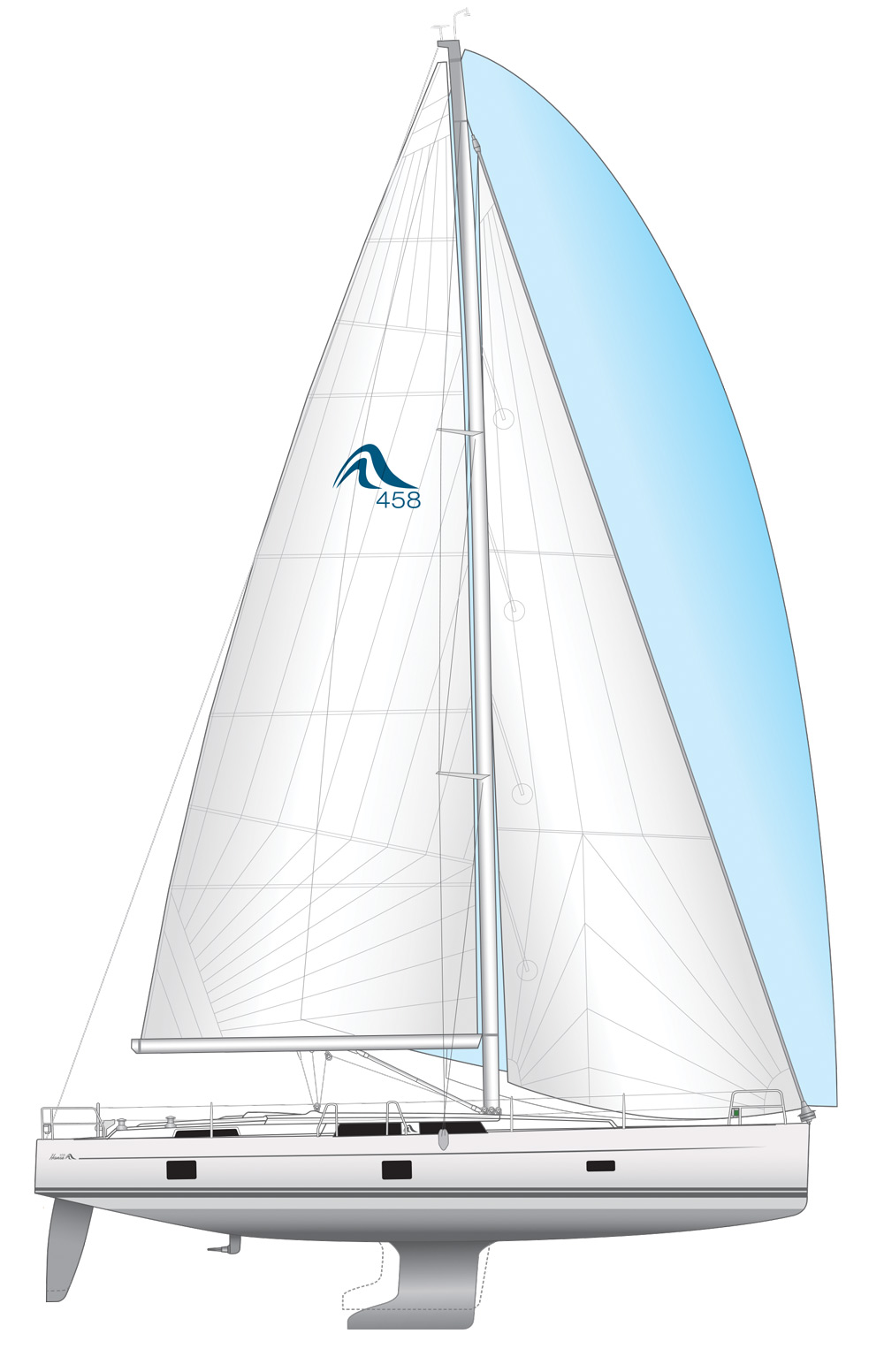 moderate displacement beamy boat. You can choose from two draft options: a shallow 6 feet or an L-shaped 7-foot 4-inch deep keel. I'll concentrate on the deeper draft model for this review. I like a boat that goes to weather, but if you live where the water is thin I'm sure the 6-foot draft version is appealing.
The ends are chopped off but there is considerable overhang aft and the top of the big spade rudder is exposed. There is even a tiny bit of rake to the transom. The planform area of this rudder is almost as much as that of the keel fin. I suppose they could have gone with twin, more shallow rudders but that would have increased the cost. Note how the canoe body depth is carried aft. I wonder if this has more to do with interior volume and cabin sole area than it does with performance. I suspect so.
Two layouts are available for the 458. You can have a centerline double berth forward or you can divide that area on centerline and have two double berths. If you go with the centerline double-berth layout the head and shower are included in the stateroom. This makes for a nice, comfy forward cabin. If you split the forward volume, the head and shower can be accessed from either sleeping area or the main cabin.
The rest of the layout is the same for both arrangements. I like the big dinette but it might be tight for six diners even with that centerline seat. There is a settee to port that is also the seat for the aft-facing nav station. The galley looks adequate if not spacious and there is a large head with shower stall to port. The quarter cabins have large double berths and hanging lockers. It's a pretty straightforward layout in either configuration but it looks very workable to me.
The deck is interesting in that there is a recessed area on top of the cabintrunk that is done in teak decking. I like that look. All hatches are the flush type and we are beginning to see flush hatches become more and more standard on European builds. That's one less thing for me to smack my tender toes on.
The cockpit is huge with twin wheels aft. There is no mainsheet traveler. A midboom mainsheet bridle system is used spanning the area just forward of the companionway. Forward there is a track for the self-tacking jib. All lines are lead aft under cover to emerge adjacent to the companionway and lead to winches on the cockpit comings.
The rig is a double, fractional, swept-spreader type with chainplates on the outside of the hull. The SA/D is 20.16. This is modest considering you won't be using any genoas in light air.
This is a big, handsome sloop with a bit of an aggressive look to it. I like the styling. This boat should shine in the charter market.
---
Specs LOA 46'1"; LWL 40'; Beam 14'4"; Draft shallow 6', L-keel 7'4"; Displ. shallow keel 26,675 lb., L-keel 25,794 lb.; Sail area 1,109 sq. ft.; SA/D 20.16; D/L 180; L/B 3.1; Auxiliary standard 57-hp, optional 80-hp; Fuel 55 gal.; Water 119 gal.
Our best estimate of the sailaway price: $420,000
Hanse North and South America
44 Merrimac St.
Newburyport, MA 01950
978-239-6568
www.yachts.group/us/hanse.html
---