This rugged, comfortable cruiser has plenty of performance to make quick passages
I think it's safe to say that Hylas is the longest running, that is to say continuous production sailboat builder in Taiwan today. I first visited that yard, Queen Long, in the late 1970s. It was a chilly morning and they gave me a special drink to help with the cold. I never did figure out exactly what I drank, but it may have been hot tea with a lot of milk added. Maintaining construction in one boatyard for that long speaks to the success of that partnership.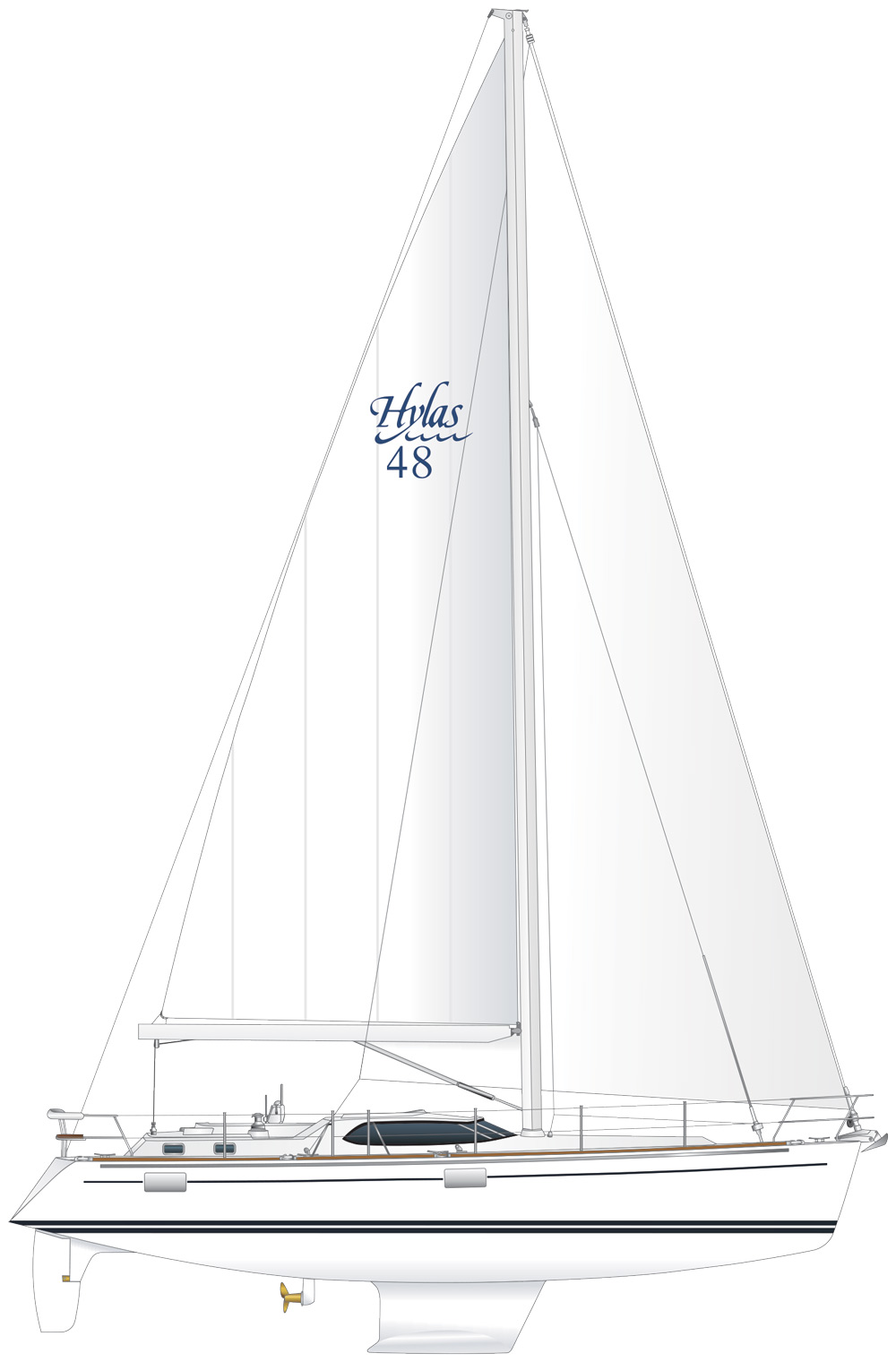 To borrow from the world of classical music, I'll call the new Hylas 48 Bill Dixon's variation on a theme by Hylas. The Hylas philosophy of what makes a good cruising boat has not changed over the years. The details have changed, but the end target has not: performance, comfort and a rugged build done with finesse.
The hull shape is moderate in all ways, which is pretty typical of Bill Dixon's work. Beam is carried aft as you would expect today but there is some taper to the planform that will make for a nicer looking hull at the expense of some trivial amount of interior volume. This is a good trade-off in my opinion.
Given the way cruising boats like this are outfitted today, I'd say the displacement of 36,360 pounds is a bit optimistic but I'll use it nonetheless for a D/L of 208. Dixon has avoided the fashionable plumb bow for one with some rake to help get the anchor away from the stem. I like this.
The L/B is 3.3 making this boat textbook "medium" in terms of beam. The rudder is hung on a partial skeg. My guess is that this was a Hylas requirement. I would have gone with a pure spade rudder. I'm not sure what the advantage of a partial skeg is other than allowing for a smaller diameter rudder stock. It is more expensive to build than a spade rudder. But you can see that Dixon has added some planform area to the rudder below the skeg to give the rudder some balance to reduce helm pressure. I would expect this boat to have good manners in reverse.
The interior layout works off what has worked for Hylas in previous models. There is nothing novel about it but I think that's a good thing. Incremental improvements are enough with this tried and proven layout. Keep in mind that Hylas builds a semicustom layout so you would have some room for modifications on your own boat. I can't see anything at this stage that I would modify.
My only concern would be the ability to seat more than four for dining below. But this is very common in this size range. The boat's just too beamy for a drop-leaf table and port and starboard settees. A small centerline bench seat, as shown, is about the best you can do. I'll eat at the step-down nav station. That way I can put my elbows on the table.
The galley stretches down the passageway to port and is big with plenty of counter space. The aft cabin has an adjoining head with a generous shower stall. More cabin sole is gained aft by stepping up at the double berth. Forward you have a small cabin to port that shows one single berth. Maybe that could be an upper and lower berth for kids. The forward cabin has another double berth. You can access the forward head from the saloon or the forward cabin.

The deck plan shows a track for a self-tending jib. I really like the detail of an inboard genoa track for sheeting options when you don't need the convenience of self-tacking. Maybe I'm old fashioned but I've done quite a few boats with self-tacking jibs and I think that feature is overrated. If you are tacking a genny with an LP of 135% or less it's just not that difficult.
Having a center-cockpit means the mainsheet traveler can be well aft of the cockpit on the cabintop. I can't tell how the main is sheeted. It disappears into the boom, but I can't see where it comes out or where it goes. Like almost all center-cockpit boats this size, climbing in and out of the cockpit could be a challenge.
The SA/D for this slightly swept-spreader rig is 20.4. One sailplan I have shows a jumper strut at the upper spreader. This is an odd detail and I wonder how well that will work with a self-tacking jib. The other sailplan I have does not show the jumper strut.
The Hylas 48 is a variation on a well-known theme, but it's a good variation. It's a handsome boat that should tick off all the boxes for a cruising family.
---
LOA 47'11"; LWL 42'4"; Beam 14'6"; Draft 6'6"; Displ. 36,360 lbs.; Ballast 13,111 lbs.; Sail area 1,373 sq. ft.; SA/D 20.4; D/L 208; L/B 3.3 Auxiliary 75-hp; Fuel 290 gal.; Water 119 gal.
---
Hylas Yachts
1688 Meridian Avenue, 7th Floor
Miami Beach, FL 33139
786-497-7882
---