This family cruiser has classic American styling and plenty of creature comforts
In a bold and rare move, Tartan designer Tim Jackett broke with the accepted Euro-styling movement and designed a new boat with classic American yacht proportions. Good on
ya, Tim.
I really like the looks of the new Tartan 395 and the way it advances the American tradition of yacht design. The differences are aesthetic but I have always felt that inside sailors is a vision of how they want to see themselves on the water and the aesthetics of the design play a huge part in that vision. It's not like we are out shopping for sensible shoes. We are out to have fun, damn it.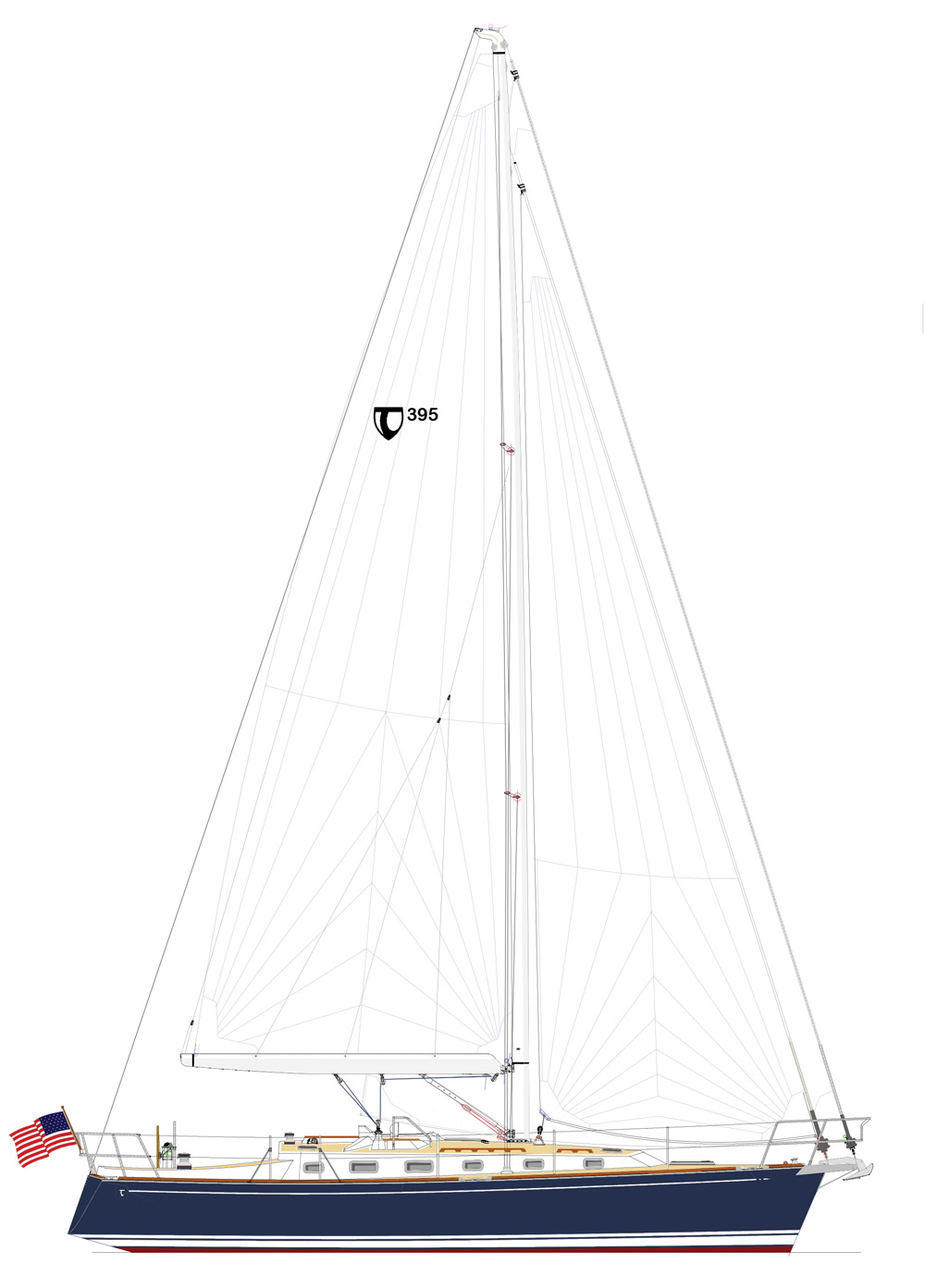 The hull form is moderate with a D/L of 206.5 and an L/B of 3.08. With an L/B that low I would consider this boat beamy but in line with today's production models. Beam helps buy you interior volume. There are three keels available. You can have the standard draft "Beavertail" fin with a 4-foot 10-inch draft. You can have the deep-draft fin with a 6-foot 2-inch draft. You can even go with the centerboard-keel combo and have 4 feet 3 inches of draft with the board up. Board down draft is 8 feet 3 inches.
I don't have any body plan or sections for this hull but I know Tim Jackett's style and I would suspect a firm turn to the bilge for good initial stability. There is enough overhang aft to give you a nice, clean wake and avoid the cookie dragger effect. If you study the sailplan you will note that Tim has even given this hull some spring to the sheer. Why? Because it looks good. That's all. Sheer treatments, freeboard aside, have nothing to do with performance in a cruising boat. But of all the lines on a boat that define its character, I would say the sheer spring (curvature applied) is among the most important features. If you look really carefully you can also spot a very subtle spring to the bootstripe. Nice touch, Tim.
The 395 is laid out for two couples, but you could sleep two more on the settees in the main cabin. There is a double berth forward. This berth looks like it might be a bit snug for a couple. It could be fine depending on the couple. I'd be concerned if there was enough width at the foot for me and my large feet. I'm not sure there is any advantage to tapering the head end of the berth. Why not take it all the way across the hull? It would not look sexy but you'd get more room in the berth.

The aft double is a quarterberth double and quite large with plenty of width at the foot end. The galley is fine but constrained by the quarter cabin. Still, that refrigeration box looks plenty big to me. There is a nav station to port forward of the head. There is lots of elbow room in this layout.
The rig offers the ability to carry two headsails permanently on roller furling. Tartan calls this the "Cruise Control Rig." I call it a self-tacking jib with the option of a genoa or code zero-type headsail tacked to the short sprit. This rig has been done many times and offers good performance over a wide range of wind strengths. Of course the only problem with this rig is that it is difficult to tack the outer headsail through that narrow slot. The easiest way to do it is to roll up as much of the outer headsail as you need to help it slip through.
The mast is carbon fiber and there is very little sweep to the spreaders. The SA/D is 19.3 and that's a healthy number for a family cruising boat. Cruisers are finally accepting carbon fiber masts and the advantage can be significant in terms of lowering the VCG of the boat and improving stability.
I like the clean, unaffected look of this cabintrunk. It gives you headroom where you need it and provides a generous side deck for safety. The cockpit features twin wheels and a walk-through transom. Like the interior there's lots of elbow room in this cockpit.
I find the overall look of this design superb given the mission.
---
LOA 39'6"; LWL 33'3"; Beam 12'10"; Draft deep fin 6'2", beavertail 4'10", centerboard up 4'3" down 8'3"; Displ. deep fin 16,000 lbs., beavertail 17,000 lbs., centerboard 17,300 lbs.; Ballast deep fin 5,500 lbs., beavertail 6,500 lbs., centerboard 6,800 lbs.; Sail area 795 sq. ft., SA/D 19.3; D/L 206.5; L/B 3.08; Auxiliary 40-hp. saildrive; Fuel 40 gal.; Water 100 gal.
Our best estimate of the sailaway price: $425,000
Tartan Yachts
1920 Fairport Nursery Road
Fairport Harbor, OH 44077
440-392-2628