Improve your chances for survival when you go overboard
What the person in the water does is just as important as what a boat's crew does in a man overboard situation
When a boat seems headed your way, make sure that you're as illuminated as possible. A sailor's head and shoulders bobbing at sea level is a lot smaller target than your boat's freeboard and masthead light. The fact that you see them doesn't mean that they see you. Here's where the AIS beacon, MOM pylon mounted light, or even a handheld VHF and a bright LED mini flashlight can make a big difference. Whistles and signaling mirrors are also useful tools.
Once you've checked off these items, you may be in for a wait. It is important to stay positive and concentrate on keeping your head out of the water while looking for any boats to signal. If there are adjustments to be made to your foul weather gear, such as tightening up the ankles or wrists to keep water from flowing through, do that. If the life jacket is too tight around your neck you can let a small amount of air out through the release valve.
To help stay warm, pull your thighs together and your arms in against your chest to keep heat from escaping.
The rougher the sea, the more difficult it will be for the boat to make contact with the person in the water. Ideally, the recovery maneuver will allow the boat to round up to leeward of the PIW, lose most of their way and come along side as they steer head-to-wind. A Lifesling or throw rope can be used to bridge the gap. The former effectively connects the victim with the boat and functions as a good lifting collar. The PIW needs to quickly spread the sling in order to slip it over their head and the inflated life jacket. A halyard can be used to haul the victim aboard or he or she can be towed to the swim step aft. The latter can be a precarious place to board when the stern is pitching with every wave.
There are lots of variables in play in any MOB situation, and the outcome often swings one way or the other, based upon a few things—done just right. In the case of the Farr 400 Meridian X, navigator Mark Wheeler fell overboard during the 2017 Chicago-Mackinac Race when an abrupt increase in wind speed called for all hands on deck. Wheeler fell through the lifelines near the transom
The boat was making about 18 knots under an A2 spinnaker when Wheeler fell overboard, but the crew saw him fall in and quickly worked to douse the chute and get turned around. Still, they were about two miles away from Wheeler by the time they were able to turn and start working back toward him. It was the middle of the night, pitch black, with howling winds in excess of 30 knots and a rapidly building sea.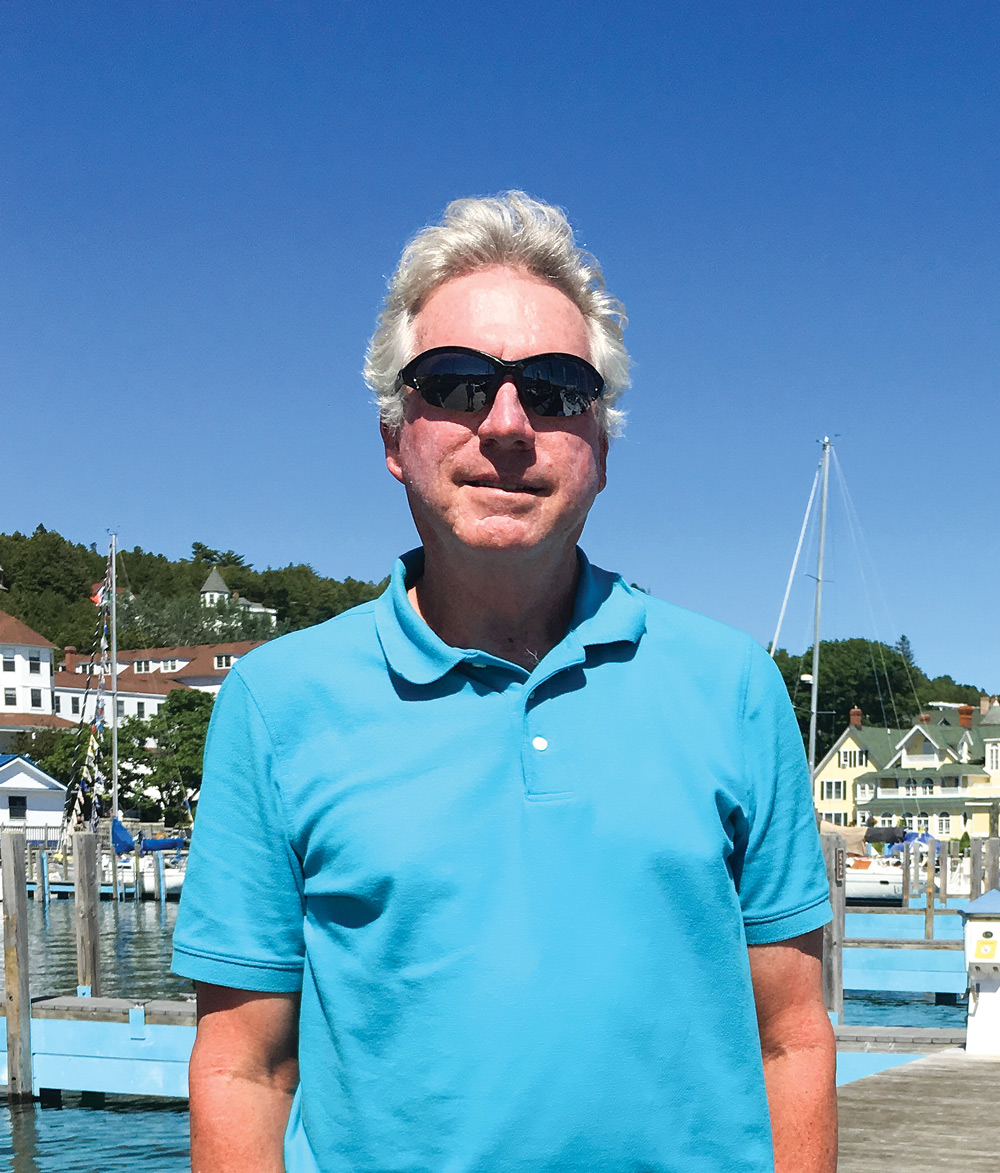 Erin Schanen photo
Wheeler, a former F-14 pilot, called upon his Navy survival training to make it through those first moments in the water. He manually inflated his life jacket, which was unbuckled because in the haste of getting on deck for the all hands call he failed to buckle it. Although he was carrying a new ARC-C light with a fresh battery, it faltered almost immediately and soon quit working entirely. Wheeler grabbed his whistle and started blowing, looking for lights and remaining calm.
Meanwhile, the crew on the boat alerted the Coast Guard, triggered the MOB button on the VHF radio and broadcasted a call heard by several other race boats that suspended racing to aid in the search for Wheeler. They did not deploy the man-overboard module. The crew followed a reciprocal course from where Wheeler fell overboard, and then dropped the mainsail to hear better.
"At this point we think we have heard a faint whistle, but it was so far away we are having trouble knowing," bowman Graham Garrenton wrote in a summary of the event. "We swing slightly to port, then one crew man calls out, 'Hard to starboard!'"
In a dockside interview with SAILING two days after the event, Wheeler recalled seeing a masthead light heading for him and getting brighter.
"I just wailed on that whistle," he said.
The Farr 395 Aftershock also heard Wheeler's whistle and shined a spotlight on him as Meridian X set up at 30 degrees to the wind, grabbed Wheeler near the primary winches and used the Lifesling to bring him back on board over the transom. Wheeler, who had been in the water for an hour and six minutes was cold but otherwise OK.
Months later, some of the Aftershock crew were at a Safety at Sea Seminar I ran. We had the skipper and his daughter add a firsthand account of weather conditions during the rescue, and explain how difficult it was to spot someone in such conditions. The lesson was clear: Flotation, Wheeler's tenacity and a shrill plastic whistle were largely responsible for his successful rescue.
---
Get to know your inflatable life jacket