Patience and perseverance pays off for a young couple's quest for the perfect boat
We found a Corbin 39 in Fort Pierce that was one of the cleanest and well-maintained boats that we had looked at yet. It was obvious that her Canadian owners cared well for her greatly and had sailed her far and wide. The Corbin 39 is a steadfast boat with a rich history and a devoted following of passionate owners, while the interiors not factory built can vary greatly in quality and craftmanship, this one was immaculate. The only downside seemed to be that there was only one real private cabin. Before we could make a solid decision, Vivian registered for a Yacht Cookery class in Spain and wanted to return to Switzerland to film drone footage for a documentary she had been working on. So, we headed off to Europe for the spring.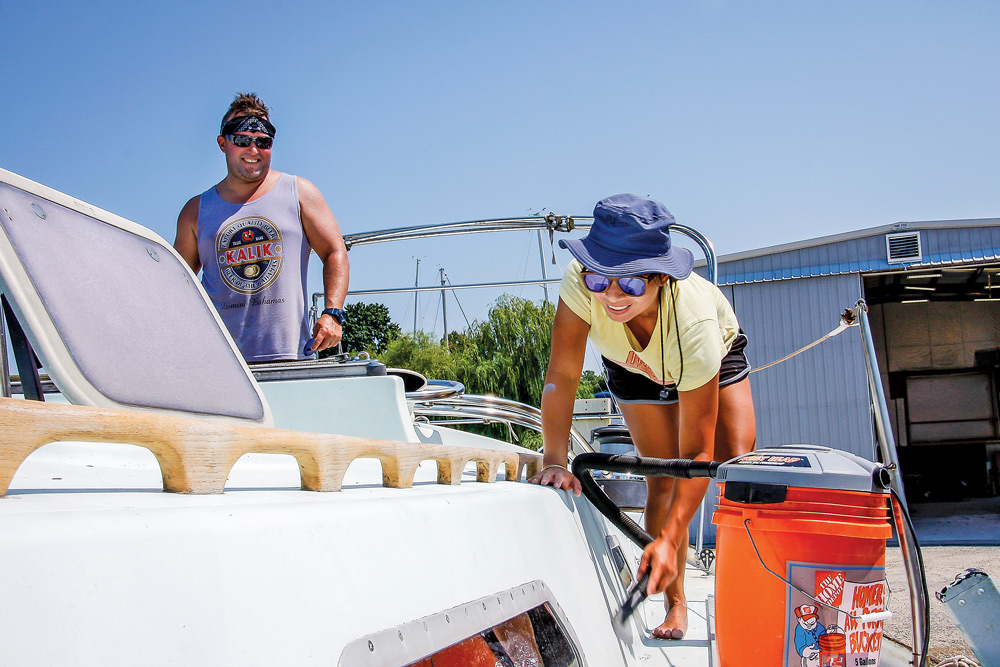 After a lovely time in the Alps, we sailed back to the States from Europe aboard a 44-foot catamaran and our search recommenced. We went back to see the Corbin 39 again and in the spirit of keeping our options open we also viewed a Moody 376 and a stunning Alajuela 48 ketch. The Moody's production boat feel was unappealing to us. The Alajuela was well maintained, impressively spacious with a unique layout, but seemed like too much boat, for us to continue updating. The Corbin was still our favorite, but we weren't quite ready to make an offer. We headed up to Titusville to view a Bob Perry designed Panda 40, a gorgeous classic boat that has recently become quite popular. Usually selling for a reasonable price and rarely on the market for long the Panda 40 has a full keel with a cutaway forefoot, a fair compromise on the fin keel. The boat was in good condition with a much preferable layout to the Corbin. As I was drafting an offer letter for the Panda, we received a job offer on a motor yacht in San Diego and an opportunity to interview for positions at a charter company in the Caribbean. We took the freelance job in San Diego, once again making the familiar decision to make money rather than spend it on a boat. We worked for a month in sunny Southern California, then packed and moved East again.
Thinking that we could easily live on a boat while at the charter company, our search didn't stop. We made an offer, sight unseen, on another super cool Swedish boat, a 35-foot Malo 106, but what was becoming my standard low offer was once again rejected by the owner. We found another Corbin 39 in Grenada, listed for next to nothing, but couldn't get a hold of the seller. I then inquired about a Bob Perry-designed Lafitte 44 in St. Lucia, which had sold two days before I called. Running out of listings in the Caribbean that were both appealing and affordable, we contented ourselves delivering charter boats around the Windward Islands. After a season we made the difficult decision to leave the Caribbean.
Back stateside, we were absolutely determined to finally buy our own boat. Lo and behold, the same Albin Nimbus 42 we had eyed earlier was once again for sale. Before we went to look at this boat I had been lusting after for nearly two years, Vivian mentioned to Tadji that we were going to look at a mini Quetzal. The morning we were going to look at the Nimbus, I received an email from Kretschmer asking if we would consider taking over some training passages on our own boat once they set sail on their planned grande voyage circumnavigation. We were awestruck, Kretschmer, was proposing us to work with him?! Of course, we had to say yes, but that yes meant saying no to the Nimbus. Suddenly our criteria for a boat changed dramatically. We now needed a capable bluewater passagemaker big enough to sleep at least 6 with a pedigree that crew on their first ocean passages could trust and feel safe aboard. The Nimbus, a very capable boat, was suddenly not big enough. I stayed up until the wee hours of the morning the next two nights scouring the internet for boats that could be put to work sharing the beauty of the deep ocean with new adventurers. The two most likely candidates were a Stevens 47 built by Queen Long, and a Compass 47, a boat that I knew next to nothing about but it had sweet lines, a great hull shape and the price was reasonable. We drove up to Mobile, Alabama, to look at the Stevens. It was a beautiful boat but in fairly rough shape, with the original 1981 engine. The price tag while out of our budget was below any other listing for a Stevens 47 and I considered trying to haggle them down.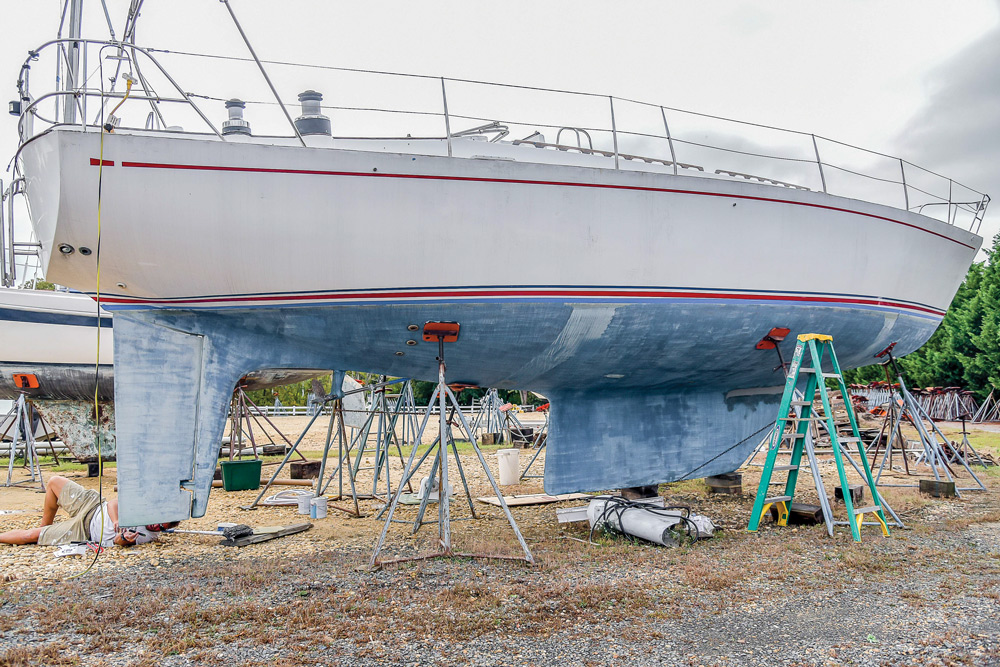 Vivian Vuong photo
I had my doubts about any low offers on the Stevens being accepted and I desperately wanted to see the Compass 47. I emailed the broker while I searched everywhere online for any more information about the Compass 47. The search yielded limited results, a few pictures of another couple who had refit one 10 years ago and some questionable stats. Kretschmer told me what he knew about the Compass, built in Cape Town, South Africa, designed by Angelo Lavranos, who worked for S&S in the late 1970s and designed some of the most noteworthy Swans. I then emailed Lavranos himself, and received a very lovely reply with design drawings and original brochures.
Weeks went by with no response from the broker until he finally got back to us with an updated listing and pictures. We scheduled a viewing and set out for Maryland as soon as we could. From the moment we saw the Compass it felt right, we spent several hours going through the boat. It had a brand-new engine flawlessly installed and the interior was reasonably clean and any problems seemed to be mostly aesthetic. I made an offer immediately. Sitting on the hard for the last three years almost untouched had left much of the boat in rough shape so we offered half the asking price. After some brief haggling we agreed on a price dependent on survey. During the initial survey on the hard it was determined that the boat was nowhere near ready for a sea trial and we made an "as-is where-is" offer knocking thousands off the price. The owner accepted and suddenly we were owners of a 47-foot boat capable of sleeping 10, with a fine entry, a deep fin keel, a skeg hung rudder, and a brand new Yanmar engine.
Patience and perseverance paid off, despite having a long refit list of jobs and upgrades, we now have the boat of our dreams. The practice of negotiation, even making offers of half the asking price just to have them refused was worth it when an offer was finally accepted on the perfect boat for us. Looking back, I can be thankful that our offers on small boats were turned down and the same amount of money got us a boat that we won't outgrow, can use for business as well as a home that we can take anywhere in the world. My advice to someone looking to purchase their own cruising boat would be "take your time." Finding the right boat at the right price is one of those things that shouldn't be rushed.
---
For more information on sail training offshore passages click
here
.