Family cruiserr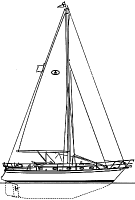 sland Packet has a very loyal following. The company has accomplished this by combining honest and obvious production quality with a design philosophy that virtually puts it in a class by itself. Don't infer that this means a static design approach. The new 380 shows several areas where IP is Òpushing the envelope."
Some of you will look at the full-keel-type hull form and immediately assume a whole package of performance characteristics. That's not fair. There are good full-keel boats and bad full-keel boats, just like there are good and bad fin-keel boats. I would assume, based on the pedigree and the slow, thoughtful evolution of the IP hull form, that designer Bob Johnson has hit upon a successful combination of form features. Note the new IP bow profile. The bowsprit has been shrunk to vestigial proportions and the bow overhang has been extended. This results in more useful deck area forward and more volume below. The new 380 will be drier and, with a finer angle of entry, it will probably be faster. It's a nice look that complements the reverse transom/swim step aft.
The high-volume keel shape results in a high D/L of 313, but that's typical of full-keel boats. I'm not wild about the Òcrab crusher" type of keel, but it does offer security in grounding situations and generally produces a boat with good directional stability. It's important to know that not all full-keel boats track well. Note the semibalanced barn-door rudder. I like big rudders. Most full-keel boats don't back up worth a damn and a big rudder combined with a three-bladed Max Prop can certainly improve control in reverse.
The interior offers excellent accommodations for two couples. The single head is generous and doesn't try to cram in a coffinlike shower stall. You know by now how I feel about big galleys, and this one is plenty big. I love the challenge of cooking good meals on my 26-footer, but it is a challenge. ÒHey! You stepped in the white sauce." This galley is spread out and ideal in its location and layout. If I have a complaint with this style of interior, it is that it doesn't provide good sleeping options for the all-boys cruise. This could be remedied with V-berths, but they are not in vogue these days.
The 380 is a true cutter. Note the mast location. It's pretty far back in the boat, leaving plenty of room in the foretriangle for carrying two headsails. The high-clewed staysail is set on a Garry Hoyt-style club that combines auto-vanging with self-tacking. The SA/D is 18.6, and that's pretty good for this type of boat.
I like the IP boats. Walk down the dock and stop at the first IP. They always look good. There's enough teak trim to give a dressed-up and yachty look while not overburdening the owner with therapy-like maintenance. Designer Johnson shows in this new model that he is serious about performance while still holding fast to his overall design approach.