Pocket cruiser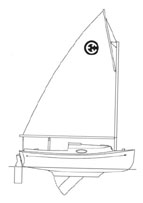 If you spend some time digging around in the world of yacht designers you will inevitably come across the name Clark Mills. Best known for his Windmill design, Mr. Mills also designed the Optimist pram. I'm fairly certain that there are more Optimists in the world than any other one-design class.
As you might expect, coming from the Clearwater, Florida, area, Mills' designs are very well suited to shoal-draft restrictions. This 17 foot, 4 inch catboat features a high aspect ratio, stainless steel centerboard that nestles up into a shallow keel-trunk. The board-up draft is 14 inches. The rudder is also a pivoting type to further reduce draft for gunkholing.
While the general style of this design is based upon the Cape Cod catboat model, it is highly modified from the original type. Mills' catboat has the beam pushed forward and less beam at the transom. The bow looks quite full, but you need that if you are going to get any internal volume. The sheer is sweet and in keeping with the traditional type. It's a very good-looking boat. Catboats had plumb stems years before anyone ever dreamed of the IMS. This little boat is all effective sailing length.
The rig is a traditional gaff-headed cat rig, but the spar is outfitted with a "Mastendr" sailing system that allows the mast to be hinged just above the gooseneck. This is helpful for trailering and makes rigging and unrigging the boat very easy. The mast just lays down along the top of the long boom and rests in a boom gallows on the transom.
The boom is midsheeted to a traveler on the bridgedeck. I'd prefer to see the traveler aft of the cockpit so you would have more of a mechanical advantage controlling the long boom. But the cam cleat and mainsheet fiddle block right on the bridge deck is very convenient. The SA/D of this boat is 18.3.
The cuddy cabin features good-size V-berths and room for a porta potty. There is a large chain locker forward, which you can access from the interior, and two opening ports to help with ventilation. There is no room for a galley, but I would think you could hang a barbecue off the boom gallows. Then again you could always dine on cold fried chicken and potato salad washed down with a crisp German Reisling Spätlese. That works for me.
I like good small cruising boats, although some small cruising boats almost fall into the toy boat category and these bother me. I see folks rigging these at my local marina and then struggling to make any headway at all to weather in our steep Puget Sound chop. Eventually they head back in, thoroughly disillusioned with sailing. You just can't do it safely in one of these toy boats.
Small boats like this Sun Cat, however, are real boats that can take you safely anywhere you choose to go. It just takes an extra measure of planning and a little more time than in a big cruiser.
If you too are attracted to the minimalist approach to sailing the Sun Cat would be a good boat to consider. Owning this boat would also be a nice way to pay tribute to one of the unsung heroes of the yacht design world, Clark Mills.