Motorsailer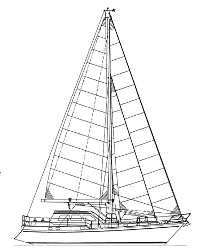 This month we are going to review three motorsailers and one shoal-draft cruiser. This new Robert Harris design was built by my old friends at Ta Yang in Taiwan. I have spent many a happy day puttering around the Ta Yang yard and have been treated royally at fabulous dinners hosted by the yard owner, Nan Hi Chiu. Ta Yang has been one of the most consistent and busiest sailing yacht builders in Taiwan for over 20 years. The yard excels in beautiful teak joinerwork.
I was driving from the yard to the airport one afternoon in a torrential rainstorm. It was raining so hard the driver almost had to pull off the road for lack of visibility. I innocently asked if he thought my plane would take off in this weather. "No problem. Chinese pilot very brave." Cool.
We had better clear up some terminology. Exactly what is a "motorsailer" and how does it differ from a pilothouse sloop? This is a subjective area so you can call these boats just about anything you want. I call boats motorsailers when they have been designed with inside steering and it's obvious that sparkling performance under sail was not paramount in the design objectives. Another designer I know defines a motorsailer as "any boat that has three 17,000 BTU air conditioners."
We know that freeboard is windage, and this boat has a lot. We also know that copious deck structures add to windage. There is a very good reason for this high appearance, and we will get to that when we discuss the accommodations.
The D/L of this design is 364. This is a heavy boat, and considering the amount of interior in it, that should come as no surprise. The ends are moderately long especially if you go with the optional sugar scoop transom. The keel is a long, low-aspect-ratio fin with an elongated bulb at the tip. Ballast will be internal. The ballast-to-displacement ratio is on the low side at 23.8 percent. Draft is 6 feet. The large semibalanced rudder is set well aft and supported at the bottom by a powerboatlike keel extension that is bolted onto the trailing edge of the keel.
There are three interiors available for this boat, all featuring inside steering in the pilothouse. Headroom throughout is 6 feet, 5 inches, and that would partially account for the height of the profile. I have no favorite layout here. You know I don't like to see sinks right up against the range. Maybe Layout B with the orthogonal settee in the saloon would work best for me. Both forward and aft heads have their own generously proportioned shower stalls. I like the large lazarette to starboard.
Side decks are minimal on this boat, and they disappear as you go aft. Note the step in the deck adjacent to the pilothouse. This provides more usable volume below. The cockpit looks to be small, but the seats scale out to be in excess of 6 feet, 10 inches long, and that's enough to lay down on. I think it would bother me to sail behind that large pilothouse, although I know from experience that you don't look over or around a pilothouse like this. You look through it. The windows are big enough to provide better than adequate visibility.
Isn't it wonderful that they make boats in all flavors?