Performance cruiserr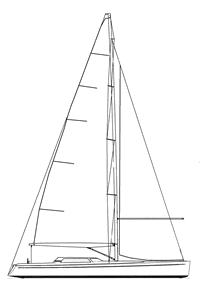 It wasn't too long ago that sailboat types were seen as fairly exclusive. A motorsailer could not be a good pure sailer. A race boat would not make a good cruiser and you couldn't race a cruiser. Then we learned that the features that gave us speed under power were not necessarily detrimental to speed under sail. Lightweight construction meant your accommodation weight did not necessarily preclude the boat from racing. Combining a comfortable interior with a racing hull-form and rig could produce an exciting and rewarding cruising boat. Improved sailhandling systems and the death of the genoa have also helped tame the racing rig and make it attractive to the short-handed cruiser. We now see a whole new class of boats designed to sail very fast while offering cruiser comfort. This 56-footer designed by Bill Tripp Jr. and built by Turner Yachts in Ontario, Canada, is just such a yacht. Say hello to the "performance cruiser" of 2002.
There's not much point in arguing the true definition of "cruising boat." It means different things to different sailors. The interior layout of the Turner 56 is total cruise. The hull is total race. The rig and deck layouts are hybrids. You should also be aware that this will be a somewhat demanding boat to cruise in that it's a high-powered boat with an SA/D of 29.2. You will sail fast and things will happen quickly. This is not a stiff boat given its large rig and light and narrow hull, but this does not preclude it from being a cruiser. You can always reduce sail, but a design like this needs the power to sail at optimum speeds throughout the entire wind range if it is to be competitive on today's race course.
This is a handsome boat. The sheer is nearly flat and there are minimal overhangs. I like the way the bow knuckle sits above the DWL, although photos show the boat floating a good 6 inches lower than the flotation plane indicated in the drawings. The keel raises and lowers hydraulically reducing the draft from 12 feet, 6 inches to 7 feet, 6 inches. I think you will keep the keel down all the time while sailing. The D/L is 116.7 and the L/B is 3.82. The rudder is big and shows a planform with very little taper.

The stem radius is reduced to a working minimum at the knuckle and photos show the 56 cleaving the water cleanly. If there is a bone in her teeth it's only a chicken bone. In fact, there is none. A big frothy bow wave piling up against the stem may be photogenic, but it's also very slow. The large-radius stems we used to see in the work of Bill Lapworth and Bill Tripp Sr. have gone away. In plan form the distribution of beam in this beautiful design is entirely normal.
There are two layouts available, with the difference being in the treatment of the owner's stateroom forward. You can have a centerline double with head aft or a Pullman-style double to port with the head forward. I like both, but in my experience most people would prefer the centerline double so no one will have to sleep under the side deck. That's understandable.
Wow! We have a galley with counter space on both sides of the sink and both sides of the range. The reefer/freezer compartment is big, and there's plenty of counter and locker space. The keel trunk is nestled against the galley and virtually disappears in this layout. There are mirror-image double-berth staterooms aft with a head to port. The dinette is raised up two steps while the nav station is kept down so it can tuck under the side deck.
While one part of the old racing fleet turns to all-out one-design racers with minimal accommodations, another segment looks to retaining and even improving comfort while not giving up on blistering boat speed. That sounds good to me.
State-of-the-art performance cruiser.