Racer
Racing has changed since I was a boy. Boy, has it changed. The eclectic and ragtag fleet that used to assemble off Shishole Bay in the 1960s would look like a joke compared to the sleek and similar looking boats that race there today. Crews have changed too. It's no longer good enough to scrape together a bunch of your somewhat healthy cronies, stick a bottle of rum in the winch pocket and go "Yo ho ho'ing" around the race course. The crews of today include a lot of professionals and a lot of 20-somethings. The boats have really changed. This new Farr boat is a perfect example.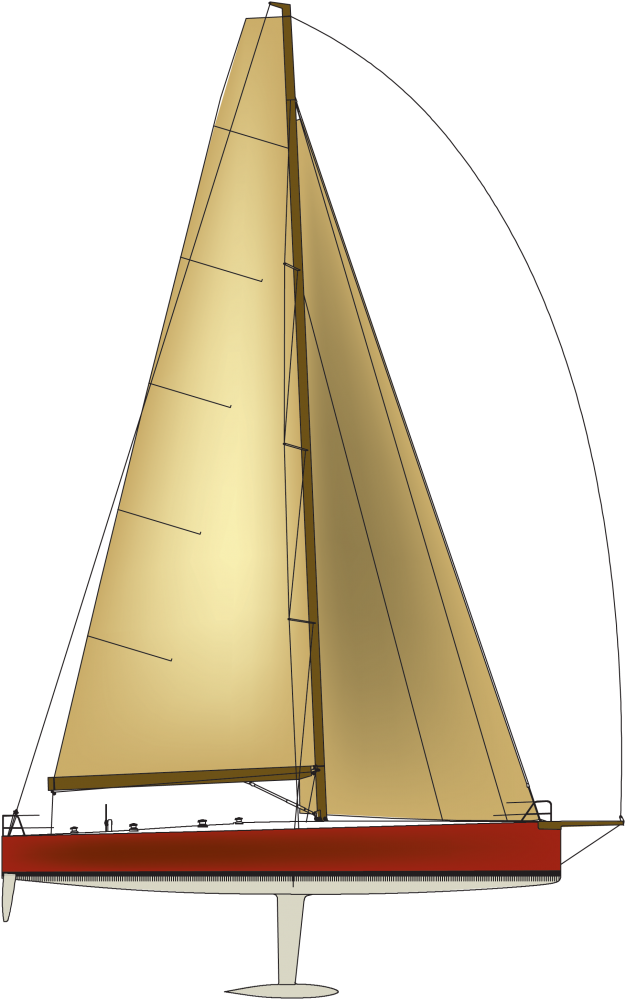 This 55-footer is a niche-designed boat. It has been designed to race in the same class as the TP52s but with a rating advantage that the TP52s don't have due to their class restrictions. The new 55 will be heavier, it will have more draft and a slightly bigger rig while the rating increase will be limited. The most interesting aspect of the new design is the twin rudder steering system. These twin rudders are really small, and because as you heel one rudder will be well immersed it does not have to be big. The other advantage of twin rudders is that a single rudder, when turned, produces lift or an up force at the stern, causing the stern to rise up and the bow to dig in. If you can reduce that upward force you can make the bow finer without having handling problems at high speeds. A finer bow means less drag in waves and chop. The sheer is a straight line. There is enough freeboard to provide standing headroom under the flush deck. The D/L is 63 and the L/B is 3.67. The 55 uses a cast iron fin for a rating advantage and a T-bulb of lead. The ballast-to-displacement ratio is an impressive 67 percent. The Farr office I can tell from what they sent me that the 55 has a tight bilge turn aft. There is no distinct chine but the turn of the bilge could not be much tighter without calling it a chine. The topsides aft are very slabby and straight. To keep everything low-drag the 55-horsepower auxiliary drive unit is retractable and neatly tucks flush into the hull.



There really is no interior layout as such. There are pipe berths for the racing crew, a small galley and one head, but that's it. This boat is more abut the hull and rig than it is about the interior. This is Miso soup compared to our hearty Danish concoction.

The all-carbon fractional rig has triple spreaders swept 24 degrees. There are no runners and all the rigging is Nitronic rod to avoid handicap penalties. Using the listed upwind sail area I get an SA/D of 43.28. With that big, fathead main it wouldn't make any sense to use P and E for sail area. The bowsprit is permanent and the downwind SA/D is 95.97. "Mother, you might want to strap the kids in. I'm turning the corner."

This is a huge cockpit with twin wheels forward of the traveler. The flush deck allows for clean leads and efficient placement of gear without having to accommodate a cabintrunk. The jib sheeting system for the first boat is linked to two hydraulic cylinders that control all jib sheeting functions on the short transverse lead tracks. Given the big, flush deck the resultant deck layout is very clean. You can also have twin pedestal winches for jib trimming if you prefer.



Hull construction uses carbon, epoxy and varying core thicknesses, types and densities to make sure the highest strength is achieved at the lowest weight. Foam is used in the areas where slamming is most likely to occur and Nomex honeycomb is used throughout the rest of the structure.

If you want to make a real splash at the club next spring and raise havoc with the PHRF committee you should look into buying one of these spectacular race boats. I guarantee that you will have no problem getting crew.


---
LOA 55'; LWL 51'9"; Beam 15'; Draft 11'6"; Displacement 19,800 lbs.; Ballast 13,255; Sail area 1,980 sq. ft.; SA/D 43.28; D/L 63; L/B 3.67; Auxiliary Yanmar 55-hp; Fuel 22 gals.; Water 42 gals.
Farr Yacht Sales, 613 Third St., Suite 20, Annapolis, MD 21403, (410) 267-0780,
www.farrdesign.com
.
---
OBE: $1.9 million
Our Best Estimate of the sailaway price