One-design trimaran
This is our small boat issue and it comes at a time when I am in the market for a new small sailboat. I live on a rocky beach and I need a boat I can launch from a dolly and a boat that has some durability to it. I want to drag my boat over the beach and not be obligated to wait for others to come and help me carry it. So, while I review these small boats this month, keep in mind that I am shopping. I also want to add that I am a small boat, dinghy lover. I am absolutely convinced that the best way to learn the nuances of sailing is to set off in a small, unballasted boat. The rewards of small boat sailing are great and there is no finer way of getting in touch with wind and waves.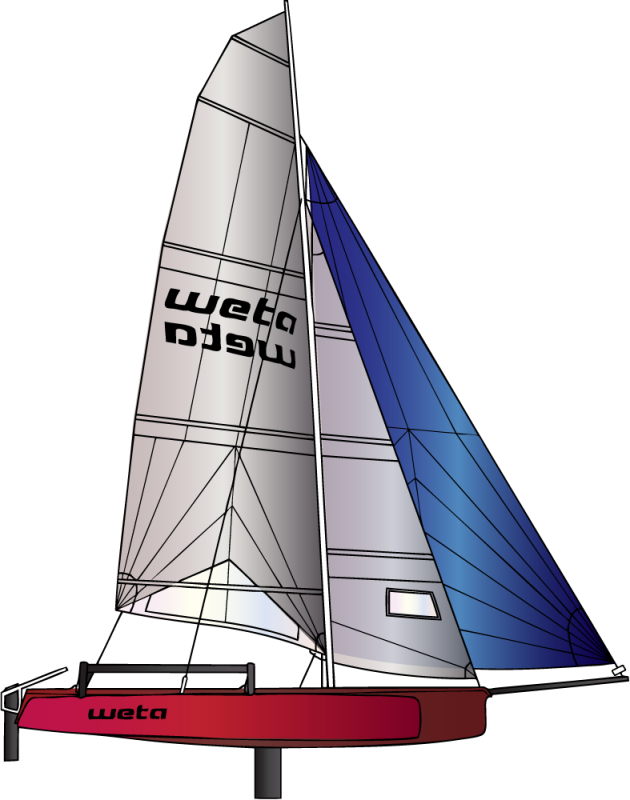 New Zealanders Roger and Chris Kitchen saw a gap in the small boat market. The market needed a stable trainer, easy to rig, easy to stow but at the same time combined high performance that would broaden the appeal beyond beginner sailors. That is a tall order. The needs of a beginner usually conflict with the needs of the experienced sailor looking for high performance. The answer was to be found in a small trimaran. Initially the Weta Marine founders worked with a multihull designer to come up with concepts for a prototype, and in 2003 the first boat was launched. Today, with much development, more than 100 Wetas have been launched. What I really liked about the promotional material I received for this review is that the Weta group tried to give credit to everyone involved over the life of this project. There is a Weta Marine design team, but it's big. I won't go through the list of names here, but from the Chinese builder and the Chinese sailmaker down to the group of contributors in New Zealand, the blurb tries to name everyone. I like that.

The 14-foot, 5-inch Weta is a fiberglass trimaran with beam of 11 feet, 6 inches. With the carbon fiber arms retracted the beam is 5 feet, 7 inches. The overall weight of the craft is 211 pounds, so it's heavier than a Laser but it's a lot more boat. Two adults can sail the Weta comfortably. Certainly two kids could have a ball in a Weta, and the Web site shows photos of four kids sailing the trimaran. There is a daggerboard in the main hull and a kick-up carbon fiber rudder.

The rig is interesting. The bowsprit is carbon and fixed in place to carry a large screacher. The screacher is on a Harken roller furler. The mainsail is boomless with five full battens. The mast is also carbon with shrouds taken out to the amas. There is a lot of horsepower in this rig and yes, you can capsize the Weta. But you would have to push the boat hard in a lot of breeze. If you go to the Weta Web site there is an excellent video showing how easily the Weta can be righted.

I think for most beginner or trainer boats the big question is stability. Any small boat can capsize but a trimaran will be difficult to capsize given the stability provided by the amas. They are like "training wheels" on a bike. At the same time they provide power when you sit out on the trampoline and this results in boat speed. So, to my eye, the Weta combines features that make it a fun ride for an experienced sailor with the safety required for beginners.

I look forward to trying out a Weta soon.


---
LOA 14'5"; Beam 11'6"; Draft 10" (board up), 3' (board down); Weight 220 lbs.; Sail area 123 sq. ft.; SA/D 54; D/L 32.76; L/B 1.25
Weta West, San Francisco, CA, (415) 559-1832,
www.wetawest.com
.
---
OBE: $10,995
Our Best Estimate of the sailaway price