I t's multihulls time again and this month we will look a three big, comfy cruising cats. So if cats are your thing you are in luck. If not then pay attention anyway. Maybe you will see something that helps explain the appeal of these big boats.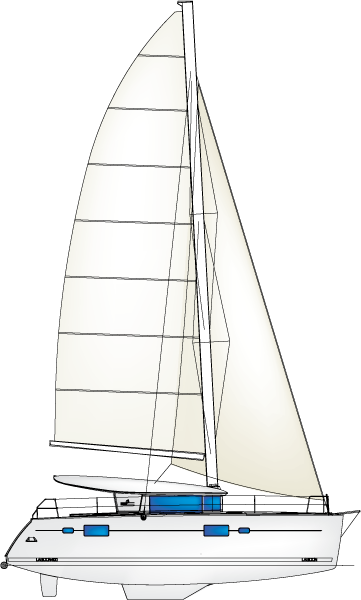 If beam is any indicator they are big. This new Lagoon 400 has an LOA of 39 feet, 3 inches and a max beam of 23 feet, 9 inches for an L/B of 1.65. Freeboard is high and that's required to get reasonable standing headroom in the hulls where the staterooms are. But keep in mind that the 2D drawings always exaggerate heights and the actual boat does not look quite so high. Structural design is by the French firm of VPLP. I have plenty of numbers for this design, but numbers can be tricky. It's often necessary to take a close look at the numbers to determine which ones are really representative of the actual boat as it will be used.
Lagoon lists a light displacement of 22,535 pounds for a D/L of 189. But they also list a "max loaded displacement" of 29,558 pounds, and this raises the D/L to 248. That's quite a difference, and in my experience, most boats tend toward the max side of displacement. Bridgedeck clearance is between 1 foot, 4 inches and 2 feet, 4 inches. Maybe that difference accounts for the two displacements and the corresponding change in flotation. The keels are very low-aspect-ratio integral fins and draft is listed at 4 feet.
Cruising cats put the emphasis on comfort and warm-weather living. As one of my consultation clients put it, "I am looking for an apartment in the islands." This would be a nice one. There are two layouts available. You can have three or four staterooms. If you go for the four-stateroom layout you get four very equal staterooms and each has its own head but no shower stalls. That's OK, you can shower on deck in the sun. The three-stateroom layout, which Lagoon says is its most popular layout, devotes the starboard hull to the owner's cabin and there is a shower stall forward of the head area. The galley and saloon are big for a 40-footer, but I imagine most of the entertaining and living will happen in the cockpit in the shade of the hard bimini that looks awkward on the sailplan. The saloon cabintrunk is almost all windows, so there will be plenty of light in the saloon.
Back to the numbers again. The promotional material lists the sail area as 1,022 square feet. But being most considerate the Lagoon people also list I, J, E and P. I suspect the listed sail area includes the roach of the main and some headsail overlap. I'm not sure which number to use so I'll use both. With that huge roach, and the pics show a fat head main, the 1,022 square feet gives us an SA/D of 20.49 if I use the "light" displacement. If I use the heavy displacement and the I, J, E and P sail area I get an SA/D of 13.05. This is a huge difference. Looking at both of these numbers it's hard to get a cohesive feel for this rig. My inclination is to use the heavy displacement and the 1,022 square feet for an SA/D of 17.1. That sounds reasonable.
The steering station is kind of a perch where you stand at deck level and there is a pop-up section in the bimini to allow headroom. It's kind of exposed but the lines are led aft to the wheel and you won't be heeling over much anyway, so I suspect it will work fine.
With its big, fat-head main, this cat looks like it would be fun to sail.
---
LOA 39'3"; LWL 37'7"; Beam 23'9"; Draft 4'; Displacement 22,535 lbs.; Sail area 1,022 sq. ft.; SA/D 20.49; D/L 189; L/B 1.65; Auxiliary (2) Yanmar 3JH4ACE 40-hp; Fuel 53 gals.; Water 78 gals.
Lagoon America, 105 Eastern Ave., Suite 102, Annapolis, MD 21403 (410) 280-2368,
www.cata-lagoon.com
.
OBE: $385,000
Our Best Estimate of the sailaway price