If you really want comfort it would be hard to beat this big cruising cat from the Prout people. If the other two cats we looked at this month qualify as condos in the islands this Prout must be a villa. There are two versions of this 72-footer available but I will concentrate on the model designated as the P-72SVFB. I think of it as the "double-decker" model.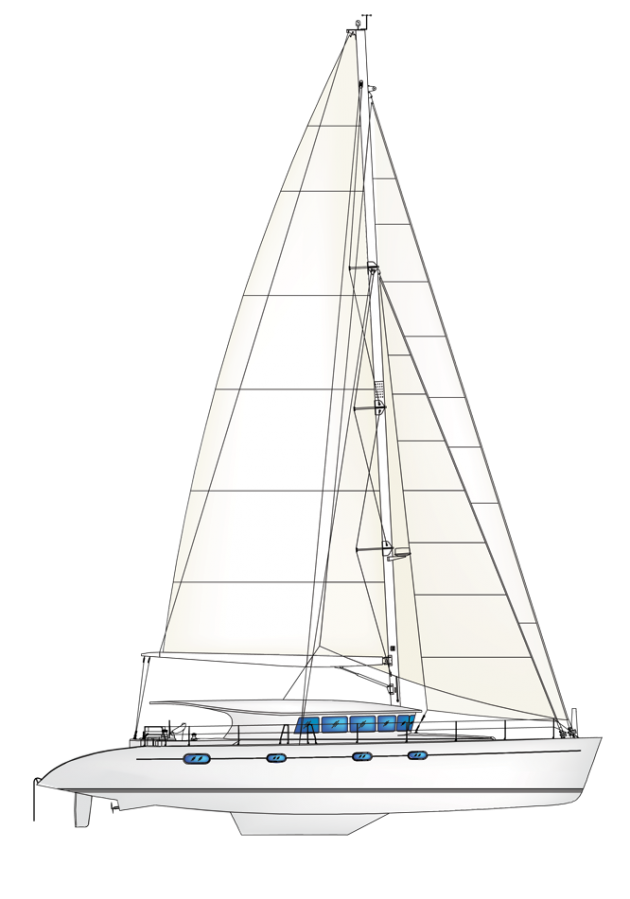 The hulls appear normal with the exception of a little more bow overhang than we typically see on cruising cats. But with 72 feet of LOA to work with we can afford to lose a little bit of DWL. The D/L is 132 and the L/B is 2.03, almost identical to the L/B of the Antares. If an L/B of 2.03 does not mean much to you, just think of the beam as 35 feet, 5 inches. This is a big platform. Draft is only 5 feet, so while this boat may not be a rocket to weather this modest draft will make it very convenient in areas where draft is a consideration. At 72 feet the freeboard starts to fall into proportion with the LOA.

I hardly know where to start discussing this layout. It's vast. There are crew quarters forward in each hull and both have their own heads. There are three staterooms in the port hull and each has its own head with shower stall. The forward stateroom is athwartships and tucks up into the area of the bridgedeck. The owner's stateroom is aft in the starboard hull and it is very spacious. The head features dual sinks, a bidet and a large shower stall. Forward of this stateroom is the galley. Like everything else on this design the galley is big and should be a very efficient place to cook. Going up and down stairs with loaded plates won't be fun but maybe you can reach up and put the platters on the wraparound counter at the saloon level. Forward of the galley is another athwartships stateroom. The saloon has a dining area to starboard, a near centerline nav station forward and a sitting area to port with a wet bar. Keep in mind that the lower cockpit level has dining seating for 18 guests, another bar and another settee.

You can get this version in a standard configuration with the steering stations in the cockpit area or you can add what you would have to call a flying bridge. This feature moves the steering stations up a level and adds even more lounging area on a big semi-circular pad aft of the helm chairs. The nice thing about this flying bridge layout is that it takes the crew out of the entertaining area for the guests. The profile drawing looks a bit awkward with all that added upper structure but once again 2D drawings pull everything into one plane and distorts heights. Aesthetically, my only complaint with this version is the Halibut schooner forward windows in the saloon. I know this window style works well for glare and shade but it still is a bit agricultural looking for me. The other version, designated P-72SC, is far more svelte in its overall look.

I don't have rig dimensions so I'll just use the promo material's sail area for SA/D, and I come up with 23.98. That's probably a bit inflated as it does include the entire mainsail and the genoa areas. But no one is going to buy or not buy this cat based upon the SA/D. "SA what?" The big mainsail comes down into a stack pack. Given the height of the boom I certainly would not want to have to wrestle with that 1,435-square-foot sail. "Hey, Pierre, when you finish cutting the crust off my bread would you tidy up that mainsail flake?" There are benefits to having paid hands. The mainsheet traveler is on top of the extended hard bimini. Sheets are led outboard of the flybridge steering stations.

The 14-foot RIB sits on the aft deck and there is plenty of room to move around it. It would be tough but in time you might be able to get used to having all this space. "Where did I put my sunglasses?"
---
LOA 72'; LWL 62'3"; Beam 35'5"; Draft 5'; Displacement 66,080 lbs.; Sail area 2,576 sq. ft.; SA/D 23.98; D/L 132; L/B 2.03; Auxiliary (2) BMW 144-hp; Fuel 317 gals.; Water 528 gals.
Prout International, 1515 S.E. 17th St., Suite 109, Fort Lauderdale, FL 33316, (954) 356-7900,
www.proutinternational.com
.
OBE: $2.2 million
Our Best Estimate of the sailaway price