The design for Sliver actually began about 20 years ago when a friend and I were having breakfast at the IHOP in Victoria prior to the Swiftsure Race. It was clear from that time that he and I shared a love of classic yacht designs. My friend was a collector of books on yacht design and had an encyclopedic memory when it came to the older designs. Over time we discussed a possible design job but I lost him to Joel White in Maine. But the White boat was not built and my friend eventually ended up owning an exquisite 30 square meter class boat. This is a Scandinavian development class, also known as Skerry Cruisers, that goes back to the 1920s and is distinguished by very narrow beam, long overhangs and a very high-aspect-ratio, all-inboard rig. It's hard to imagine a type more at odds with today's fat boats than the 30 square meter class. It's also hard to imagine a more beautiful boat. The aesthetic bar for the new design was set high.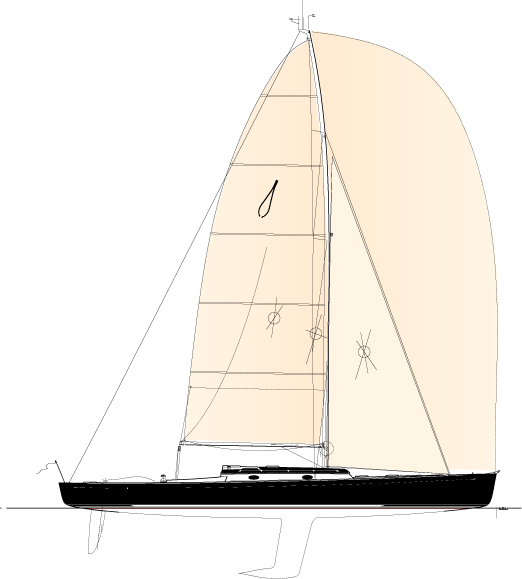 With my now client standing next to me I drew a quick hand sketch of what I had in mind. He liked it. I then tried out a number of end treatments as we explored the pros and cons of less and more overhang. But after a few versions of the hull my client sent me a profile of an L.F. Herreshoff boat, Fiery Cross, and suggested we eliminate the overhangs and go with more of a canoe shape in the ends. There are some stellar, older examples of long, skinny double-enders that my client was attracted to. It was a genre that I was very familiar and comfortable with.
I'm all in favor of more DWL so I came up with a hull that has minimal overhangs. The D/L is 46.72 and the L/B is a very narrow 6.32. The draft is 10 feet with a lead bulb on a welded steel fin that will do double duty as the fuel tank. The keel was engineered by my friend Ivan Erdevicki. The sectional shape shows a firm turn to the bilge and minimal deadrise through the midsection. I wanted good form stability out of our low-displacement, narrow hull.
We have a short cabintrunk for headroom below, a long cockpit and plenty of clear deck space. The cockpit has coamings forward for comfort but the coamings are cut down aft so you can sit on the deck when helming. The boat is tiller steered with the mainsheet winch directly ahead of the helmsman's position. We chose to go with no traveler because the boat is so narrow that it really can't get enough traveler throw to make the clutter worth it. Engine access is through a hatch forward in the cockpit sole.
The SA/D is 22.97. I drew the mast with generous prebend in keeping with the look of the 30 square meters. The shrouds are swept 20 degrees. With all that short boom and long stern the mainsail roach lap on the backstay is minimal. We looked at several ways to use a jib boom for self tacking but in the end we thought that traditional sheeting was simple!
Simplicity was the goal for the layout. Sliver will primarily be a daysailer but the boat will undoubtedly be cruised from time to time. For accommodations there is a galley aft, settee berths with a drop-leaf table, an athwartships head and a forward cabin with double berth. Forward of the double berth there is a large fo'c'sle for stowage. It is a very simple layout that uses the face of the berth and counter panels for structural stiffening.
Talks are now underway to have Sliver built in Port Hadlock, Washington, at the Northwest School of Wooden Boatbuilding. Initially I wanted a cored composite hull but we are now looking at strip planking as a more economical way to go. There is tankage for 50 gallons of water, 50 gallons of holding and 40 gallons of fuel. The auxiliary is a 39-horsepower Yanmar 3JH5CE with sail drive.
It's fun to work with a client you know well and we have worked hard to make this design an aesthetic standout that will combine very traditional but distinct looks with very modern performance.
---
LOA 61'11"; LWL 55'4"; Beam 9'10"; Displacement 17,718 lbs.; Sail Area 976; SA/D 22.97; D/L 46.72; L/B 6.32; Auxiliary Yanmar 39-hp; Fuel 40 gals.; Water 50 gals.
Robert H. Perry Yacht Designers, 11530 Tulare Way West, Tulalip, WA 98271, (360) 652-7771,
www.perryboat.com
.
OBE: $700,000
Our Best Estimate of the sailaway price