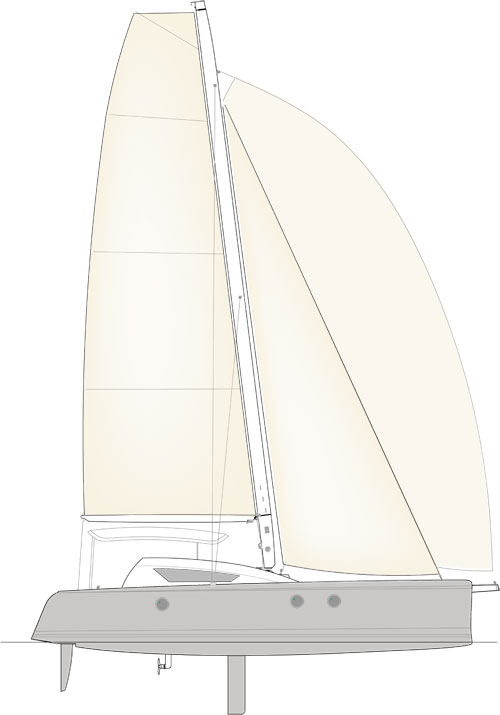 Here is a very interesting cruising cat built by Moxie Yachts of South Africa. The target goal for this design was for the "designer to create a coastal cruising boat with race boat performance." Design credit is given to South Africa's Jaz Marine and Uwe Jaspersen. There are several unusual features in this design that deserve a close look.

There is really nothing unusual about the hull design except for that little bulge right at the forefoot knuckle. The rocker shows that volume has been pushed aft, as is common with cruising cat hulls, so the sterns have enough volume to avoid stern down trim as the boat is loaded. The daggerboards are curved so that they match the contour of the hull. This is smart and allows the boards to be out against the hull where they don't intrude on the interior layout. The beam is 22 feet for an L/B of 1.69. Draft with boards up is 2 feet, 2 inches, and 6 feet, 11 inches with boards down. If we use the brochure-listed "lightship" displacement of 7,165 pounds we get a D/L of 68.56. But few boats are ever sailed in lightship condition so this D/L may be a bit optimistic.

The layout has mirror-image, double-berth staterooms in each hull. There are mirror-image heads in each hull. The galley is tucked down aft in the starboard hull. The nav station is tucked down in the same spot in the port hull. I don't get a clear image of what the main cabin is in either the drawings or the numerous photos I have. What I suspect is that the main cabin is in reality the aft cockpit area and extends forward, where it is divided by an unusual vertical bulkhead from a forward cockpit. The steering is in this small forward cockpit. Aft of the dividing bulkhead is a large dining table with bench seats. To move forward to the forward cockpit you go through a circular hole in the dividing bulkhead. This bulkhead is an unusual design feature and is used to help support the hard bimini top, which is made of carbon fiber with honeycomb core. This hardtop bimini partially covers the forward cockpit and almost entirely covers the aft cockpit. Spell check wants to change "bimini" to "bambini." I like that. For warm-weather cruising this layout looks fine to me, although I'd prefer to see the galley up where the action is.

The rig features a rotating carbon wing-type mast and a Park Avenue-style boom. The jib is self-tacking and sheets to a curved traveler track. There is a carbon "longeron" to tack the screecher, Code 0 or asymmetrical chute. "Longeron" is a new term for me. If I use the brochure's numbers for sail area with the solent jib I get an SA/D of 30.99. That should be plenty of horsepower for this cat to scoot along nicely.

All sail handling functions are located in the small forward cockpit. Effort has been made to isolate the sail-handling demands from the aft cockpit. The only problem I see with this arrangement is that the helmsman might start feeling like Jeeves the chauffeur while the rest of the cruising party is lounging aft. Come to think of it, this may be an advantage. I wouldn't want sail handling to interfere with a good game of Scrabble.
---
LOA 39'6"; LOD 37'4"; LWL 36'; Beam 22'; Draft 2'2" (board up), 6'11" (board down); Displacement 7,165 lbs.; Sail area 634 sq. ft.; SA/D 30.99; D/L 68.56; L/B 1.69; Auxiliary Lombardi 12-hp; Fuel 32 gals.; Water 57 gals.
Moxie Yachts, Romasco Place, Wickhams Cay 1, Roadtown, Tortola, B.V.I., (908) 837-9562, www.moxieyachts.com.
OBE: $325,000
Our Best Estimate of the sailaway price