Leopard 38 Cruising catamaran
This month we have an eclectic selection of designs to review. With a cruising catamaran, a very traditional daysailer and two modern designs, it's hard to imagine a much more diverse group. So, we will start with the Leopard 38 cat designed by the team of Anthony Key working with Morrelli & Melvin. I can remember a few years back looking at the fleet of cruising cats at the dock at the United States Sailboat Show in Annapolis, Maryland, and wondering if I was seeing a passing phase in cruising boats. Today, cruising cats are a well-accepted class and they have many advocates.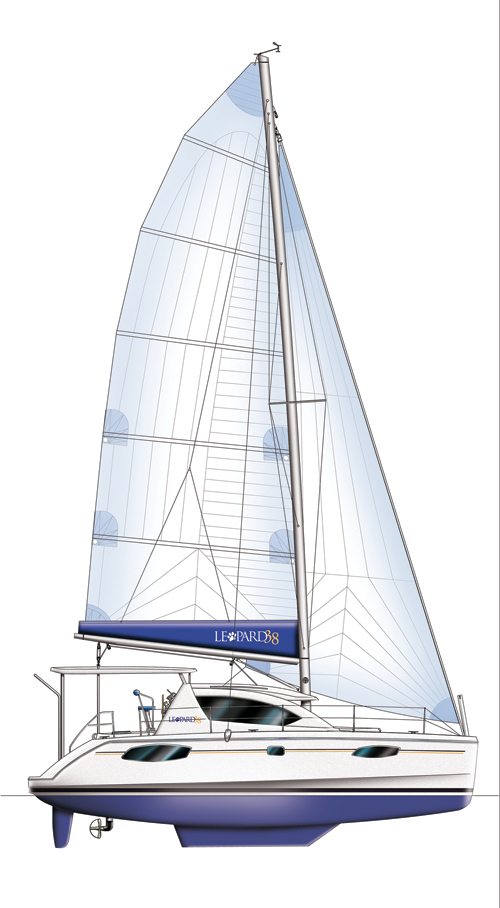 Cats have the advantage of not having to carry weight in ballast for stability. So for the typical modern cruising boat you can eliminate about 34% of the displacement-theoretically. But it doesn't really work like that for the cruising cat. This 38-footer weighs 22,100 pounds at "half load." That works out to a D/L of 211 and that is certainly not "light" by today's standards. There are a lot of 38-foot cruising monohulls carrying 34% ballast or better that weigh less than that. The weight in a monohull that would go to ballast, in the cruising cat goes to the immense structure and surface area of two hulls and a connecting "bridgedeck." In short, there is a lot of GRP surface area in a big cat.

The low-aspect-ratio fixed keels will be durable and effective for beaching the cat but I don't think they are the shape of speed for going to weather. Note the pronounced longitudinal knuckle in the topsides. This may be there to increase the available volume in the hulls without increasing BWL. The L/B is 1.9. I don't have a height for the "slam pan" or bridgedeck clearance but I eyeball it at about 28 inches. That's on the low side but imagine what would happen to the overall profile of this cat if you added 6 inches to that clearance.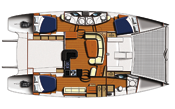 The Leopard 38 gives you two interior layout options. There is a three-cabin layout where the owner's suite occupies the entire starboard hull with the head forward. There is also a four-cabin layout where there are mirror-image accommodations in each hull with amidships heads. This is a lot more sleeping accommodations than you would get in a 38-foot monohull. The saloon has a U-shaped galley aft with a refrigerator/freezer unit to starboard. While six or eight can sleep aboard the Leopard I doubt they can all fit at the small dinette table. But these cats are designed for warm weather cruising so I expect most of the dining will be al fresco. Photos show an interior nicely detailed in cherry wood veneer. There are two vertically mounted opening hatches in the cabinhouse forward so ventilation should be excellent.

The rig looks on the tall side and I'd guess the SA/D is in the 18.5 range. If I use the promo material's areas for genoa and mainsail I get an SA/D of 20, but that includes mainsail roach and extra genoa LP. The genoa sheets to the top of the house and the mainsheet traveler is on the cockpit hardtop. Jib sheets and halyards are led to the starboard, elevated steering station.

This is an interesting cockpit. The helmsman sticks his head up through a cutout in the bimini hardtop to see forward. I've never sailed a boat from a raised steering position like this but I imagine it would work just fine. I'd like to give it a try some day.
LOA 37'6"; LWL 36'; Beam 19'9"; Draft 3'5"; Displacement 19,790 lbs.; Sail area 990 sq. ft.; SA/D 20; D/L 211; L/B 1.9; Auxiliary Yanmar 21-hp (twin); Fuel 92 gals.; Water 206 gals.
Leopard Catamarans USA, 222 Severn Ave., Suite 3C, Annapolis, MD 21403, (800) 672-1327, www.leopardcatamarans.com.

OBE: $375,000
Our Best Estimate of the sailaway price