Luxury daysailer

It's a trio of daysailers this month. I guess you can call my Anguilla boat a daysailer. The Eagle 44 is a beautiful design from the Dutch design firm of Dykstra & Partners. The concept was for a classic daysailer with lines reminiscent of the J-Class boats. The resulting boat is very good looking, a stunner in any harbor.
It's a bit funny. You have boats like the Leggeros tilting the stem back for what I would call "negative stem rake," largely I think for cosmetic reasons, and at the same time you have boats like the Eagle 44 exaggerating overhang, again for cosmetic reasons. So with all we know about what makes a boat go today we still are drawn to features that only pay off in aesthetics. I suppose you could argue that each of these bows has its performance advantages but I think that would be a short argument. The style of the Eagle really relies on one feature to pull it off and that is overhangs. It's a bit like looking at a beautiful model walking down the runway in a slinky dress and saying, "I'd bet she'd be a lot more comfortable in tennis shoes."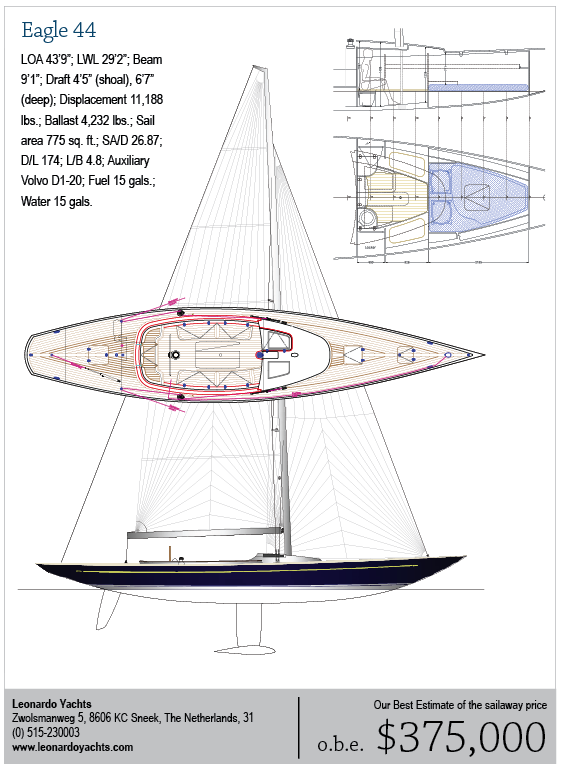 The Eagle has a D/L of 174 and an L/B of 4.8, qualifying it as a very narrow boat. The DWL is 29 feet, 2 inches, meaning that 34% of this boat's LOA is in overhangs. But those are just numbers and it's hard to ascribe numbers to beauty. You can get the Eagle with a deep fin keel drawing 6 feet, 7 inches or a shoal keel drawing 4 feet, 5 inches. The lines show a hull with V-ed forward sections, no deadrise amidships and some deadrise aft. If you don't add deadrise as you go aft you will end up with a very awkward looking transom. A transom like this needs a point on it and to have a point you must have deadrise. There is nothing "go fast" at all in this hull shape. I suppose in the old days you would have had wineglass sections with tons of deadrise and great swooping garboards. With that as a frame of reference you could say the midsection of the Eagle is more dinghylike and in keeping with modern shapes. It doesn't really matter, you will buy this boat to make a style statement and not a speed statement.
There are accommodations, kind of. You can sleep aboard your Eagle and there is an "electric toilet." But there is no galley and while you can go below to get out of the rain you are not going to be cozy in the nice sense of the word. I wonder if that electric head has a red light that keeps blinking at you expectantly. Maybe an alarm telling you it's "time to go."

But this boat is about the cockpit and the beautiful teak decks and tasteful solid trim detailing. A captive Lewmar reel winch will take care of the mainsheet for you. Electric jib winches will make you forget where you put the winch handles. Holmatro hydraulics will control the backstay for you and make you a sandwich I'm sure. All you have to do is assume the position, grasp the wheel gently between your thumb and forefinger and drive. I'm sure this long, narrow boat will have a near neutral helm, so two fingers ought to do it, three in a puff. A large dining table sits forward of the wheel for comfortable, gracious dining. "More Vegemite, dear?" You can put a crowd in this big cockpit. Or not.

I can't imagine going out in your fancy daysailer in much of a blow so a good, high SA/D of 26.87 should keep you ghosting along nicely in the light stuff. If the wind dies there is a Volvo saildrive diesel tucked in the bilge aft of the cockpit.

This is a beautiful boat. I've had some fun with the review but I need some fun these days. You may or may not know that my beloved 30-year-old son Spike died suddenly on April 2nd of pneumonia. With that as a part of my daily reality fun is a bit hard to come by.