Contemporary trimaran

Here is a trimaran that shows what you can do with all that square footage of trampoline area if you are willing to extend the deck outboard and pay the weight price. The Neel 45 is a French-built trimaran and the design credit is shared between Joubert Nivelt Mercier for "ship design" and Eric Brunell for "conception."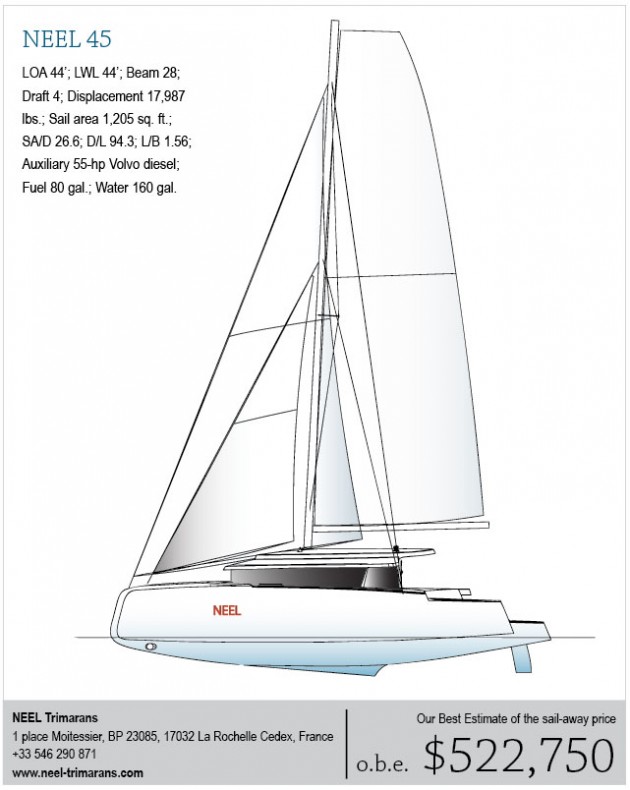 The drawings show an odd-looking boat but you can't apply traditional aesthetic benchmarks to a design like this. If you gave this big tri a traditional look I think it may look worse than odd.

The specs I have for the Neel 45 list a "light displacement" of 12,992 pounds. That's very impressive. But the specs also list a "full load displacement" of 17,987 pounds and I think give the nature of the accommodation plan this vessel is most likely to spend its life in the "full load" mode so I'll use that number for the D/L of 94.3. But that's still light for a cruising boat. Any time you can get the D/L of a cruising boat under 100 you have a light boat.

Draft is only 4 feet. That is very convenient but the vestigial fin I see barely hanging below the main hull is hardly enough to give this design good upwind speed. But I have never sailed a trimaran with this type of keel so maybe I would be surprised.

The center hull flares out dramatically to provide cabin sole area for the accommodations. The bows, all three of them, are raked back giving this boat a very contemporary look.

"Go to the bow."

"OK, which bow?"

I like this accommodation plan. It's different. We have grown accustomed to seeing the huge layouts of cruising catamarans, but we don't see many big cruising trimarans. I have never seen a layout like this. There is the center or main hull layout and then there are the layouts in the amas. You cannot access the ama accommodations from the main hull area but if you are cruising in warm weather or with a paid crew I don't see this as a problem. Each ama has single berths fore and aft but no head. The main hull accommodations are splayed out over what would normally be the trampoline area. There are mirror image staterooms with double berths and adjoining heads with shower stalls. These heads are also accessible from the main cabin area. The galley is split on centerline and adjacent to the twin staterooms.

Forward of this the main cabin opens up with a curved dinette to starboard and I'm not sure what feature is to port, but I'm sure it's comfortable. Then there is this extra double-berth cabin stuffed up in the bow of the main hull. So, if you want to take a large group cruising you have the potential to sleep 10.

The cockpit area of this tri is not as spacious as you would find on a big cat but it is still very roomy. There are settees with dining tables port and starboard. The steering station is up a level so you can look over the expansive main cabin trunk and off to port. While the layout is unusual you will not be at a lack of deck area for sprawling in the sun.

The rig is tall. The mainsail is a square- head type and the self-tacking working jib, more of a staysail, is a short hoist sail with the hounds just above the single spreaders. You can also fly a near-masthead headsail if you feel ambitious. With the genoa up the sail area is 1,140 square feet giving the 45 a SA/D of 26.6. That should scoot you right along. With the staysail up the SA/D is reduced to 16.5 and that's certainly enough to give you good performance in tradewind conditions.

It's always fun to look at a new design with novel features. It's even better when the boat is designed to sail well. I'd love to see how this big tri sails against some of the similarly sized cruising cats. I think two weeks in the Caribbean should be enough time.