Grog and layers aren't going to cut it in wake of polar vortex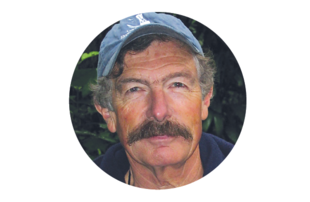 If I needed a name for a new sailboat this spring, I'd go with Polar Vortex. Think about it. Vortex suggests a whirling mass of air, like wind. And polar is one the favorite words of racing sailors, who tend to go on and on about their boat's speed prediction numbers known as polars.
What's more, this will be the perfect year to sail a boat named Polar Vortex on the Great Lakes, which may or may not be liquid enough for sailing before Memorial Day, thanks to the polar vortex.
The polar vortex is a permanent weather system that spins around in the polar latitudes. This year it spun out of its orbit, went south with vast masses of frigid air and gave most of the U.S. a winter of epic cold, especially the Great Lakes region.
It was so cold that . . . 50-foot-high icebergs were seen on Lake Michigan along with amazing ice formations created when giant breaking waves froze in mid-air.
The information in the foregoing paragraph was delivered by the Internet, so it should come as no surprise that it is utter, complete nonsense, the kind puerile myth-mongering you would expect in an anonymous post that was circulated with some spectacular iceberg photos (no doubt taken in the Antarctic) and a statement falsely averring, This isn't the North Pole. This is Lake Michigan! I bring this foolishness up just to give an idea of the impact of the polar vortex, which was obviously profound enough to addle the brains of some who suffered through it.
The fact is, no Internet myths are needed to dramatize the effects of the polar vortex on the Lakes. Reality was more than ample. On March 8, more Lake Michigan water was covered with ice than ever before recorded-in excess of 93% of its surface. In aggregate, more than 90% of the surface of all of the Great Lakes was ice-covered in mid-March. Well into April, harbors were still ice-clogged and trucks drove on the Straits of Mackinac.
The ice will eventually melt, but its memory will linger in frigid water that is likely to make for the coldest summer sailing in years.
Dealing with the cold has vexed sailors from time immemorial. We're vulnerable because most of the time that we're sailing we're sitting, more or less immobile, waiting for the chill to set in. Sort of like ice fishing.
You name the cold-fighting method, and I've tried it. As a lad on my father's boat, I was exposed to the effects of his scheme to make the cabin a warm and cozy retreat for the off watch by keeping an enormous pot of cowboy coffee-which he brewed by sinking a copious quantity of loose coffee grounds in boiling water-hot on the stove and igniting an alcohol-fueled heating device called a Heat Pal. The plan seemed to have merit in calm conditions. But on a night when the sea was far from calm, the coffee pot flew off the stove and the Heat Pal capsized and commenced to roll through the strewn coffee grounds while leaking alcohol. It was wretchedly cold on deck, but after that no one could face going below.
In a bone-chilling November norther on the Gulf of Mexico, a rugged shipmate born in the Frisian Islands persuaded me to try the cold remedy he said the German Navy and North Sea fishermen swore by-grog made of equal parts of hot water and rum. After a few gulps, taken between the violent arrival of waves that kept the cockpit brimful of seawater, I detected some warming, followed by a hint of nausea. I opted to stay cold.
It seems we've regressed in dealing with the cold while sailing. There was a time when many boats had fireplaces, handsome fabrications crafted of brass and soapstone and fueled by charcoal briquets whose smoke escaped through chimneys attached to deck fittings delightfully named Charlie Nobles. Instead of being warmed by fireplaces, today's sailors are expected to defeat the cold with layers-layers of garments certified to be technical. As far as I can tell, this trendy clothing earns the technical label by being born of chemicals, preferably fibers extruded from plastic water bottles. You need a base layer over a sub-base layer, beneath a midlayer worn under a top layer. Before garments like these were called technical, they were referred to as underwear.
I've gone the technical layer route, but I found it was a big investment in effort to squeeze into all those skin-tight layers with little return in the way of warmth. Frankly, I think I was warmer back in the day when layers were a cotton T-shirt, flannel shirt, wool sweater and rubber foul weather gear, all of which are now politically incorrect on sailboats.
But since nothing I've tried over the years has really worked, I decided to consult an expert on cold-weather sailing, SAILING's longtime contributor Skip Novak, whose Pelagic Expeditions takes charter groups on sailing adventures in Antarctic and Arctic waters. Where Skip sails, icebergs are not an Internet myth.
The comprehensive clothing recommendations on Skip's website are the perfect guide to preparing for a polar vortex sailing season.
So if you see a fellow sailing on one of the Great Lakes this summer with a balaclava over his head, Muckmaster Hi-Cut Arctic boots on his feet and enough of the Pelagic-recommended thermal underwear and outerwear in between to achieve a Michelin Man profile, that'll likely be me. If I'm at the bow with binoculars gripped by hands encased in wool mittens with Gore-Tex overmitts, it means I'm on iceberg lookout duty. Just in case the Internet wasn't lying.