How to stand out in a grand fleet: Be small and simple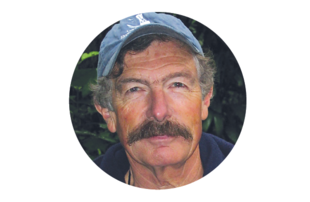 Don't ask how many sailboat shows I've been to. I couldn't tell you. There are so many of these rituals that command the attendance of people engaged in the business of sailing embedded in my memory that they've blurred into an uncountable mass.
A few, though, stand out of the blur. One is the first-of-its-kind United States Sailboat Show in Annapolis in 1970. No one knew what to expect of the new invention of an in-the-water sailboat show, but my boss thought that I, as a junior editor of one of only two magazines in the country devoted exclusively to sailing, should be there.
So with the First Mate as helper, I headed east bearing bundles of SAILING Magazines. The show was set up, as it is now, at the Annapolis City Dock. Unlike now, the dock area was then a working harbor. In fascinating juxtaposition, rough, hard-used skipjacks and oyster dredges were moored near shiny just-out-of-the-mold fiberglass yachts.
I bought some boards and duct tape at a lumber yard and fashioned a booth around a rented table in a dockside tent. It turned out that what we were part of was not just a showcase for boats and gear, but an exuberant gathering of kindred spirits. We sold hundreds of subscriptions.
Try as I might, I can't blur out the memory of a later Annapolis show, the one I chose as an occasion to introduce the magazine's newly hired advertising director to the sailing industry. She showed up on trade day wearing high heels. While trying to negotiate the always active floating docks in those ridiculous shoes, she tipped over into the coffee-colored liquid of the harbor. Bystanders rescued her . . . and the shoes.
A few shows can be recalled for their eureka moments, instances when I discovered a thing or person remarkable in the sailing world. One year, again at Annapolis, I came across a fellow sitting in a low-freeboard boat with a big cockpit and small cuddy cabin moored along one of the side docks. The crowd shuffling from one big cruising boat to another was pretty much ignoring him and the boat. I didn't.
The man was a Connecticut carpenter named Ralph Schacter who had invested in his dream of producing a fiberglass boat that looked like Nathanael Herreshoff's lovely 1913 daysailer Alerion above the water, but had a modern, high-performance hull under the water. The prototype he brought to Annapolis was utterly gorgeous. I went home and wrote about it, declaring it the most beautiful production-built sailboat extant.
I still say the Alerion Express 28 inspired by Schacter is the prettiest of them all. But now, some 25 years later, it is more than that. It is an icon that stimulated demand for a whole new genre of refined daysailers that wed traditional beauty to modern performance.
Beauty was not what defined the closest thing to a eureka moment at the 2015 Annapolis show. In fact, there was nothing pretty about the little boat that caught my attention sitting on the tarmac between tents. Even with its perky upturned bow and stern, it would be a stretch to call it cute. Some might say it resembles a wooden shoe in profile, but wooden shoes have points in front. This boat has a blunt pram bow that sort of suggests a snout.
But aesthetics don't matter in this case. Here function trumps form. What makes this boat, called the SCAMP, remarkable is its pure practicality. It does the job. It takes people sailing, near shore or offshore, in shallow water or deep, for part of a day or overnight, or over many nights. It does it with a simplicity that, counter intuitively, derives from a sophisticated medley of clever features.
The SCAMP is one inch shy of 12 feet long, but you (and three friends, if you wish) sit in it, not on it, in a deep, self-bailing cockpit embraced by high freeboard, on seats long enough to sleep on. There's a cabin to store lots of stuff, with an extended doghouse to help keep the cockpit dry. Sail power comes from an unstayed lug rig with a 100-square-foot sail.
Then there are the unconventional features: water ballast weighing nearly 200 pounds for a 40% ballast-to-displacement ratio; two skegs instead of one so the boat sits flat when it encounters the bottom or is pulled up on a beach; a centerboard that is not in the center of the boat but offset to the starboard side so it doesn't interfere with cockpit space; five watertight buoyancy chambers.
SCAMP is an acronym that describes the boat's derivation—Small Craft Advisor Magazine Project. Editors of the magazine based in Port Townsend, Washington, commissioned New Zealand designer John Welsford in 2010 to draw lines for a microcruiser. The result was a cult hit in the northwest when it became available in building plans and kits. Two years ago, Gig Harbor Boat Works began producing the boats in fiberglass. Company owner Dave Robertson brought one of them from Gig Harbor, Washington, to Annapolis.
The firm builds eight designs besides the SCAMP, none longer than 17 feet. They have in common an elementary approach to sailing and the fact that they all are suited for rowing. SCAMPs come with oarlocks and 9-foot oars. You can power a SCAMP with an outboard motor, but unless you have an aversion to the rewarding exertion of rowing, that's an unnecessary complication.
This year's Annapolis show had some of the biggest production sailboats ever assembled for a sailboat show in the U.S., including monohulls more than 60 feet long and a fleet of condo-sized catamarans.
After getting a thorough briefing on the microcruiser from the SCAMP's builder, along with an enthusiastic endorsement of the joys of simple sailing, I strolled out on the multihull docks to check out some of the new cruising models. My most remarkable discovery there was that one of them had a full-size, 26-cubic-foot, stand-up, plug-in refrigerator, the kind you find in big home kitchens. Fully loaded, the appliance weighs more than a 420-pound SCAMP.