This cruiser packs plenty of bells and whistles in a compact hull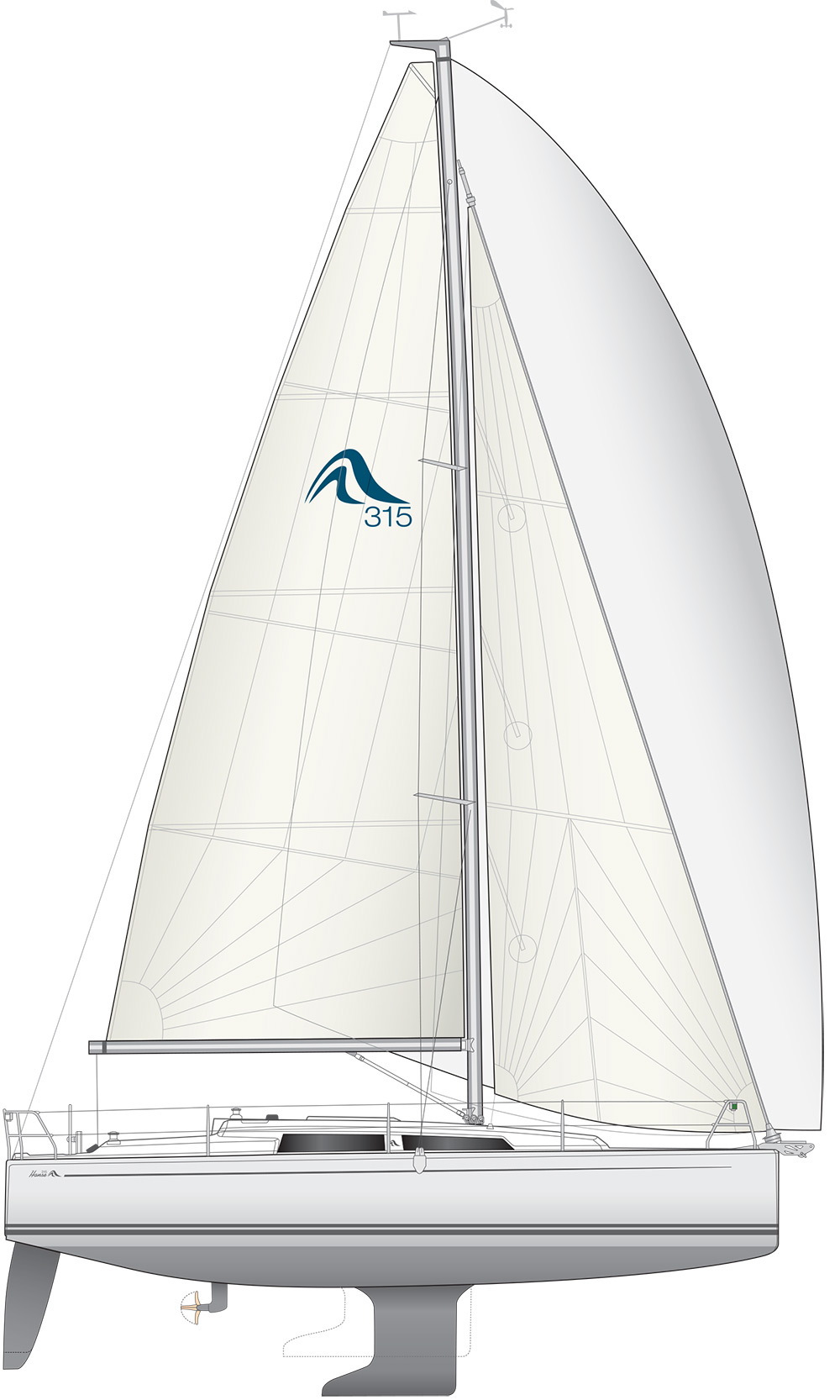 H
ere is a new Hanse model from the Judel/Vrolijk design office. I'd pay attention to anything out of that office. It produces some amazing designs. This new 31.5-footer is obviously aimed at getting the very most you can out of that LOA. Let's take a look and see how it went about doing that.
The hull is very snub ended. There is a total of 1.84 feet of total overhang in the entire boat and even that may be stretching it. Freeboard is high, as you would expect when you are trying to provide the maximum volume. The L/B is 2.86, indicating a very beamy boat. I'm surprised the company did not throw a chine in just for marketing. Max beam is carried almost all the way to the transom. There are a couple of reasons to do this. One is for performance, flattening buttocks and getting crew weight outboard. The other reason is just for volume and room on deck. Draft is 6 feet 1 inch with the standard keel and 4 feet 5 inches with the shoal keel. Despite the immense beam aft, you only get one rudder on this design. At modest heel angles much of the rudder will be out of the water grasping for some grip. On boats with this much beam aft, two rudders makes a lot of sense. It may have been a cost decision.
There are four layouts offered for the 315. All four layouts feature an athwartships double berth aft under the cockpit. If you are the first one into the berth, getting out will be a bit of a challenge. The space is a bit too tight for my proportions and flexibility. The head, main cabin and galley remain the same for the four layouts. There is a small chart table facing aft on the port side. The galley looks fine although the refrigerator space will be minimal. Forward of the common area, in the main cabin you have a choice of a double berth, a three-quarter-size berth, a double berth to port or a single berth to starboard. In the double berth layouts you will have to undress and dress in the main cabin. I really have no idea what the "three-quarter-size" berth is for except maybe three-quarter-size people, i.e. kids. There is some room to stand up in that area with the shorter berth.
The sailplan profile shows a boxy-looking boat, which is what you would expect when volume is the goal. The sheer is pretty much dead straight. With high freeboard like this you have to refrain from using much sheer spring. That could look awful. This boat looks fine to my eye. The SA/D 15.99, using the rig dimensions I was given. This is quite low for a modern boat. This boat will do well in a breeze but will suffer a bit in light air with that short rig and all that wetted surface. The blade jib is self-tacking.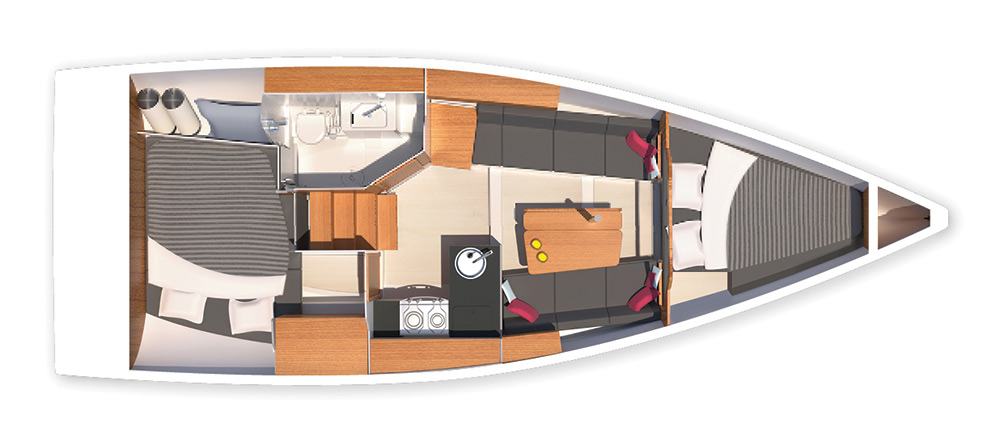 There is an option of having twin wheels, or you can choose tiller steering. Two wheel on a 31-footer? The cockpit is big and it looks like the mainsheet traveler is on the cockpit sole just ahead of the wheels. The side decks are very clear and there is an anchor well forward. The transom hinges down to provide a generous swim platform.
This would make a nice boat for a family that did not need much privacy. Like mine.
---
LOA 31'6"; LWL 28'5"; Beam 11'; Draft 6'1", (shoal) 4'5"; Displ. 10,361 lbs.; Ballast 3,306 lbs., (shoal-keel) 3,637 lbs.; Sail area 506 sq. ft.; Auxiliary 11.8-hp; SA/D 15.99; D/L 201; L/B 2.86
Hanse Yachts US
29 Towbridge Cr.
Rowley, MA 01969
978-903-0380
Our best estimate of the sailaway price: $138,000