Classic design coupled with modern adaptions make for a cool cruiser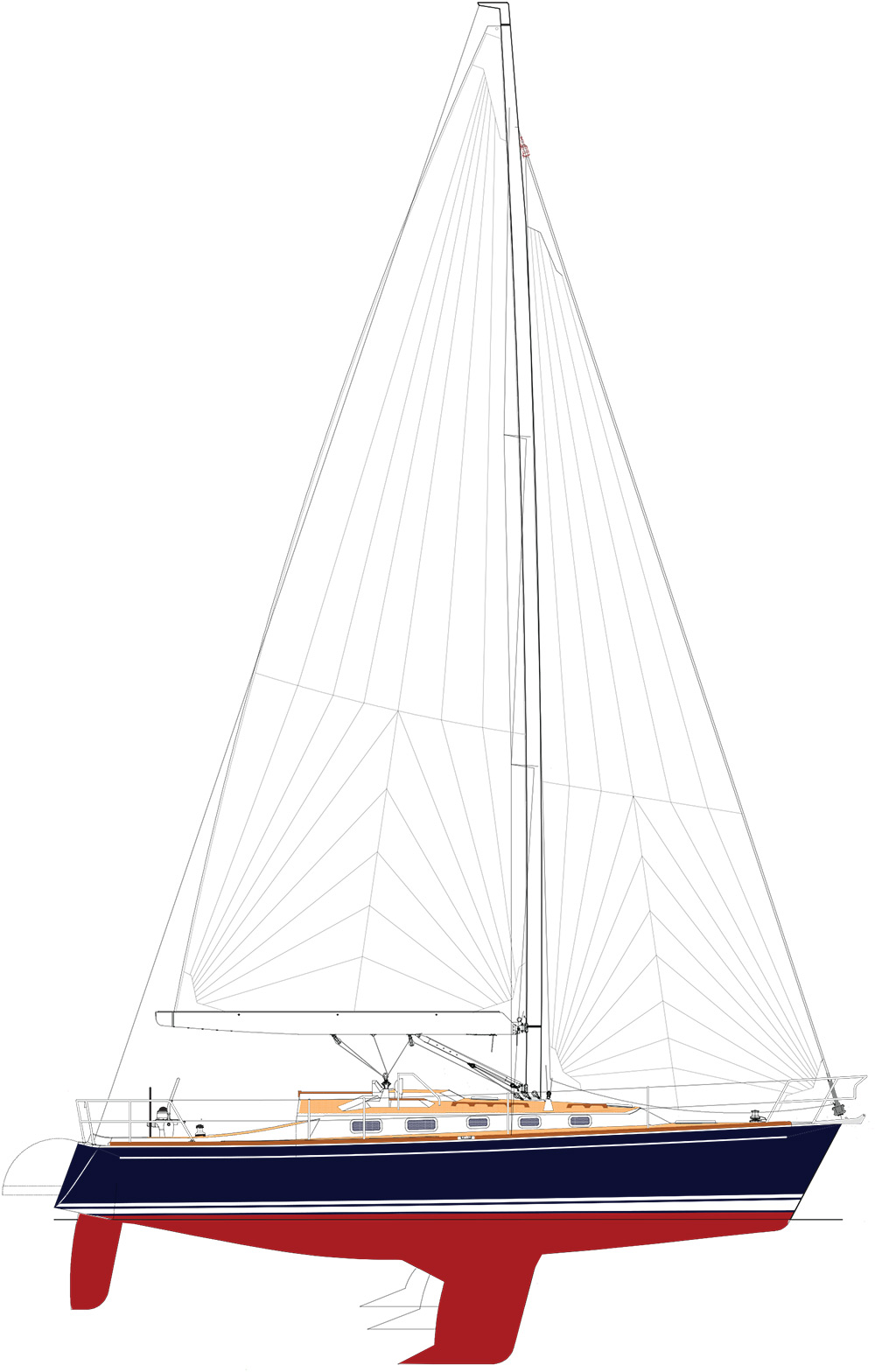 I really like the look of this new Tartan. It reminds me of the classic Sparkman & Stephens-designed Tartan 37. My buddy Dave has a 37 and he loves it. The style is pure classic North American yacht style, beautifully designed by Tim Jackett. The cabintrunk is a frugal box sitting on the cambered deck. No affectations, no recessed areas, no competing contours; just a box. But the proportions and angles to this box are, to my eye, nearly perfect. I like the string slope on the forward end of the trunk and I like the almost vertical aft end. Those two angles play off each other visually. That combined with a delicately sprung sheerline and strong feature stripes give you a boat with looks that will never go out of style.
I got lucky. Tim Jackett sent me a full set of lines for this new design. I think I am seeing sort of a "signature shape" that Tim uses for his Tartan models. The topsides are fairly flat and the LWL is generous. The turn to the bilge is on the hard side and from the turn to centerline is almost straight deadrise. In this case, 15 degrees of deadrise amidships, flattening out a bit toward the stern. This shape has several advantages for cruising boats. Among those being a natural bilge sump area and good longitudinal stiffness that you don't get with a no deadrise shape. The D/L is 171 and the L/B is 3. To my eye this is a very moderate and attractive hull form.
The 3600 has three options for interior layouts. Two have the centerline "walk around" double berth forward, but differ in galley and quarter cabin treatments. You can choose from a larger galley and a single unenclosed quarter berth or you can give up some galley area and gain a quarter berth that is both enclosed and double in size. If you want the "walk around" forward double berth, you give up full-length main cabin settees. Or select a double V-berth, which is pushed farther forward, and gain enough room in the main cabin for full-length settees. On one layout version it appears the forward V-berth area is not enclosed but open to the main cabin. My personal preference would be for the full length settees model.
The deck plan shows nice, wide side decks and 10 opening portlights in the cabintrunk. This is the advantage of the taller cabintrunk. There are also four deck hatches. This boat should be very easy to ventilate on those sunny days. The transom hinges down to make a boarding platform. The sales material mentions a "tacking helm binnacle." This means the entire binnacle and wheel pivot from side to side to allow comfortable steering on both tacks with only one wheel. You can also pivot the wheel aside when you are anchored to open up the cockpit. I first saw this feature when I was in high school on a Bill Tripp boat called Touché. I immediately put it on one of my designs. You do not see it often today.
The rig is quite standard. I kind of cringe when I see a mainsheet that far forward on the boom. Is that a vang or is that a mainsheet? But I can hear my grandson in 10 years, "Tell me about how they used to have end-boom sheeting in the old days, Buppy."
Today getting the cockpit clear of sail handling "clutter" is paramount. There is a track for a self-tacking headsail. The SA/D is 20.8.
Tim's new Tartan 3600 has that clean look that I associate with the designs of Dick Carter. Nothing fancy, just very well proportioned features and classical good looks.
---
LOA 36'; LWL 31'6"; Beam 12'; Draft 6'7" (standard) 5' (shoal); Displ. 12,000 lbs.; Ballast 4,000 lbs.; Sail area 679 sq. ft.; SA/D 20.8; D/L 171; L/B 3; Auxiliary 38-hp saildrive; Fuel 38 gal.; Water 80 gal.
Our best estimate of the sailaway price: $279,000
Tartan Yachts
1920 Fairport Harbor, OH 44077
440-391-8266