Lessons in winning from an old sailor who can't resist a challenge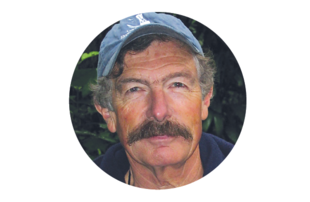 I'd like to set up a meeting between James Harrison and Rich Wilson. Rich could give James some tips about competing in sports.
Harrison is a star linebacker for the Pittsburgh Steelers whose winning-is-everything attitude earned him $100,000 in fines for illegal hits in a single season. Wilson is a scholarly 66-year-old sailor.
They are mentioned in the same paragraph because a lot of attention is being paid to a rant the football player posted on social media saying he was taking away his young sons' sports participation trophies because trophies should be for winning and not for showing up. Meanwhile the sailor is risking his life for a participation trophy.
Rich Wilson is not going to win the Vendée Globe. He knows it. Everyone in the race knows it. But he's there, competing as the oldest sailor in the most grueling sailboat race of them all—alone, no stops or assistance allowed, 28,000 miles from Les Sables d'Olonne in the Vendée region of France around the capes of three continents and back to Vendée.
Why would he do that? The answer in his words: "Because if you finish this race you're a winner."
You get Wilson's point when you look at the numbers: Since 1989, in the seven Vendée Globe races held every four years, 138 boats have crossed the starting line; only 78 made it across the finish line.
Wilson already has one Vendée Globe participation trophy, earned with broken ribs and damaged vertebrae in the 2008-2009 race. It was a race plagued by extraordinary weather violence that validated his point about finishing being a victory. Of 30 starters, only 11 finished, including Wilson in ninth place.
After that ordeal, he had no interest in ever sailing again, much less in the Vendée Globe, about which he said, "It's too hard, it's too long, it's too dangerous."
But eight years later, there he is, in a brutally powerful 60-foot sailboat named Great American IV, now as this is written abeam of New Zealand, 4,500 nautical miles from another meeting with Cape Horn.
It's obvious that Wilson finds significant rewards in testing himself beyond limits that most people, of any age, find acceptable, but he has another motivation for leading an uncommonly adventuresome sailing life. It fuels his mission to engage the brains of young students in learning enlivened by his experiences at sea.
Once a high school teacher—an overqualified one with degrees in mathematics, business and science from Harvard and MIT—Wilson has run a non-profit education organization called SitesALIVE for years, using his adventures to teach lessons in geography, history, math and science. It has been expanded for the current Vendée Globe in an internet program that includes a 15-week curriculum with input from Wilson as he sails around the world. Available in four languages, the website is expected to reach more than two million students during the race.
Wilson's ride for this Vendée Globe is a 10-year-old IMOCA 60. Though it's two design generations below state-of-the-art and isn't fitted with the outriggers and foils seen on the new boats that are thousands of miles ahead of Great American IV, it is nonetheless a radical sailing machine, a planing monohull driven by an enormous spread of sail to speeds that can exceed 30 knots. It is also a ludicrously far cry from the boat in which Wilson recorded his first claim to sailing fame.
Wilson became the youngest skipper to win the Newport to Bermuda race in 1980. He did it in his father's boat, a 42-foot ketch named Holger Danske, a double-ended design by Aage Nielsen that was plodding but as seaworthy as a battleship and weighed more than twice as much as an IMOCA 60.
He moved on to high-performance boats and set world records for passages from San Francisco to Boston, New York to Melbourne and Hong Kong to New York.
The fact that he accomplished those feats after what happened to him in his first attempt at the San Francisco-Boston record suggests that though his educational mission means a lot to him, he's out there battling the Roaring 40s now mainly because of what looks like a constitutional inability to resist a challenge.
On Thanksgiving day in 1990, he and Steve Pettengill, a gnarly Lake Michigan sailor turned ocean adventurer, were sailing the first Great American, a 60-foot catamaran, 400 miles west of Cape Horn when the boat capsized. The seas were so big ("officially estimated at 65 feet," Wilson said) and the wind so strong ("80 knots on the anemometer before it stopped working") that after an hour and a half the boat was flipped back upright. The sailors were left in a dismasted boat filled with water.
In one of the most remarkable rescues in shipwreck annals, a cargo ship out of New Zealand found them 17 hours later and maneuvered close enough in the mountainlike waves for Wilson and Pettengill to jump overboard and swim to a rope ladder lowered from the ship.
Maybe because it's so hard to explain why a man who has been eligible for an AARP membership card for 16 years is taking on the Vendée Globe challenge, Wilson threw in another reason in an article in the January issue of SAILING: "to inspire other people my age to get up off the couch."
I don't need any inspiration to get off the couch, but as a fellow sailing geezer I appreciate the grit it takes for Wilson to do what he's doing. I've been involved in some fairly strenuous pursuits on land, but nothing has been as physically depleting as sailing a long race in fraught conditions without sleep. Some days in the Vendée Globe Wilson gets by with as little as two hours of sleep in half-hour increments. Whatever sort of zen is energizing him, I'll take some of it.
Wilson tends to downplay the hair-raising aspects of his sailing adventures, sometimes in rather amusing fashion. When told by the previous owner of his boat that the vessel had gone as fast as 35.7 knots, he said, "If I ever see a 3 in the 10 column on the knotmeter, I will hide under the chart table."
That self-effacing quote probably wouldn't sit well with the fellows who gushed with "attaboys" in posts responding to linebacker Harrison's hits on participation trophies as signs of a wimpy PC culture. One tough guy wrote: "Wake up call—the real world is tough. The real world doesn't award effort alone. The real world doesn't care if you tried."
Actually, the real world cares a lot about those who try and don't win, as Rich Wilson's legion of followers attest. And speaking of the real world, the world in which he is sailing on his way to another participation trophy would scare the jock straps off of the chest-beaters who worship winning above all.