Tartan 37 Deckhouse Sloop
This hybrid power-sailboat may be just the answer in a midsized cruiser
The headline on the press release for the new custom Tartan 37-foot model states, "Imagine a different cruising experience." I think you have to. This is a very different kind of boat. It's a bit of a hermaphrodite—half powerboat and half sailboat. Generally this is the kiss of death, but designer Tim Jackett appears to have come up with a design that can avoid that fate.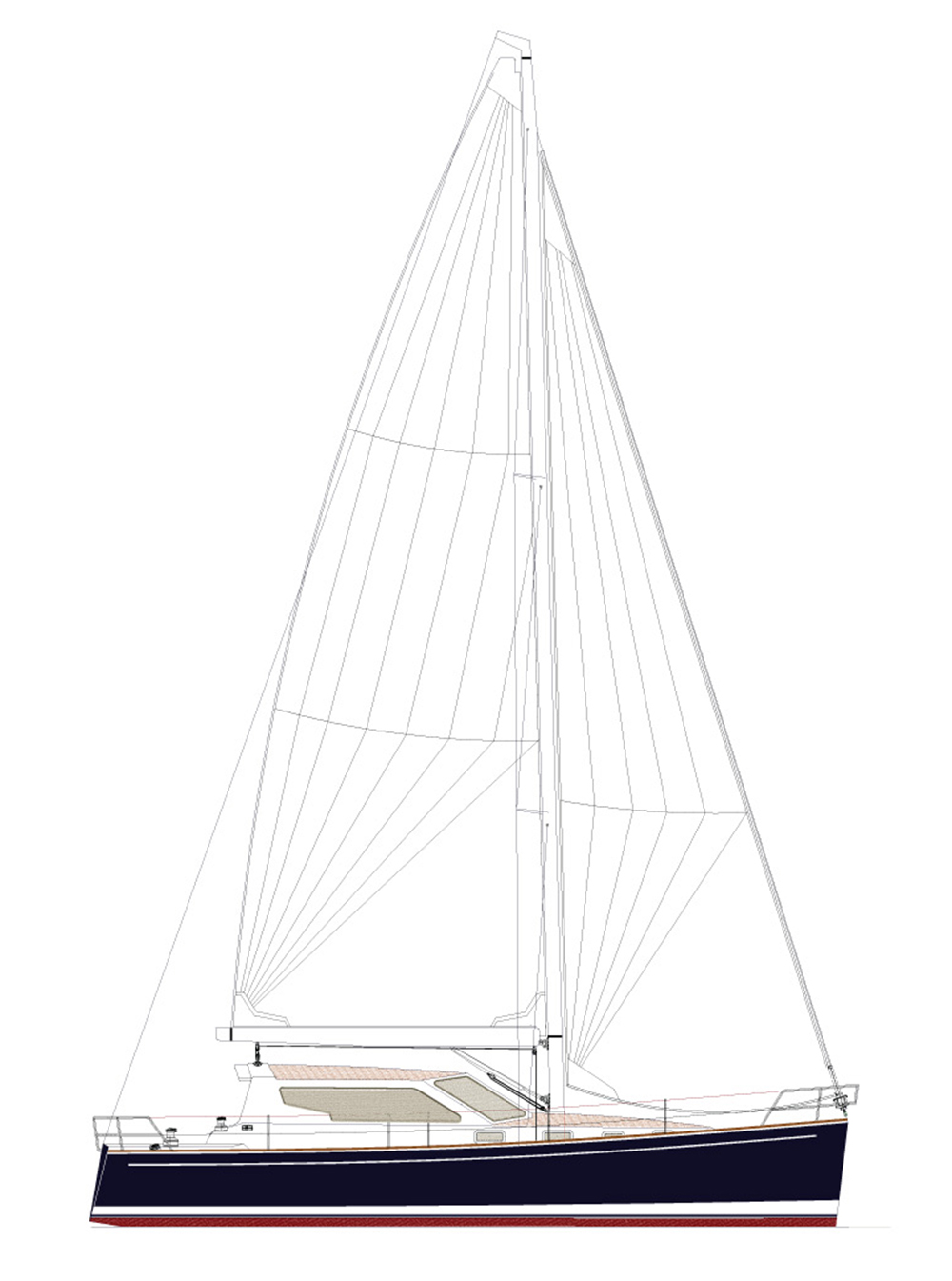 Thanks, Tim, for the full set of hull lines! It's a very interesting hull form with a full-length chine and fairly high deadrise sections throughout. It's a beamy boat with an L/B of 3.08. If it were below 3, I'd call it wide. The stern is broad to aid in getting the boat over the 1.34 multiplied by the square root of the DWL hull speed. The forward sections look pretty normal considering the deadrise. I like the hull shape. The D/L is 170.38. Standard draft is only 4 feet 10 inches, but given the beam and hull shape this will be a stiff boat.
I've never seen an interior layout quite like this one. It's daring. The saloon is in the pilothouse with settees port and starboard, steering station to starboard and nav station to port. Forward of this the galley is either in the main stateroom or the main stateroom is in the galley, depending on your point of view. It's all one space. There is a head to starboard with a generously sized shower stall. This layout would work great for a liveaboard couple where privacy was not a concern. There is a drop-leaf table in the pilothouse for dining. I'd have to use this boat for a month to see how this layout works, but if it were just me and my wife I don't see a problem. I applaud the independent thinking. I could enjoy that pilothouse on a nice gray, cold and rainy PNW day.
No question about it, this is an unusual-looking boat with a fair amount of windage. That will affect the sailing performance, but that's why this is a hybrid. Powering along with the 75-horsepower engine at the predicted 10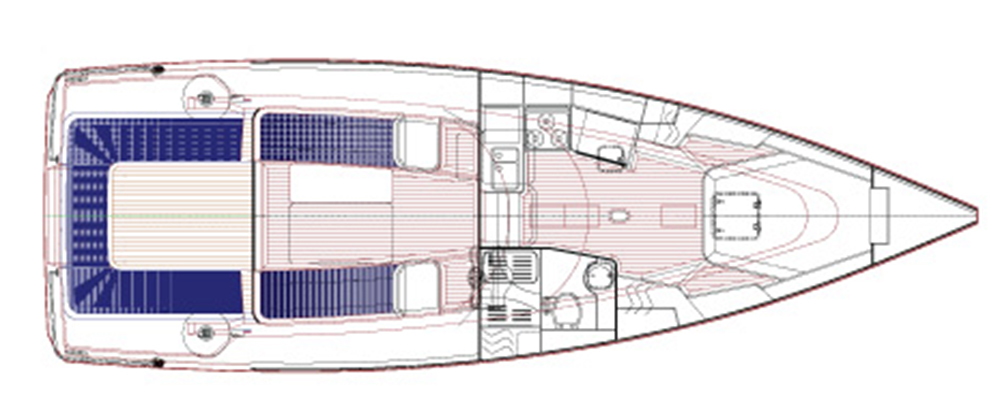 knots you will have very good visibility. There is an option for twin wheels in the extra broad cockpit with a wide door in the transom. Or you can leave the wheels out of the cockpit, steer from the pilothouse and have a big wraparound settee in the cockpit. I think sailing without at least one wheel in the cockpit would take some getting used to.
You would tack with your autopilot. The SA/D is 17.81
This is an interesting design that is very nicely presented with real drawings. I can't wait to see one on the water.
---
Principal dimensions: LOA 37'; LWL 34'; Beam 12'; Draft 4'10"; Displ. 15,000 lbs.; Ballast 5,500 lbs.; Sail area 674 sq. ft.; SA/D 17.81; D/L 170.38; L/B 3.08; Auxiliary Volvo 75-hp; Fuel 100 gal.; Water 120 gal.
Our best estimate of the sailaway price: $450,000
Tartan, Legacy, Custom Yachts
1920 Fairport Nursery Road
Fairport Harbor, OH 44077
440-392-2628