Production catamaran with customizable interior options should appeal to many
I think it's accurate to say that the Gunboat fleet of very fast cruising cats opened up a new market for catamaran lovers. Now it's not just about square footage but also comfort and speed. Newest in the Outremer fleet is the 4X designed by Barreau/Neuman with "consulting design" by Patrick le Quement and interior design by Darnet design. You can very quickly distinguish this big cat from the others by the large shallow, scooped out section in the topsides of the hulls. Why is it scooped out like that? Because someone thought it looked cool is my guess. You might be able to argue that it added some panel stiffness to the topsides but I doubt that's why they did it. It looks good. In fact, this is a good-looking cat.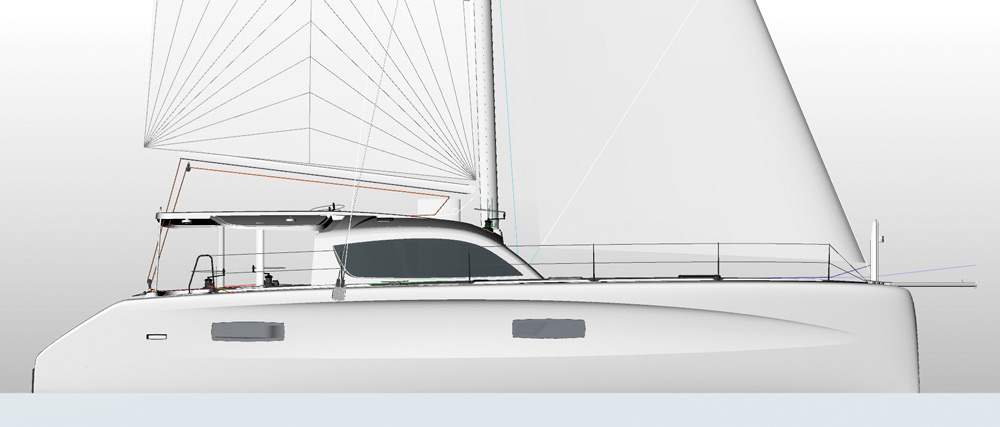 This cat is a bit proportionately heavier than the other two multis this month. The D/L is 107. But you should be cautious with this number until you know the load condition of each boat. Show me a cat that was floating high. I'll wait. The L/B for this cat is 2.06. Draft is 6 feet 6 inches with daggerboard down and 3 feet 4 inches with boards up. The rudders are quite far forward in this design and there is a small skeg protecting the saildrive unit. While the Balance 620's transom is well clear of the DWL, the Outremer's transom is immersed. This may partially account for the higher D/L as the drawing may show the boat in a cruising condition load trim.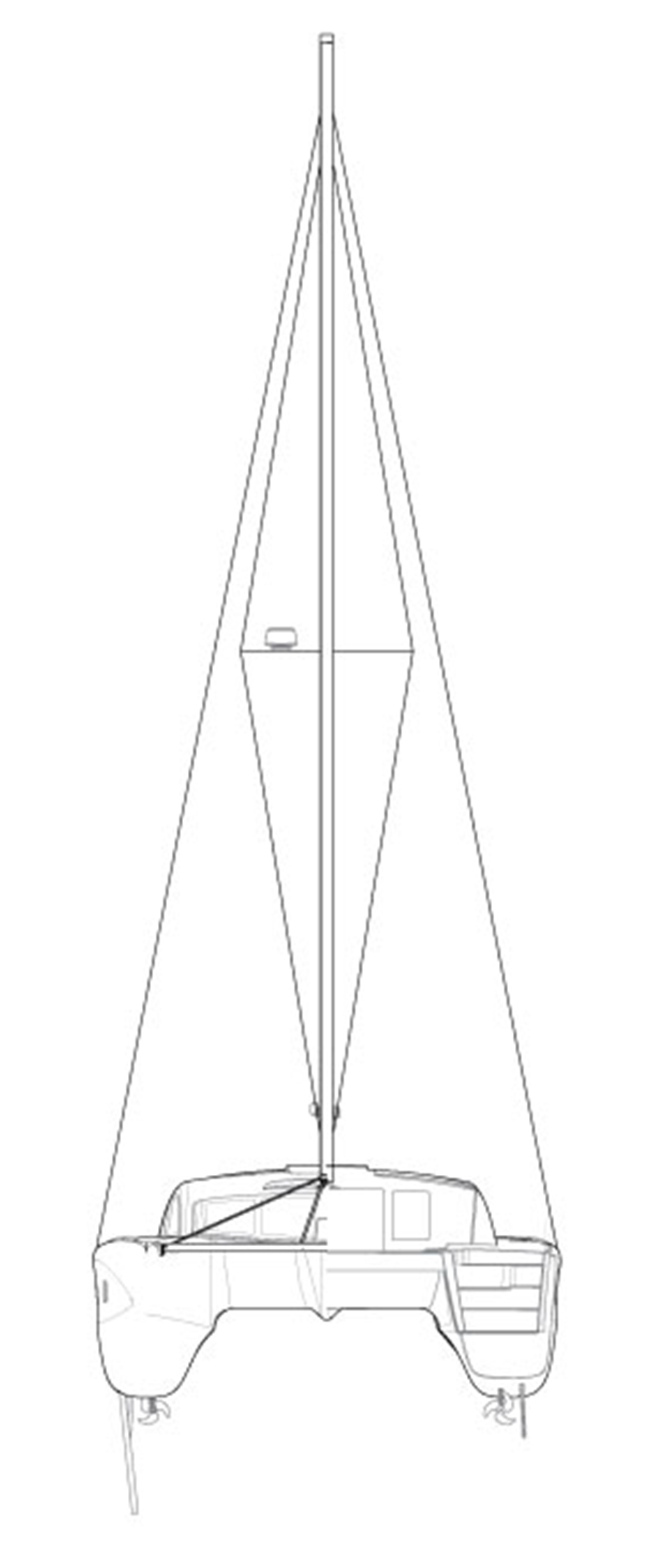 Outremer offers two interior layouts: the owner's version and the offshore version. Both versions appear to share the same main cabin layout. In the main cabin there is the galley to starboard, aft with the nav station forward. To port there is an L-shaped dinette with some kind of box thingy aft. (I do what I can with the drawings I get.) There is lots of lounging room in the big cockpit and it really becomes an extension of the main cabin. In the owner's version you have two staterooms in the port hull that share one head and shower. In the starboard hull you have one double berth aft with a really large head forward. Again, lack of beam in these narrow hulls does limit what you can do. That's the speed/comfort compromise you get in fast cats. The offshore version gives you four double berth staterooms with a larger fo'c'sle in the port hull. Don't know why they call it an offshore layout. Marketing, I guess. It would work for just about any use.
The 4X's SA/D is a bit more tame than the other two multis. It's 23.9 so it's not low but neither is it blistering high. I used the self-tacking jib for that SA/D. The rig is all carbon. The cockpit is interesting in that it has the same type of elevated wheel steering position as does the Balance and maybe even more exposed. But if you swivel the helm seat around you can steer with a tiller! Not sure why you would but it can be done and from the video I watched it looked like fun. This could have something to do with why the rudders are so far forward.
That wraps up my three multihull reviews month. In some charter markets the cats are dominating now. People like not heeling. For me heeling is just part of the game. But I have never gone multihull cruising, just a few shoots around the bay with my pal Doug on his tri. I like boats of all kinds when they show good attention to design. Our three examples this month show how far multihull design has come.
---
LOA 48'; LWL 48' Beam 23'4"; Draft 3'4"-6'5"; Displ. 16,400 lbs.; Sail area 1,324; SA/D 23.9; D/L 107; L/B 2.06; Auxiliary twin Volvo D1-30; Fuel 88 gal.; Water 108 gal.
Our best estimate of the sailaway price: $829,000
---
Just Catamarans
850 NE 3rd St.
Dania Beach, FL 33004
954-589-2343