Yearning to feel­-at least for a few days-like a rock-star sailor, one woman heads to J World and gets a feel for adrenaline-fueled learning
Another gust upward of 20 knots pushes the starboard rail of our J/80 into the waters of the Chesapeake again. With a chill rain stinging down and waves splashing, I thank my lucky stars that I decided to invest in waterproof socks and neoprene gloves the day before. A few hundred yards away, a Melges 24 screams upwind with its crew hiking out, even though nobody is racing. Off in the distance, we see our classmates in another J/80 risk a spinnaker set. After a few seconds of pandemonium, the kite puffs out nicely in the strong breeze and the boat begins to plane.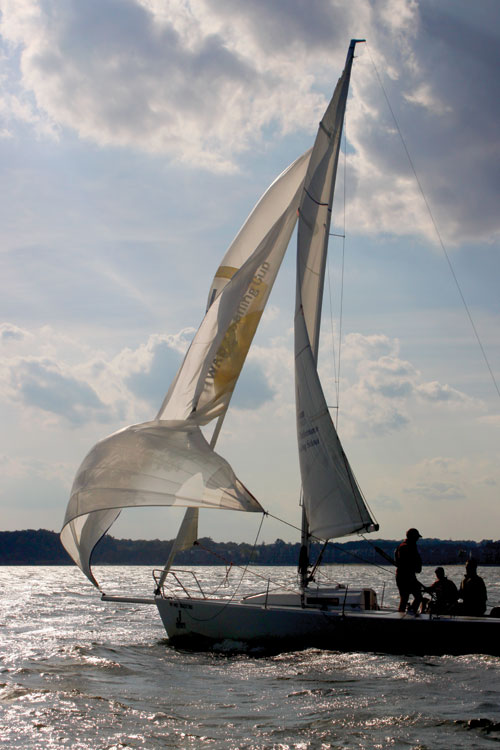 It's at about that moment that I have the answer to the question I've been grappling with all week. What am I doing here? What motivation compels a middle-aged, relatively inexperienced lake sailor like me to spend five days training for serious sailboat racing? The answer, I realize, is that I'm in pursuit of happiness, one of my inalienable American rights. Even if I never see a start at Key West Race Week or get into a tacking duel with the likes of Terry Hutchinson or Anna Tunnicliffe, for one week I can pretend that I'm there. Some people unload their money to drive expensive race cars in a circle, or to get a seat on the Russian Soyuz to rocket them into space. All I need to attain happiness, at least momentarily, is a fall week at J World Performance Sailing School of Annapolis, where I can pretend to be a rock star of sailing.

The J World coaches seem perfectly amenable to letting me pretend. They understand happiness and they know it doesn't come easily. Accordingly, they make you work for it. At the end of the first grueling day of sailing, as my muscles are beginning to give off alarm signals from all the spinnaker sets and tacks and raising and lowering of the main, our coach Kristen Berry asks if we have any questions.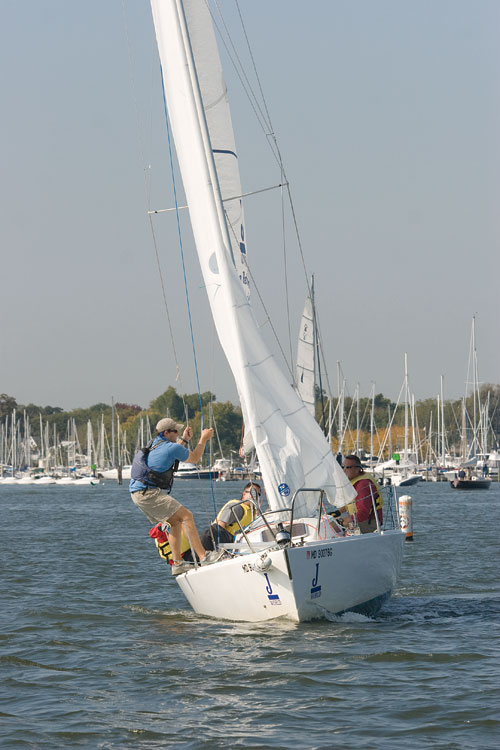 "How the heck are we gonna remember all this stuff?" I ask. My head is spinning from an overload of how-tos and other tidbits, including: properly rigging the spinnaker sheets, packing the spinnaker so it won't wrap, "palms down, pinkies out" when grabbing the lines, scan the water as the helmsperson and don't switch boat sides until the gate opens, keep your eyes forward and transfer the tiller behind your back on a tack, tack smooth and consistently versus speedy and abrupt, "When in doubt, let it out," "Pole, then halyard, then tack line" when setting the spinnaker, trim the jib to the black line on the spreader and when it's there, yell "Max trim!," where's the wind coming from, read the water and anticipate the puffs, communicate, communicate, communicate.

"We do that on purpose," Kristen says, a big grin on his face. "It's called flooding." Kristen always has a grin on his face. I have the feeling from the first second I meet him, sitting up on his stool at the J World booth at the 40th Annapolis Boat Show, that everything is spot on in his world and that his mission in life is to dole out his exuberance to anybody who's willing to follow him out onto the water.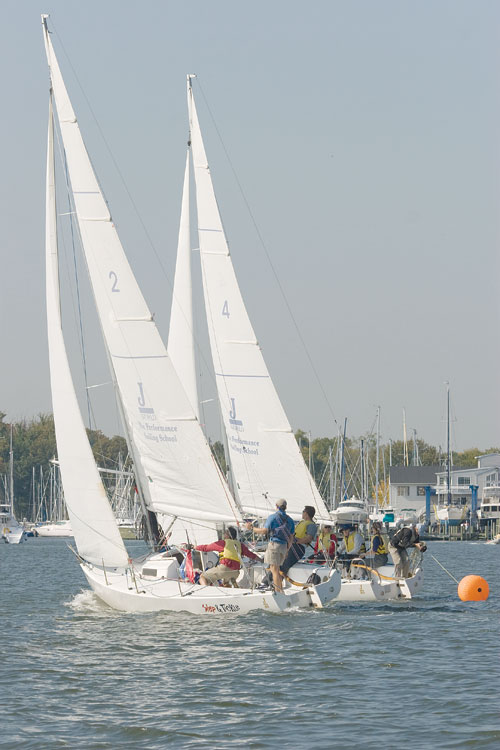 Kristen, like some of the other coaches at J World, jettisoned a high-powered job and a life in the fast lane for an existential pursuit of happiness in small sailboats. He knows that finding happiness sometimes means pushing yourself.
At one point I say to Kristen: "I don't think I can." His quick response is: "Say you can, say you can't. They both come true."

Day Two of our course starts with an excellent lecture on sail trim, sail controls and boat balance. I scribble notes like mad. For the first time, lights started going off in my head. Am I really starting to comprehend this stuff? When we're out on the water, we put the techniques we just learned for powering up or depowering the sails into practice. We learn about draft and twist and how to increase or minimize each with various sail controls.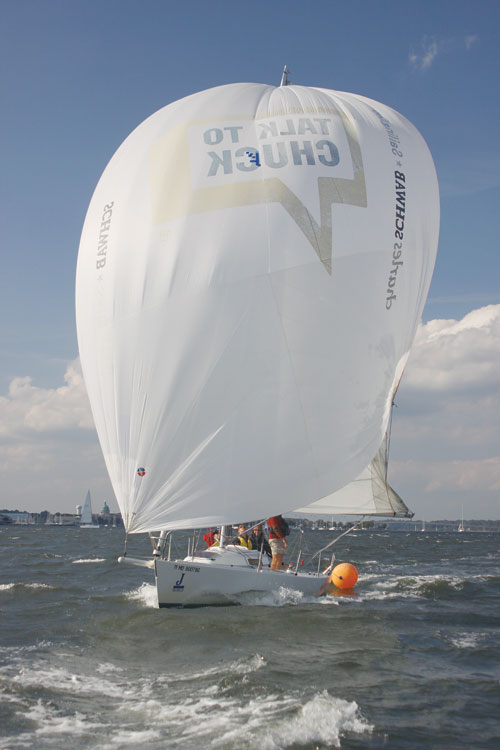 We practice moving the jib lead blocks fore and aft. I'm able to see how moving them back flattens the sail out and depowers it. We also experiment with the outhaul, adjustable backstay and cunningham for the main. I can see how tightening the adjustable backstay depowers the main by putting twist into the top of the sail, and by taking draft out of both the main and the jib.

In the morning, we also work on setting and dousing a symmetrical spinnaker. The J/80 isn't meant to fly a symmetrical spinnaker, but since many J World students have boats that use a symmetrical, we practice with both types. I learn a lot about how to set up the pole and the topping lift and twings, or tweaks, which I'd never heard of before. We run through numerous jibes using a slick end-over-end technique to rotate the pole during the jibe. I take a turn at the pole, the spinnaker sheets and the tiller, so I run through the whole gambit of positions.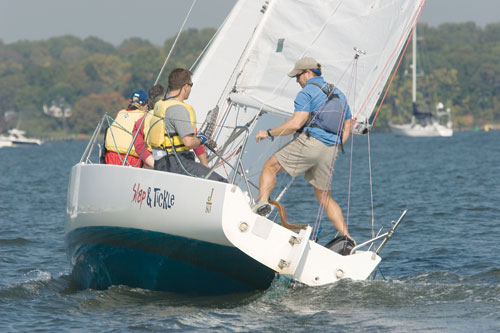 "How does it feel?" Kristen asks me, referring to the pressure on the spinnaker as I'm controlling the sheets.
"Good," I reply.

"There is no good," Kristen coaches. "There's only heavy and light. Which is it?"

"Uh, heavy."

"Then tell the helmsman to head down. Communicate."

In the afternoon, giddy with our own power and ready to tempt fate, we decide to set the asymmetrical when it's blowing 20 knots or better. Setting the spinnaker in these conditions is something Coach Channing Houston likes to refer to as "pretty spicy." He and his crew say they're content to watch from a distance. We put the kite up and roll the boat to one side, filling the cockpit with water. But we avoid a broach and eventually get the boat planing. Planing in a J/80 gets the endorphins going. It's addictive. After a few minutes of watching from the sidelines, Coach Channing and his crew can't resist the urge to put their kite up too.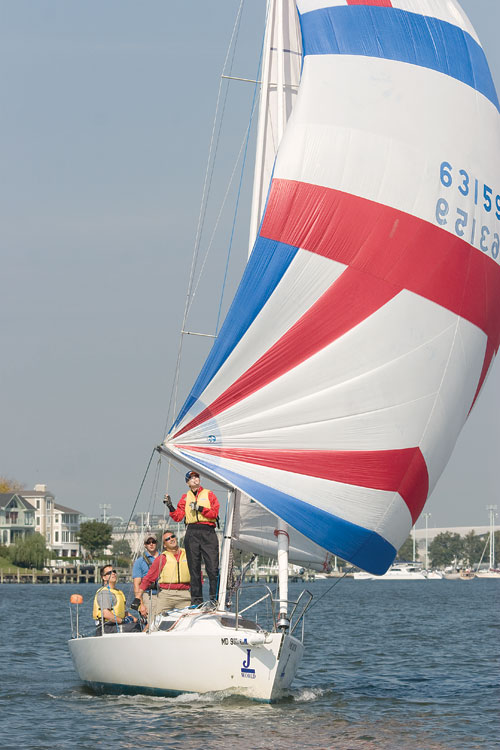 The remaining four days of the course pass in similar fashion. We have lectures for an hour and a half to two hours in the mornings, reinforced by afternoons of sailing to turn the theory into praxis. Over the course of the week, we learn strategy and tactics for upwind and downwind sailing, as well as for starts. The weather begins to deteriorate rapidly toward the end of the week, but the cold and rain can't dampen our mood.

Thursday, the penultimate day of the course, turns out to be the windiest. We're hoping to follow up the morning lecture on starting strategy and tactics with a series of practice starts. But with the wind gusting over 20 knots and the cold rain driving down, the afternoon sail quickly becomes a lesson in heavy-weather, small-boat handling.

Friday, my birthday, turns into a day of dreams come true. It's still miserably cold, but the downpour has given way to a consistent drizzle. A fog settles over the water, disappearing the dome of the Naval Academy in a spectacular magic trick. But the wind is perfect. It blows between 10 and 15 knots all day long. We're finally able to get our practice starts in, and we run through six sequences, giving each helmsperson at least three practice turns on the tiller.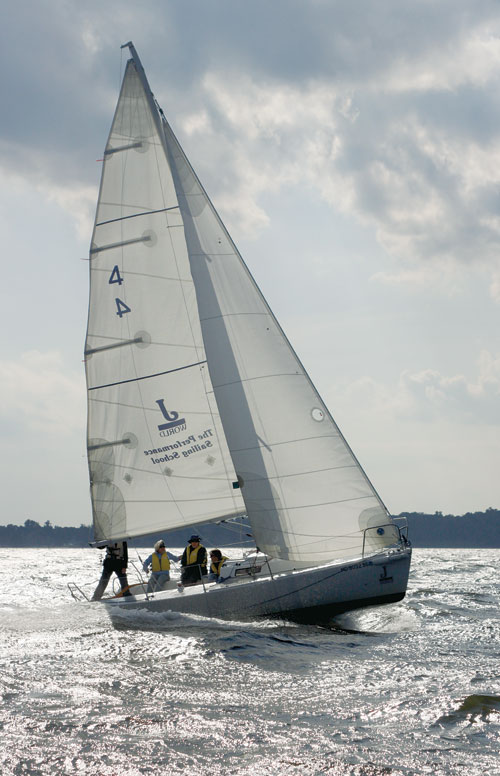 Once the racing starts, all thoughts of being cold and wet disappear. The moment we've been waiting for, hoping for, all week has finally arrived. Our competitive spirits kick into overdrive.

So who won, you ask? It doesn't really matter which boat crossed the finish line first. We all took turns winning, both at the starting line and the finish line. More important than who won was the fact that we were all really racing. We devised our strategic game plans and pulled maneuvers out of our tactical bag of tricks to match. We had actual near misses at the starting line. We had honest-to-goodness, heart-pounding tacking duels. We had serious, close encounters during a cross and duck situation (sorry, Coach Dave!). We tacked into dismal headers and rode fantastic lifts all the way to the layline. We fought for position when rounding the marks. We set the spinnaker under pressure with our competition bearing down and we doused in a frenzy before rounding the leeward mark. Sometimes we jibed too early, sometimes too late, and once or twice we timed it perfectly. We had nail-biting finishes and complete blowouts. We were really racing. We weren't pretending anymore!

What I need to keep me happy, I finally realized, is the "performance experience." I don't want to just know how to sail. I want to know how to sail as well as I possibly can for the given conditions and the vessel I'm operating. I want to experience the rush of achieving optimum performance and increasing my competitive advantage. But it's more complicated than just about being competitive. Yes, I want to be faster and smarter on the race course than other boats in my class. But it's not only about winning races. Possessing a competitive spirit means that you crave the thrill of going beyond your comfort zone. It means relishing the moment when everything you've learned comes together and you execute the most complicated set of tasks in a Zen-like flow that seems almost magical. It's at the moment when we exceed our limits that we are most alive.

But maybe I'm waxing too philosophical. Racing the J/80s in Annapolis is fun, plain and simple. And it sure does put a smile on your face.