Not a pond or even a lake, it's really a sea with a mean streak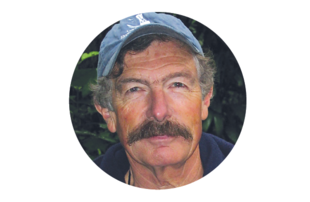 TODAY. NORTHWEST GALES TO 35 KT QUICKLY INCREASING TO STORM FORCE WINDS TO 50 KT THROUGH THE MORNING. A FEW STORM FORCE WIND GUSTS TO 55 KT POSSIBLE MID TO LATE MORNING. WAVES 4 TO 7 FT OCCASIONALLY TO 9 FT EARLY BUILDING TO 18 TO 28 FT INTO THE AFTERNOON. TONIGHT. NORTH STORM FORCE WINDS TO 50 KT. SCATTED RAIN AND SNOW SHOWERS. WAVES 20 TO 25 FT OCCASIONALLY TO 33 FT.
I'm writing this on the "today" mentioned in the above excerpt from the NOAA marine forecast, which is October 31, 2014. That is the deadline for this column, and I had better get going, but I am being distracted by the view through my office window, a scene rendered in pewter of a street shrouded in metallic gray with a sturdy maple tree bending in the burgeoning gale as its last few leaves become unmoored to join the horizontal flight of passing snowflakes.
My attention also wanders to a place I can see from the SAILING Magazine building, the place where NOAA forecasters say the wind will soon be blowing at more than 50 knots and the seas could be 33 feet high, and I am imagining sailing there and feeling happy that I'm not doing that on this day. That place is Lake Michigan.
The fact that there can be 33-foot waves on a "lake" will surprise some readers. I use quotation marks because Lake Michigan, like two other Great Lakes, Superior and Huron, is a lake only by arcane definition. It is in every other way a sea.
Confusion about this body of water abounds. Over the course of SAILING's nearly half century of life, many people have asked why a national magazine that covers sailing all over the world is based far inland. The answer is that our home is not inland. It's on the coast, a freshwater sea coast that, at more than 1,600 miles, is longer than the entire West Coast of the United States.
The uninitiated often have trouble comprehending the behavior of this sea. Lake Michigan sailors tend to be touchy on this subject, especially when visitors assume that sailing here amounts to idyllic meandering in gentle breezes on pondlike water. Which accounts for the popularity of the story of "Ted's Excellent Adventure in the Chicago Mackinac Race."
The story delivers its lesson so perfectly that some might suspect the tale is apocryphal or at least enhanced as manytimes- told sailors' yarns tend to be. But not so. Its veracity is confirmed by reliable witnesses, including Bruce Kirby, former Olympic sailor, designer of the Laser and other admirable sailing craft and one-time newspaper reporter.
Kirby was a member of the crew of Ted Turner's 12-Meter American Eagle in the 1970 Chicago Mackinac race. Turner, the reigning celebrity sailor of the era, was the center of attention in Chicago before the race and, as was his wont, had a lot to say, including, "Yeah, I'm really scared." This, according to Kirby, was his mocking response to a local sailor's warning that Lake Michigan could turn nasty in a hurry.
It was Turner's first Chicago Mackinac race and it would prove to be one of the roughest in history. Halfway up the course, Eagle collided with a ferocious weather front with conditions not unlike today's forecast (though with somewhat smaller waves). Sustained north winds recorded at more than 60 knots shredded Eagle's sail inventory (she was down to one usable sail) and steep seas abused the crew and the wooden boat mercilessly.
In the midst of the mayhem, Kirby shouted to Turner, "What do you think of lake sailing now?" Turner shouted back, "I hereby publicly retract anything and everything I have ever said about inland sailing."
It turned out that in spite of the comeuppance, Turner and his crew acquitted themselves rather well. Eagle managed to finish the race and took second place, while 88 other boats dropped out, some dismasted, some taking on water, others disabled by crew injuries and rampant seasickness.
This is just one of many cautionary tales available to guide mariners on Lake Michigan. The lake bottom in a 875-square-mile area along the coastline that includes SAILING's home port tells such a tale itself with the 33 shipwrecks that rest there. Most are freight-hauling sailboats, including a number of three-masted schooners more than 100 feet long, that date to the lake's great age of sail in the mid and late 19th century. This graveyard of ships is so remarkable that NOAA has begun the process of declaring it a national marine sanctuary.
Modern-day commercial mariners have stronger vessels than those wooden schooners, but they have no illusions about the lake's potential for bad behavior. Boat nerds who have AIS apps on their phones and tablets noted that when the first forecasts mentioning the likelihood of the October 31 storm were issued, several southbound freighters, including 1,000-foot-long ore carriers, made U-turns and steamed to the top of the lake where later AIS showed them anchored in the lee of the Upper Michigan shore.
I should point out that this rough stuff is not typical of Lake Michigan. Mostly, this is a benign sea. It would never be confused with the habitually bumpy Solent. The Chicago Mackinac race only rarely acts like the almost always nasty Sydney- Hobart Race. Summers are replete with halcyon days of gentle winds and small seas, frequently enlivened by steady sea breezes and occasionally by more vigorous sailing conditions courtesy of passing fronts.
I'm putting a scary face on the sea at SAILING's doorstep—this is being written on Halloween, after all—but on this day it's deserved. Today it's a monster.