Customize this beauty to make a personal dream yacht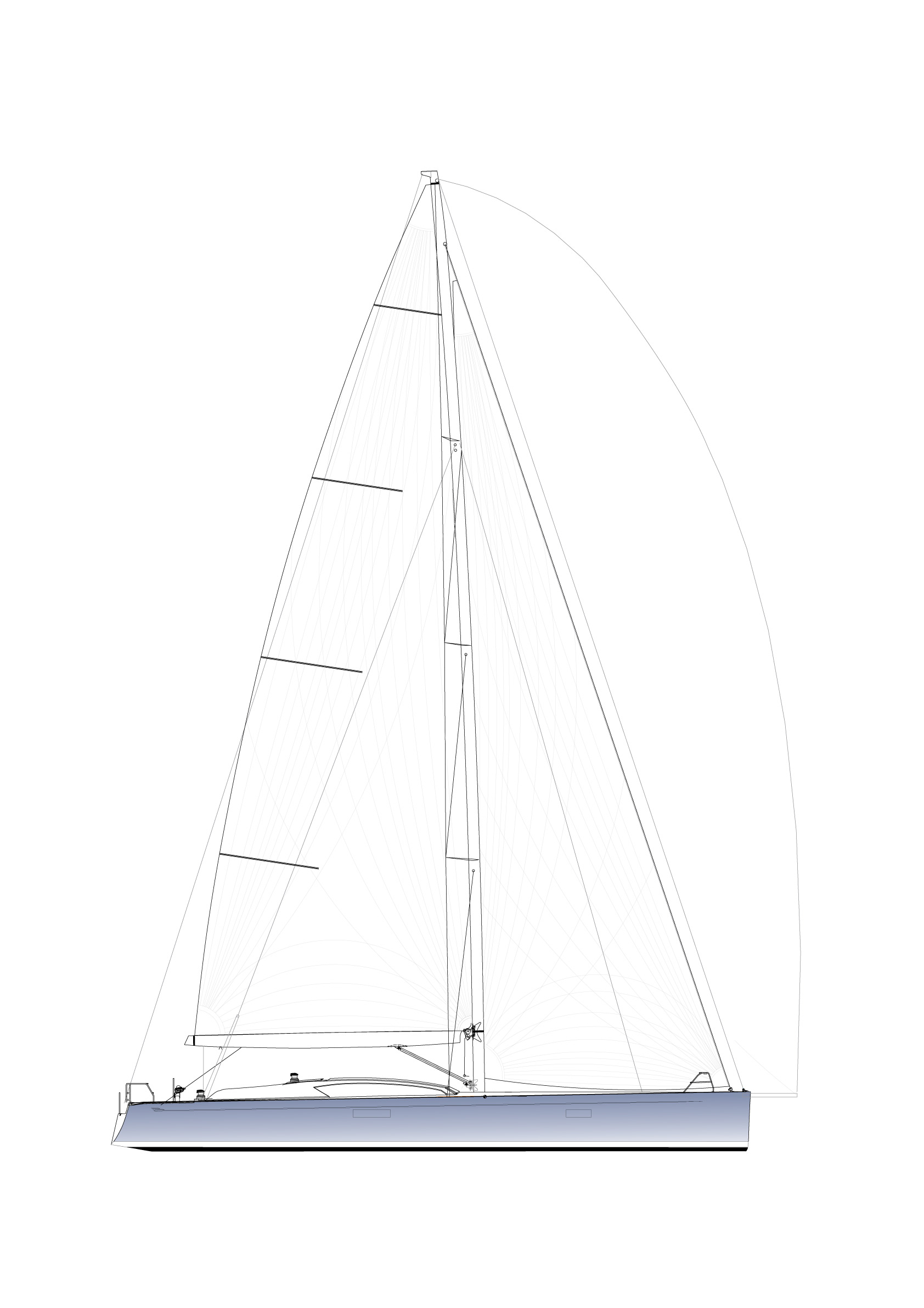 O
wning this beauty is possible. Some people might have to buy a lottery ticket but you might just win. In which case your venerable Catalina 27 might begin to look a little on the small side. Don't fret. Baltic has the answer for you in this impressive Judel/Vrolijk designed 67-footer.
Baltic started out as the counterpoint to Nautor's Swan line. But to my young eye the early Baltics were more exciting boats, more daring in design than the sedate, but beautiful Swans. Today, Baltic produces large custom and semi-custom boats. Semi-custom is a boat that uses a stock hull, out of a mold, usually along with a stock deck, but not always. The rig may be stock or not. This means that the interior layouts sent to me are just ideas of what can be done. The final interior layout will be left to the client's whims and requirements. "You have eight Basset hounds?"
Unfortunately, I have nothing in my presentation package that shows the underbody of this yacht. But I think we can imagine based on prior work from the Judel/Vrolijk office. The D/L is 89.72 so this is a light boat. The draft is listed at just under 13 feet with a fixed keel, but I suspect Baltic would be open to draft changes. You could maybe even go with a lifting keel. Looking at the large garage aft with a stowed dinghy I'd say there will be twin rudders. That way the rudder stocks will bypass the dinghy stowage area. The L/B is 3.76.
Baltic shows four different interior layouts. There are variations on how you want your stateroom arranged: stacked singles versus double berths and one layout has a "sitting room." Three of the layouts feature an off-center double forward in the owner's cabin. Layout "A" features a centerline double berth forward. I think a centerline double has advantages over "off-to-the-side" type double, so I will focus my comments on layout "A."
The galley is aft and to port. Needless to say, it's a big galley. On the starboard side aft is the crew's stateroom.
Up a couple of steps to the saloon and you have a big U-shaped dinette to port and a smaller L-shaped settee to starboard. Aft of the settee is the nav station. Stepping down as you go forward you have a twin single-berth stateroom to port and a single-berth stateroom to starboard. These staterooms share a head and shower to starboard. Forward of this is the owner's cabin with a centerline double berth and large head with shower. I think as long as you retain the changes in cabin sole height you can change this layout any way you like, within reason. Baltic may want you to stay within the established bulkhead locations for structural reasons.

The SA/D is 29.22 and that's a lot of horsepower per pound for a cruising boat this size. I suspect that you would have every mechanical and hydraulic sailing assist known to man so sail handling won't be that taxing. The jib leads are on athwartships tracks adjacent to the mast and outboard aft. Lines from the base of the mast run aft under the deck to exit on the coamings just forward of the wheels in the cockpit for a sleek, clean deck with easy access to lines for the helmsman. The mainsheet traveler is forward of the twin wheels. I have no details on the garage aft, but I'm sure it's huge and the door opens up to become a broad swim platform. That's pretty typical these days. I see an indication of running backstays and a forward babystay from the upper spreader. Maybe this is for a storm sail combination. But if you are not up for sailing you can cruise under power with a 150-horsepower Volvo.
Obviously this is the ultimate boat. Now Baltic needs to find some ultimate owners.
---
LOA 67'6"; LWL 62'10"; Beam 17'10"; Draft 12'10"; Displ. 52,690 lbs.; Sail area 2,745 sq. ft.; Auxiliary Volvo D3 150-hp.; SA/D 29.22; D/L 89.72; L/B 3.76; Fuel capacity 238 gal.; Water capacity 264 gal.
Our best estimate of the sailaway price $570,000
Baltic Yachts, Americas
110 Woodlawn Ave.
Bristol, Rhode Island, 02809
401-846-0300