A contemporary-styled cruiser with a focus on performance
The X-Yachts have long been one of my favorite European production boatbuilders. Given the trends of today, i.e. modern Euro-type styling, comfort and convenience mixed with some performance, I see X-Yachts as always one step ahead of its competition. The design work is in-house and led by Nils Jepsesen. The new X49 is a 49-foot 6-inch performance cruiser. I like that term and I reflect on how much that category has changed since the Valiant 40 introduced it in 1974. In 1974 it was considered by many to be a radical approach to cruising. The words "cruising" and "performance" were seldom used to describe the same boat. But the world of yachting learned that those were not mutually exclusive at all. Today you can have maximum comfort with maximum performance and it's considered "normal."
The hull is typical of what we see today. Overhang forward is gone and replaced by the plumb stem. You can choose from three different stem extensions, call them sprits if you like. You can have an abbreviated anchor roller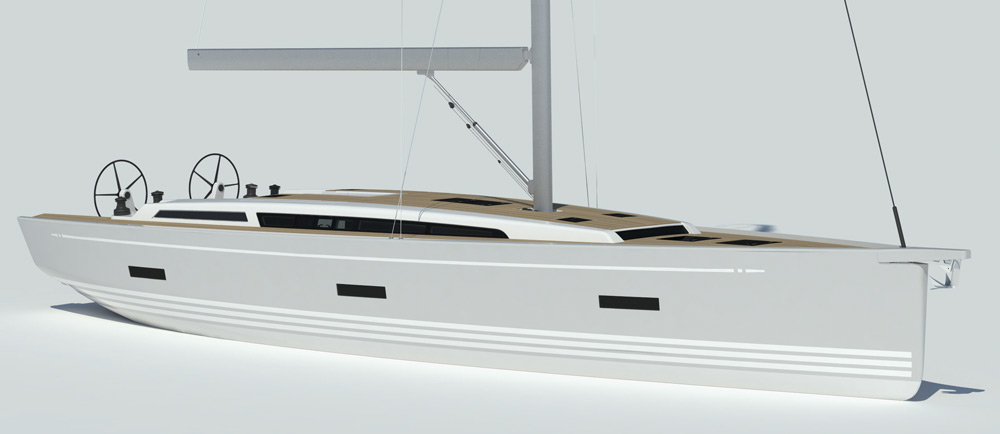 projection or two versions of short carbon fiber sprits, one painted, one clear-coated. There is 3 feet 3 inches of stern overhang and a tiny bit of rake on the very broad transom. The D/L is 144 and the L/B is 3.23. There are three draft options: standard T-keel at 7 feet 2 inches draft, deep T-keel at 8 feet 9 inches draft and the shoal option at a draft yet to be determined. I see a hint of a chine aft.
There is a lot of volume in this boat as you would expect with a stern this broad. There's enough volume that you can have a large garage aft to stow a dink with room left over for other cruising toys and gear. The owner's stateroom is forward and has a centerline double berth with vanity and hanging locker to starboard and a head with shower stall to port. Forward of this stateroom is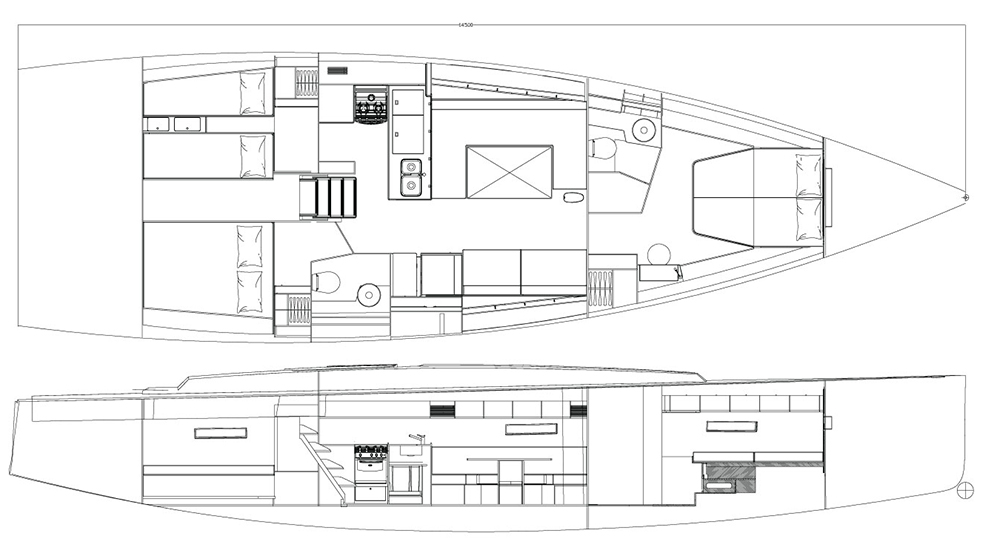 a good-sized fo'c'sle where you can conveniently stow your big asymmetrical spinnaker. That beats dragging the chute forward from the garage. The saloon features a U-shaped dinette to port and settee/berth to starboard. There is a compact nav station aft of the starboard settee.
To starboard there is another head. You can choose from two quarter-cabin arrangements. You can have split single berths or a large double berth in either cabin. I suspect you could have singles or doubles in both cabin if you prefer. Folding chairs on centerline in the saloon will allow the dinette to seat six comfortably. There is nothing lacking in this layout.
The sailplan shows a triple-spreader fractional rig with a self-tacking working headsail. This setup gives you an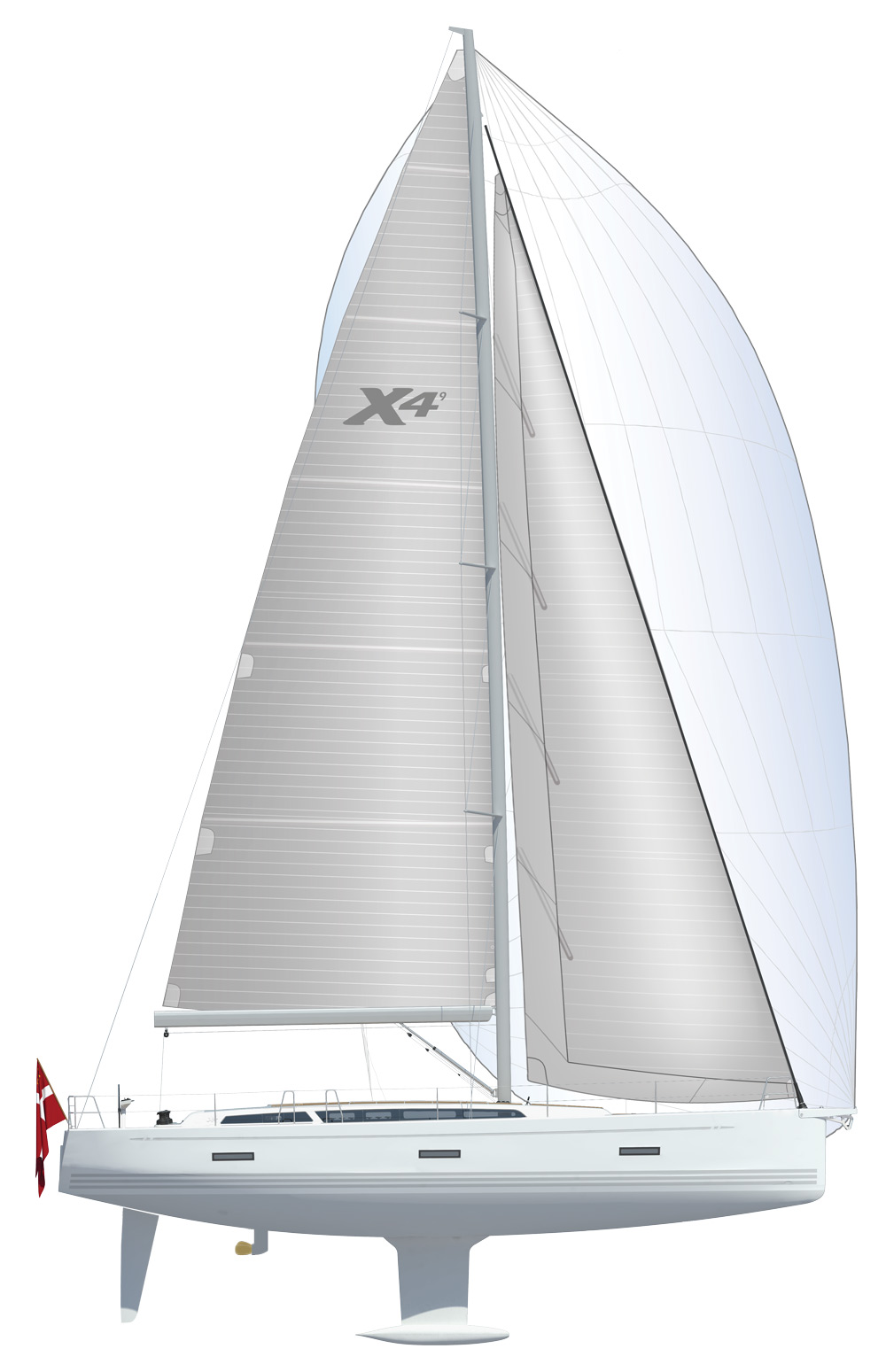 SA/D of 21.98. That's an SA/D that would have been unheard of back in 1974 when 17.5 would have been considered generous. But without the large and inconvenient overlapping genoas of 1974 you need a bigger basic rig. It's a nice looking boat with a low and contoured cabintrunk. Freeboard is high but that's normal today.
The deck plan shows a cockpit with twin wheels giving clear access to a large fold-down swim step that is flush with the transom when raised. The nice thing about a transom this wide is that you can name your boat something like Twilight of the Gods. The self-tacking jib track is recessed into the deck forward. All lines coming aft to the helm stations are under the deck and the deck hatches are all the flush type so the entire deck is very clean. Overlapping headsail tracks are on the house top.
I would like to sail this boat by myself. It is set up so singlehanding would be easy. I like the image of me driving Twilight of the Gods to weather with a very satisfied look on my face.
---
LOA 49'6"; LWL 44'7"; Beam 14'9"; Draft 7'10" (standard) 8'11" (deep); Displ. 28,439 lbs.; Ballast 11,860 lbs.; Sail area 1,280 sq. ft.; SA/D 21.98; D/L 144; L/B 3.23; Auxiliary Yanmar 58-hp (80-hp option); Fuel 79 gal.; Water 86 gal.
---
Our best estimate of the sailaway price:
X-Yachts USA/Rodgers Yacht Sales
70 Essex St.
Mystic, CT 06355
860-536-7776
---