This stylish ketch is designed for work and play
I get some unusual design commissions but this is the first time another yacht designer has asked me to design a boat for him. Rob Leighton­—I call him Capt. Rob—is an accomplished yacht designer and builder. Rob was interested in the designs I did for Ta Chaio in Taiwan, the CT 48, 54, 56 and 65. I also had some preliminary drawings for a CT 85 but it was never built. Rob, a retired Boeing composite engineer, liked the romantic character of the clipper-style ketches. Rob lives in the Philippines but is originally from the Pacific Northwest where I now live. He contacted me and said he was going to be in my area and wanted to stop by my office. Rob showed up at my beach shack one morning and we had a nice chat for about half an hour then he said, "How do we start?" He was serious and he had my attention.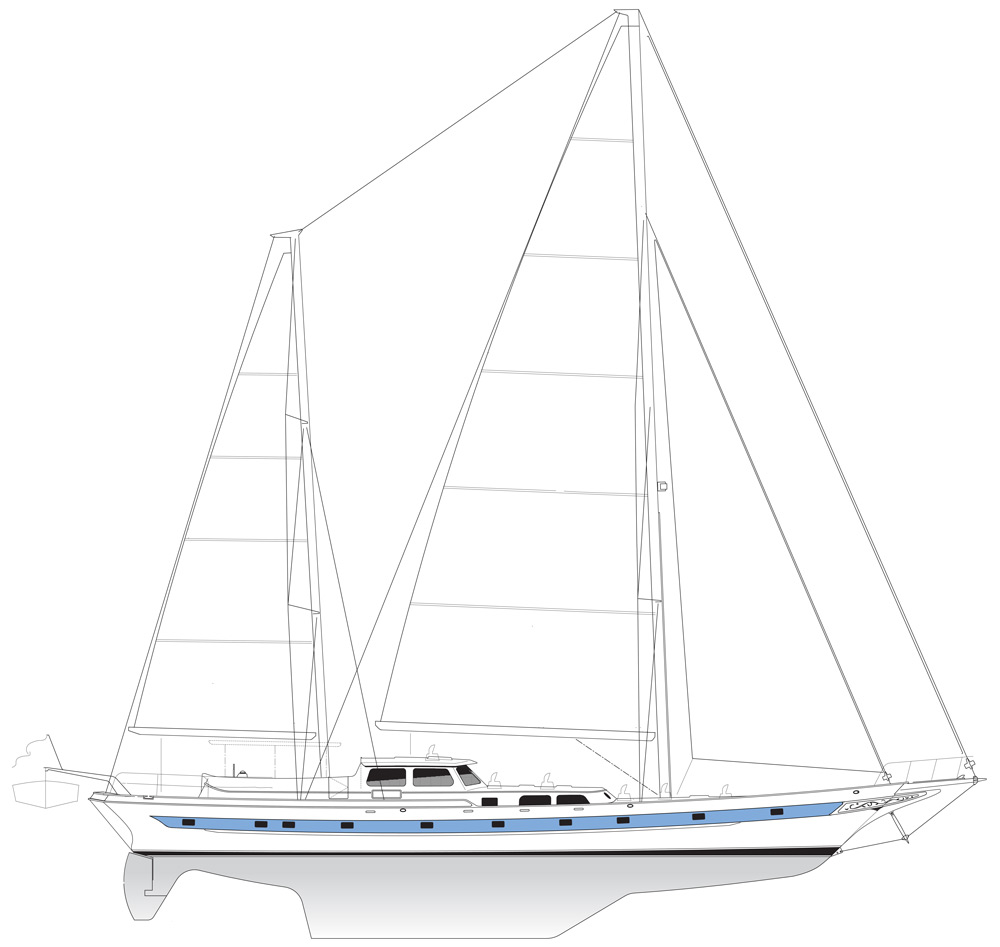 Rob wanted an 85-footer for work with his company Isla Aid, which does mission work in the outer islands of the Phillipines and Micronesia. They work with sailing youth camps and do emergency response work ferrying doctors and construction teams to remote areas hit by natural disasters. The boat will also do some chartering. Rob has a 58-footer for this work, but it has proven too small. He wanted an 85-foot boat with enough room to carry 14 crew and guests.
I drew preliminary drawings for an 85-footer. The layout was working fine. We even had a clinic room for minor surgical procedures. But the profile was not working; there was too much house for too little hull. Rob called and said, "Let's make it 90 feet LOD." I said, "Let's make it 95 feet LOD." Rob said "Fine."
The displacement is 185,019 pounds for a D/L of 178. The L/B is 4.06, a bit on the narrow side. Draft is 9 feet. The fin keel will be integral with the hull and the ballast will be internal lead. The rudder is a partially balanced-type on half a skeg. Deadrise is moderate and increases toward the stern so I can have a shapely transom with just a kiss of hollow near the bottom. I used a bit of tumblehome aft in keeping with this style of boat. Despite the utilitarian nature of the work this boat will do, I wanted a boat that will be fun and rewarding to sail. Rob has a lot of offshore miles on him and understands the difference.
As you would expect the interior layout is complex. Rob wants the ability to sleep 14 with paid crew forward and captain's stateroom aft.
Let's start in the pilothouse. In the pilothouse you have an inside steering station to port, wet locker and seat aft of that and nav station aft of that. To starboard is a 10-foot 6-inch-long raised dinette. Raising the dinette opens up volume below the dinette for the passageway to the aft accommodations and the engine room along with various pantry lockers, freezer and refer units for a large crew. Going aft there is the clinic room to port that can double as another stateroom.
Access to the engine room is from the passageway aft. There is full standing headroom in the engine room. To starboard is the utility area with washer and dryer and lockers. Just aft of the utility area is a head for anybody to access. Aft of this is the generous owner's stateroom with a head and large shower stall to port. To starboard there is a vanity. There are port and starboard hanging lockers and an almost centerline queen-size berth.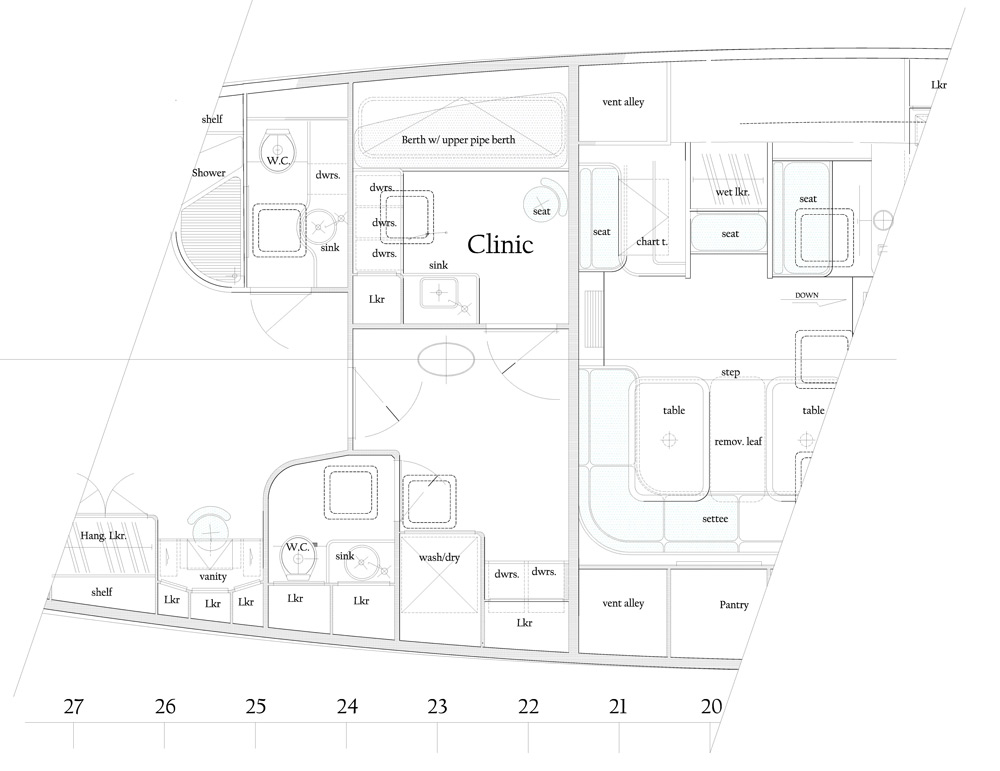 From the pilothouse you step down going forward into the galley and saloon area. To port there is a 10-foot 6-inch U-shaped dinette. Aft of that is a spacious, sunken galley with a lot of counter space. To starboard there is a deep settee and liquor cabinet. There are pilotberths port and starboard. Going forward there are mirror image staterooms with stacked berths and hanging lockers. The lower berth can work as a snug double berth. Each stateroom has its own head and shower stall. Forward of this is the paid crew area with a head, hanging lockers and V-berths. There is direct access to the deck from the crew area. It's tight forward, but it will work. There is a large fo'c'sle forward of the water tight bulkhead.
I have a lot of hours into that layout. I'd wake up at 2 a.m. with the "What if I moved ...?" Or wake up at 4:30 a.m. (I like an early start) and find an email from Rob, "What if you moved ...?" In challenging times like this work is a great diversion.
The deckplan is very straight forward. There are high bulwarks and a step in the deck just aft of the pilothouse. There is no "cockpit well." The cockpit sole is the deck. There is a large fixed table with bins just aft of the mizzen. Rob has a big, antique ship's wheel he wants to use. I imagine the cockpit will be a popular place for dining. Primary and secondary winches are aft of the cockpit. I have hatches over every living area. There are lazarette hatches port and starboard aft and a fold down transom boarding platform.
The rig will have carbon fiber masts. I'm not sure yet what we will do for reefing the main and mizzen. It will probably be Park Avenue-style booms and lazy jacks. Sheeting for main, mizzen and self-tacking staysail will be hydraulic Cariboni cylinders mounted inside the booms and mast. Using the Cariboni system will really clean up the deck. The SA/D is 17.66.
The plan at this point is for Rob to build the boat in the Phillipines, doing much of the engineering himself. That's an ambitious project. I'll provide what design support I can, aided by my pals Jody Culbert III for 3D modeling and Tim O'Connell for deck and rig details. I look forward to seeing this boat finished.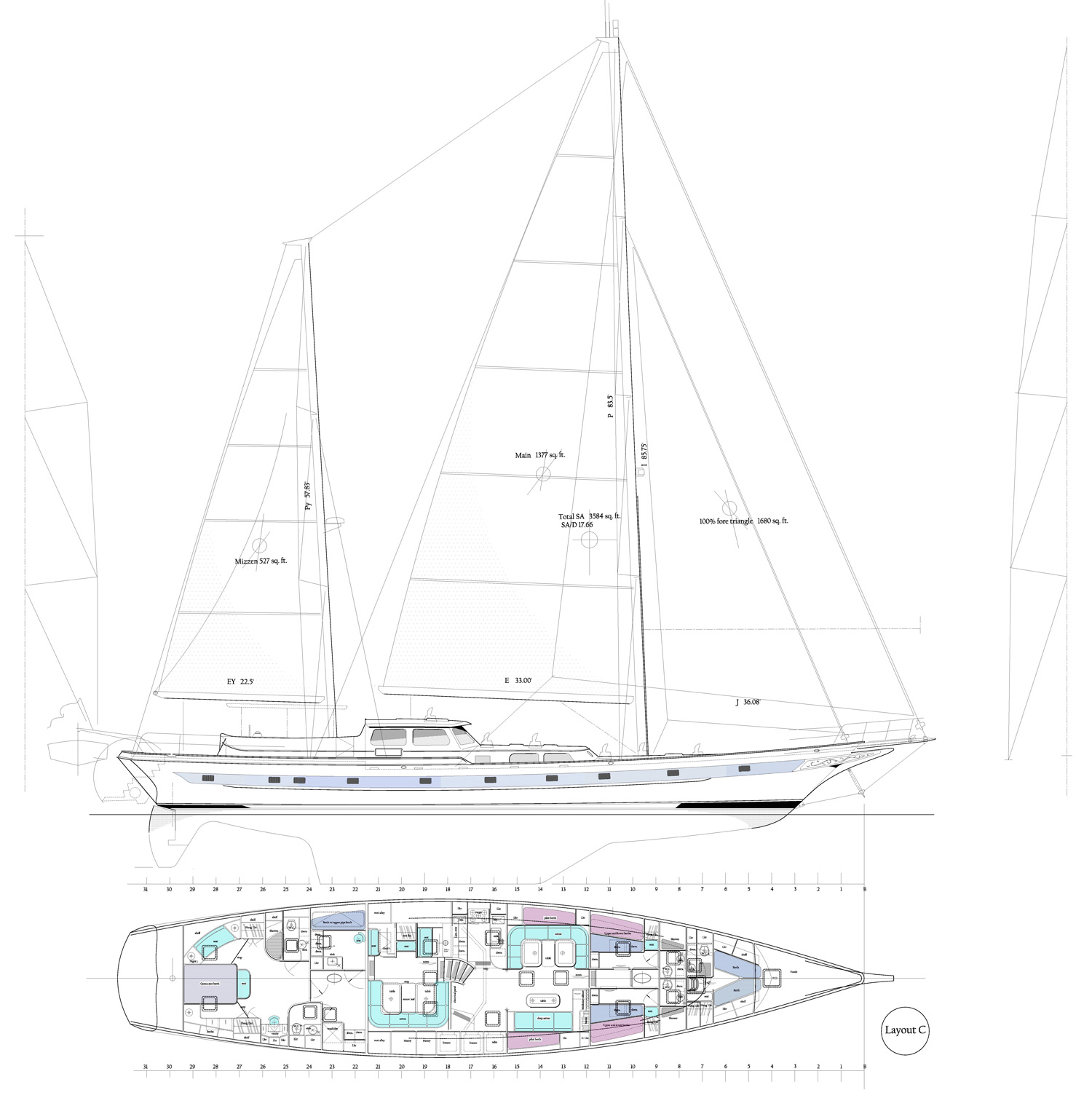 ---
LOA 100'6"; LOD 95'; DWL 77'5"; Beam 20'6"; Draft 9'; Displ. 185,019 lb.; Ballast 55,000 lb.; Sail area 3,584 sq. ft.; Auxiliary 6-cyl. Yanmar KMH61A; Fuel 600 gal.; Water 400 gal.; D/L 178; L/B 4.06
Our best estimate of the sailaway price: $4.6 million
---
Robert H. Perry Yacht Designers, Inc.
11530 Tulare Way West
Tulalip, WA 98271
360-652-7771