A new age of sail is coming, bold Jack Tars need not apply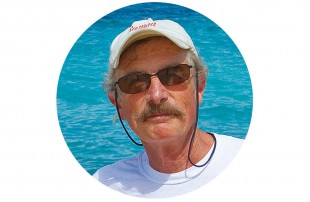 It's blowing like stink.
It's blowing a hooley.
It's blowing dogs off chains.
Anyway you want to say it, the breeze is up.
The world and its waters are getting windier.
Increases in the planet's average wind strength have been recorded every year since 2011. Climate change is driving the rising velocity, with warmer water fueling much of it. This is most dramatically evident in the growing fierceness of tropical storms, but the wind is blowing harder just about everywhere.
I'm not a climate scientist, but I know when the wind is honking, and it's been doing that a lot more in the last few sailing seasons. That's great news for sailors, right? Sure, but as someone's grandmother once allegedly said—moderation in all things is desirable.
I certainly appreciate the extra knots of wind speed, easy to say because my worst experiences under sail have been caused by too little wind rather than too much. As in yacht racing's version of death by a thousands cuts, the torture of sitting dead in the glassy water after leading in a long-distance race and watching boats you had well and truly beaten climb over the horizon astern and detour around your private windless hole as they pass on their way to the finish line.
On the other hand, the more frequent sustained strong winds we've experienced in recent years have been mixed blessings. These Force 6 and 7 and stronger events are exhilarating at first.
They remind us that, following in the wakes of our brethren in seafaring history, we are intrepid voyagers on nature's chaotic seas. But the longer they endure—with enervating days lived at a 35-degree angle in sodden foul-weather gear and sleep denied by those eerie instants of weightless silence when the hull drops off the edge of a wave followed by the thunderous, tooth-rattling crash when it lands—the more exhilaration fades to longing for halcyon days with smooth water and soft breezes.
If predictions hold, there will be fewer of those days, but the bright side is that it has put us on the cusp of a new age of sail. Freight hauling commercial sailing ships are coming back to take advantage of the breezing up of the atmosphere.
At least half a dozen sail-powered cargo ship projects are under way. Most of them have space-age versions of schooner rigs with three, four, five or six rotating masts supporting winglike sails. They all use wind for propulsion and to generate electricity, in some cases for auxiliary propulsion.
The idea, of course, is to move these ships across oceans without burning any fossil fuel. This leads to a pleasing irony: Cargo ships have contributed to the climate change that is making wind stronger, accounting for an estimated 2% of the carbon released into the atmosphere, but now they will harness that wind and in the process reduce carbon emissions.
This is worthy of hearty applause from us sailors, but there is a caveat: The new age of sail has none of the romance of the Great Age of Sail.
Unlike the full-rigged cargo ships of yore, with their raked masts, billowing square sails, graceful clipper bows rising to long bowsprits and hulls with curving lines inspired by creatures of the sea, some of the new-age sailing ships look like enlarged versions of the shipping containers they will carry—boxy and utilitarian.
And there will be no brave jack tars scampering up the rigging and crawling out on yards to furl salt-encrusted sails high above the rolling sea. The "sailors" in the small crews of the new sailing ships will trim sails from computers in the bowels of the vessels, using algorithms to maximize speed.
It is safe to say that books like those that enthralled me as an adolescent, Charles Dana's "Two Years Before the Mast" and Alan Villiers' "By Way of Cape Horn" among others, are not likely to be written about sailing adventures in the new age of sail.
Speaking of Cape Horn, cargo ships don't go there anymore, which removes quite a bit of the adventure in that line of work. That is a relatively recent development, at least from a historical perspective. The last freight-carrying square-rigger to sail the Cape Horn route did it in 1949, when the 318-foot Pamir, a four-masted barque powered by 28 sails but no engine or electricity, rounded the Horn carrying 60,000 bags of barley from Australia to England.
I knew a man who was a member of Pamir's crew on that last time around. What he told me about the experience was every bit as enthralling as the stories about the Cape Horners I had once read.
Bill Stark was a 20-year-old Dartmouth College student when, just for the adventure of it, he signed on as the only American in a crew of 34. Stark got the adventure he wanted, but he paid for it in the currency of misery and trepidation. Pamir sailed 16,000 miles in 128 days, many of them spent in the brutal Southern Hemisphere winter.
In his 70s when I interviewed him for SAILING, Stark recounted that he was terrified and "useless" when ordered aloft by a rough-talking bosun in a gale at night to furl the royals on yards 168 feet above the deck. Lacking any ocean-sailing experience, he learned seamanly skills on the job in "days and nights of climbing high into the screaming rigging, painfully gripping the ice-coated shrouds with raw-rubbed hands."
He described a sailor's life on a square-rigger in the southern latitudes as a grim routine of standing watches that left crewmen "cold and wet and tired, always tired" and off-watches in the dank, unheated fo'c'sle smelling of "tar, sweat and oilskins."
Judging from a photo of Stark shirtless out on one of Pamir's yards in warmer latitudes, he was muscular athlete. He became skilled enough to help his mates sail the ship and when it dropped anchor in Falmouth Bay take pride in the small part he played in a historic sailing adventure.
With a belaying pin in his seabag, a souvenir he took with the Finnish captain's blessing, he left Pamir to finish college and return to Pewaukee, Wisconsin, to run the family candy business.
Bill Stark died in 2003, leaving as a legacy book he wrote. Its title speaks to sailing history: "The Last Time Around Cape Horn."
Will college kids seeking adventure sign on to serve in the crews of the sailing vessels of the new age of sail? Only if they're computer nerds.