The raised-saloon cruiser has creature comforts for two couples
Here's a new Oyster model that is about the same LOA as the Shogun 50, but this is a cruising boat with no pretense to being a race boat. Oyster did not invent the raised saloon configuration. You can go back at least as far as the 1950s and find raised-saloon boats designed by Philip Rhodes and Sparkman & Stephens. Skip Calkins designed the Calkins 50 with a raised saloon. Ben Seaborn created the Sea Fever series boats with raised saloons. But today I think we can agree it was Oyster that made the raised saloon concept popular. Today when you say "raised saloon" most sailors know exactly what you are talking about.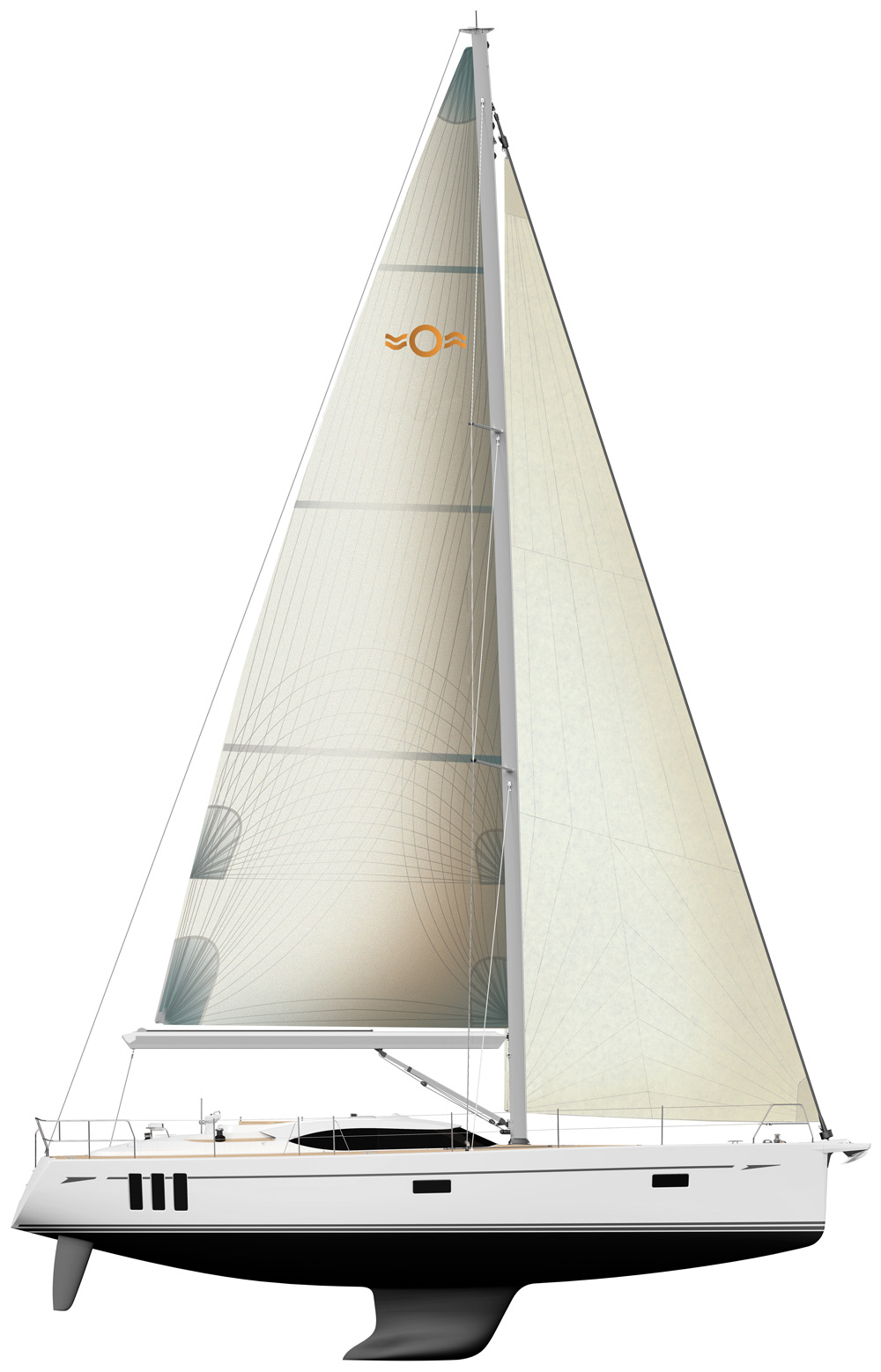 As usual Oyster has stayed with designer Rob Humphreys for this new model assisted by Oyster's own in-house design team. This new Oyster has high freeboard. Combine this with very minimal overhangs fore and aft and you get kind of a blocky looking hull coupled with the dead straight sheerline. But today it's all about interior volume with production boats. The D/L is 201. The L/B is 3.1. Compare these numbers to those of the Shogun. The Oyster has a fair amount of beam and is on the low side of medium displacement. The rendering looks like there are twin rudders. You can choose from a shoal draft of 6 feet or the standard draft of 7 feet 5 inches. The deeper draft sounds good to me.
The interior layout is designed for two couples and there is an additional mini cabin forward with what looks like upper and lower berths for kids. There are heads forward and aft both with shower stalls. The aft cabin is spacious and still leaves volume aft of it for a large lazarette. The nav station is in the walk through adjacent to the engine space.
I really like this galley. So much of cruising is focused on eating that I believe the galley should be generous. Note in this case that there is counter space each side of the range and the sinks. You step down into this galley and this opens up even more volume under the side decks for lockers. The forward cabin is a bit tight but I suspect that Oyster will build you a 495 sans that mini cabin to starboard. This volume could then be added to the forward cabin making it palatial.
With all the practice Oyster has had with the raised saloon configuration it does not surprise me how well this boat is laid out.
The rig is on the short side but there are advantages for that in a cruising boat. The SA/D is 16.95. Speed in light air will not be stellar but most cruisers do not do much light-air sailing. The good news is you will not have to reef early to keep the boat on its feet. You can choose from in-mast furling or standard slab reefing. Spreaders are swept 22 degrees.
The deck plan shows a large cockpit with a step up to the twin steering stations aft. The cockpit bench seats are long and there is a fixed dining table with storage area amidships. Note the way the cockpit coaming is cutaway just forward of the wheel to make it easier to climb in and out of the cockpit. The foredeck is flush. I love flush decks. They look good and they work great. The hatches are flush and there is a large flush hatch to access the ground tackle. There are flush hatches aft to access the lazarette. There is a swing down panel in the transom that forms a swim platform for easy boarding. This is a beautifully sculpted deck.
If you are after a big, comfortable cruising boat with good performance in a high-quality build the new Oyster should be on your list.
---
LOA 52'8"; LWL 46'8"; Beam 15'8"; Draft standard 7'5", shoal 6': Displ. 46,297 lb.;Ballast 14,619 lb.; Sail area in-mast furling 1,246 sq. ft., full-batten main 1,364 sq. ft.; Fuel 211 gal.; Water 159 gal.; L/B 3.1; D/L 201; SA/D 16.95
---
Our best estimate of the sailaway price: $1.3 million
Oyster Yachts USA
Newport Shipyard,
One Washington Street,
Newport, RI 02840,
(401) 924 3434